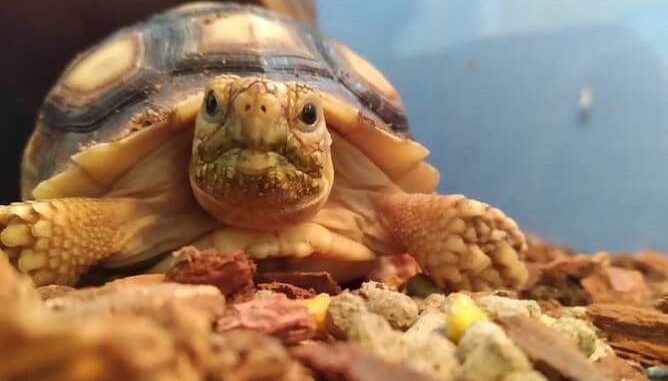 Are you suffering from finding the best substrate for Sulcata tortoise?
The substrate is literally the covering of the floor in the enclosure of your Sulcata tortoise.
There are several different kinds of substrates you can use for your pet.
In the community of Sulcata owners, the best substrate is still a widely debated topic.
Some individuals prefer using different products, while some contend that they should use only one type.
However, generally, the age, time to maintenance, and the comfort of your Sulcata tortoise will decide which substrate you should choose.
You can create a very beautiful and natural-looking terrarium with the right covering and appealing plants or décor.
We will provide you with some certain suggestions that you should buy for your pets in order to give them the healthiest life.
And in addition to the guidance, we also give you our opinions about what is the best substrate for your Sulcata tortoise. 
The Top-Rated Substrate For Sulcata Tortoise (Recommendations)
#1. ZOO MED ECO EARTH COMPRESSED COCONUT FIBER SUBSTRATE– BEST SUBSTRATE FOR SULCATA TORTOISE
#2. ZOO MED FOREST FLOOR BEDDING– AMAZON'S CHOICE
#3. EXO TERRA PLANTATION SOIL– BEST BUDGET
#4. CARIB SEA REPTILES CALCIUM SUBSTRATE SAND– DIGESTIBLE BEDDING
#5. ZILLA GROUND ENGLISH WALNUT SHELLS DESERT BLEND– EXOTIC CHOICE
#6. FLUKER LABS REPTA BARK ALL NATURAL BEDDING
#7. HAMILEDYI REPTILE CARPET NATURAL COCONUT FIBER MAT
---
Related:
What Do You Need To Know Before Choosing A Substrate Product?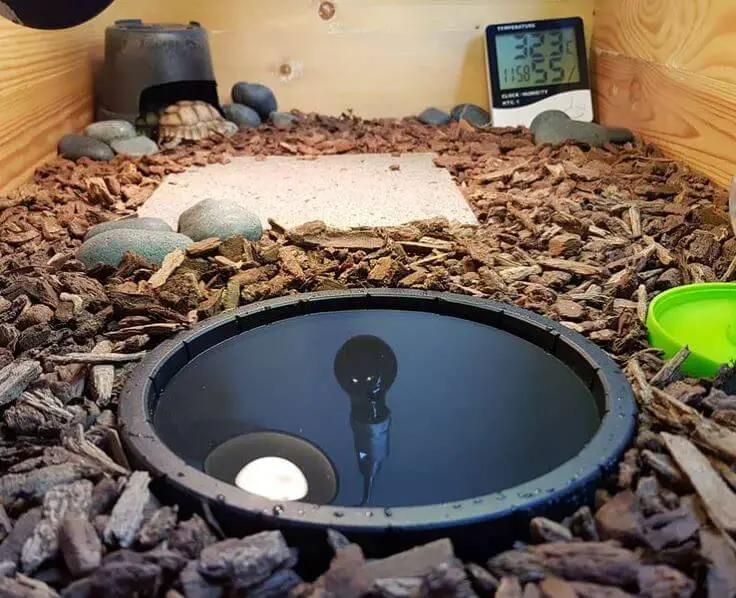 1. About The Sulcata Tortoise Species
Sulcata is a large species of tortoises found in eastern and southern Africa.
They are a decent choice for an intermediate to an experienced tortoise keeper but are not recommended for beginners.
The docile and social disposition of the Sulcata tortoise makes it a perfect alternative to all the larger species available for keepers who have big space to keep them.
You can keep these peaceful shell reptiles in small communities or house well together without any serious matter.
Like other tortoises, keeping a Sulcata is like a long term commitment to the keepers who want to have a year-to-year pet.
2. Best Substrate For Sulcata Tortoise 
An important additional factor you need to provide if you want to keep a Sulcata tortoise is the substratum.
It helps them to dig and is also responsible for thermally controlling and retaining sufficient moisture levels.
It is advisable to use a combination of different substrate products.
Spraying that layer every morning is also one of the ways that sufficient humidity can be controlled.
Here we got you some commonly recommended bedding for Sulcata tortoise and related problems:
A lot of people choose this kind because it is safe to eat.
However, the protein content is too high to be ingested daily.
It is also heavily dehydrated, so it needs periodic soaks.
Young animals ought to be soaked every day.
It is difficult to walk on and can cause deformities to the hatchlings.
Moreover, it molds easily, giving difficulties in your pet's eyes and lungs.
It does not have any microclimate although being simple to clean and inexpensive.
It is quite dry and so it takes regular soaks.
The possibility of fire from heating emitters and lighting system is also present.
Some people use recycled paper-based materials as the substrate.
However, its issues are similar to alfalfa pellets and paper.
There are also torts which like to eat, which can have impactions if they are not regularly soaked.
It can emit highly poisonous gases if heated.
They are also very dry.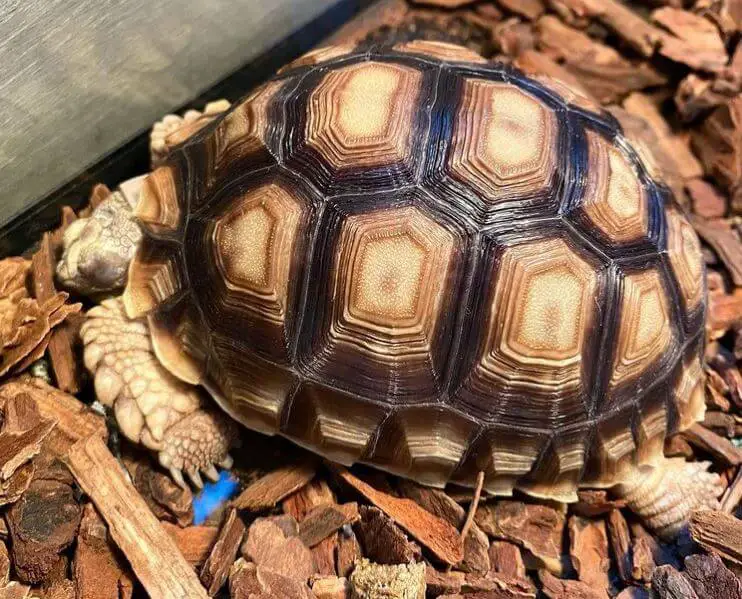 Hemp is a popular natural substratum in Europe.
It is widely recommended by those who use it, but not always available in the US or other countries.
Instead, some people use aspen and it seems to perform well. However, the biggest fear is they are so dry.
These kinds of materials work quite well.
The notion is sold that if absorbed, extra calcium is supplied to your pet.
It is very likely to clump.
Nevertheless, it is implicated and leads to eye irritation.
It will work well if it is mixed with loam or coconut husk.
The use of coconut fiber substrate for Sulcata tortoise is similar to the moss.
They come in bricks that are compressed.
The bricks are expanded to melt in hot water.
Some people also worry about intestinal effects when the fibers expand.
However, it does not pose a threat when properly expand.
When it dries, it does not shrink.
It is a perfect substrate if you mix it with other materials since for some certain species, it is too wet or too dry to be used on its own.
By using a mixture, the humidity can be controlled easily.
It can easily establish both a higher humidity (substrate moisture is greater than the humidity in the air) and a dry area in the same enclosure.
The tortoise has a set of microclimates in this way.
The best alternative is loam which is readily accessible in many EU countries.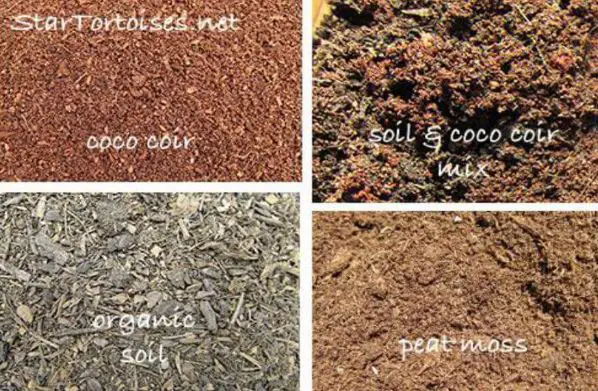 Best Eco substrates for indoor tortoises (Source: StarTortoises)
3. How Often Should I Change The Old Substrate Layer?
This depends to some extent on how much the tortoise soils are and what the substrate is, of course.
But the basic rule we suggest is that it should be entirely replaced every 3 weeks.
Especially if you use the pellets, it is easy to see on a light-colored stroke base and disintegrate when being wet.
Therefore, you can know when you need to replace them.
So even though I change the pellets every 2 to 3 weeks, I usually replace each dirty areas instead of the whole.
Such that over a few weeks the entire lot can be bit by bit replaced.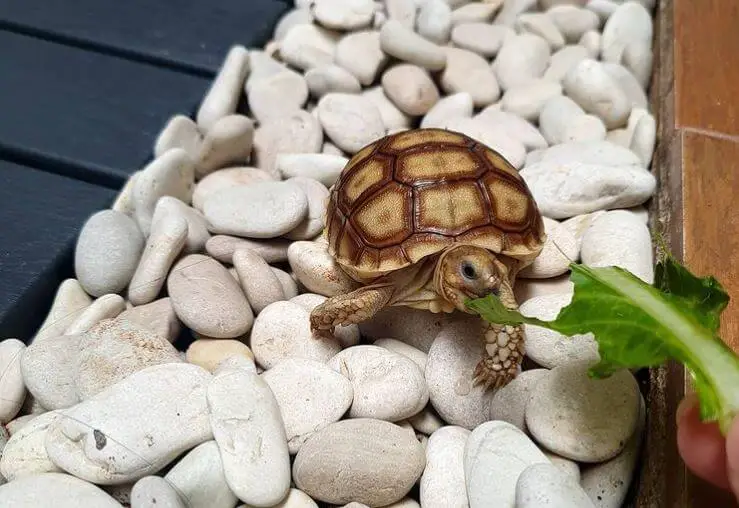 Moreover, it can be harder to locate a poo with substratum such as soil, which would mean that tracing concentrations could be overlooked.
Also, if it gets wet, you would not actually know, particularly when it dries out again very fast.
The most possible way for people who use soil is to replace the whole lot in one go every 2 to 3 weeks.
Best Substrate For Sulcata Tortoise Shortlist (Updated List)
*Ratings are from Amazon at the time of publication and can change
The

Best Substrate For Sulcata Tortoise: What To Choose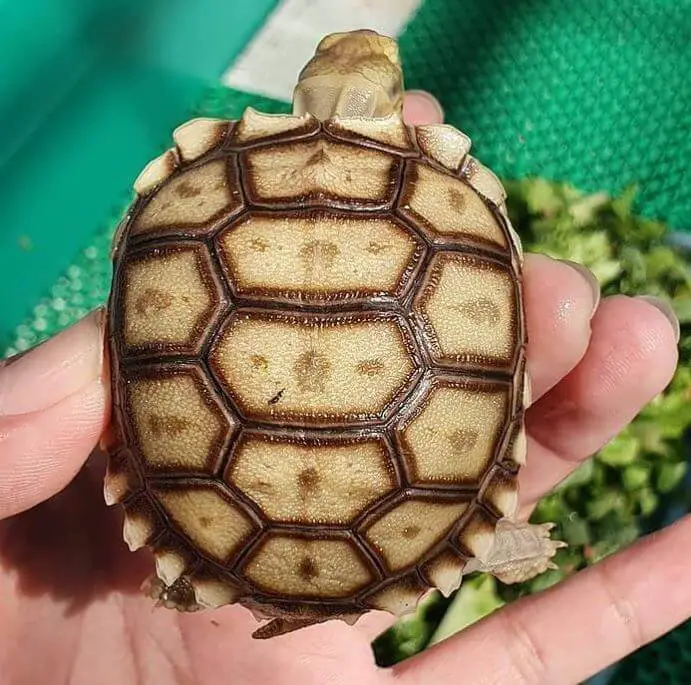 Our top pick is Zoo Med Eco Earth Compressed Coconut Fiber.
This is coconut-based bedding that is ideal for many species of reptiles like your African shell reptile.
It retains moisture and helps to preserve moisture levels in the air of the enclosure.
Your pet can burrow easily into it, it also provides a medium for laying eggs to female ones.
One advantage of using coconut fiber is that it consumes waste and odor and is very easy to find dirty spots.
You can replace the bedding just a few times a month as we discussed above.
However, a few customers complained about the molding, but the rest accept that it is considerably lower than many other substrates.
It is more likely to cause molding if it is left too wet.
Pros:
Ideal for naturalistic terrarium type setups
Eco green product
Cons:
Absorbs too much water, takes a long time to dry out
Easy to be messy
The Zoo Med Forest Floor Bedding gives your pet a totally natural and relaxing environment.
The manufacture made it of fully natural cypress mulch to make sure it is absolutely safe with no toxic chemicals.
It is one of Amazon's best selling items in the category of reptile substrates.
Thousands of owners use it and buy it again and again.
One of the biggest advantages is that it looks amazing in the cage and provides your animal with anything he likes.
It is a soft and easy to la and clean compound, all make basic ideal bedding you need.
Pros:
All-natural green product
Perfect sized chunks, the tortoises hardly ingest
Looks great when put in the enclosure
Cons:
Infested with bugs and mites
Can be too wet with a high content of humidity
Plantation Soil product from Exo Terra is made from the compressed coconut husk, which allows the pet to dig into, hide and relax. This substrate allows for retaining storage and it is also a nutritious plant-soil if you want to keep living plants inside the enclosure.
For the hot months of the year, we would consider using coconut-based products, but this also reminds you to have to be more careful. They can be moldy as long as you keep them for so long, as we said before so that after one or two months you need to replace them entirely. Be careful not to let them dry out since it can make your animal in difficulties.
Pros: 
100% natural
Good for humidity retaining
Encourages the digging and burrowing behaviors
You can use it for living plants
Cons:
Easy to dry out
Easy to get mites
One of the finest best substrate for Sulcata tortoise and desert pets we have discovered is Carib Sea Reptiles Calcium Substrate Sand.
It is made of 100% aragonite, also called calcium carbonate's most soluble form, which ensures that the sand is edible and digestible without causing animal constipation.
With this bedding, mites and bacteria do not grow easily, and there are no bits of humidity that rapidly evaporate.
Waste is often dry and clumped by the sand, which prevents it from moving across the tank.
This is also available in a beautiful hue as a desert rose color, making your tank an appealing appearance.
Pros:
Made of aragonite, the most soluble form of calcium carbonate
Ideal for animals that comes from an arid or semi-arid environment
100% edible and digestible, contains strontium and magnesium
Free of silica and phosphates
Naturally spherical grains that will not scratch your animal inside or out
Cons:
Many customers claim that it contains dye colors.
Dusty
Can get into the eyes, nose, and lungs
Type: Ground walnut shells
Zilla Ground English Walnut Shells Mix is an ideal choice for pets that are getting used to dry and desert climates.
This product is made from 100% ground walnut shells, which have been ground up enough to avoid causing impaction.
Shells retain heat efficiently, which is necessary for desert animals.
Furthermore, it is even cheaper than quartz sand.
Many customers claim that their tortoises are fond of digging and burrowing in the bedding because it packs well and does not irritate their eyes.
Furthermore, the walnut shell is much smaller than sand and smoother, which makes the tortoise much relaxing.
Moreover, thanks to that, you do not have to worry about the scratching inside your glass cage.
Pros:
Good for desert reptiles
Not scratch the glass wall of the tank
Strong heat conduction
Encourages digging behavior
Cons:
Not safe to eat
Easy to get bugs
Can be hazardous to sensitive animals
Fluker Labs Repta All Natural Bedding is made of natural hulls of coconut.
The bark is a common bedding material for tortoises since it is soft and allows them space to burrow.
This product is also made for high content of humidity environment, a suitable tortoises substratum for those with a moisture requirement of around 50 to 60%.
Pros:
Absorbs water and prevents excessive moisture
Bigger pieces reduce the chance of ingestion
Less dust
Cons:
Loaded with mites
Molds in high humidity
Dirty if it is too damp
May kill cleaner bugs
Not only the Hamiledyi brand, but all the natural coconut fiber mat is a kind of substrate that looks good as well as is safe for your reptiles than other alternatives. It is simply made of compressed coconut fiber, all you need to do is rolling out the plush carpet and cutting it into the sizes you need. The manufacture processes the mat with biodegradable enzymes that reduce the odors. Therefore, it is both absorbent and non-abrasive.
When you need to clean it, simply wash it with cold water and reuse it. However, because of its shape, this does not encourage the digging behavior of the tortoises.
Pros:
The safe and natural compressed material
Reduces odors and is easy to clean with cold tap water
Absorbent, non-abrasive
Cons:
Can not dig into
Bad moisture retention
Need to replace frequently
What Are The Qualities Of A Good Substrate For Sulcata Tortoise You Have To Consider?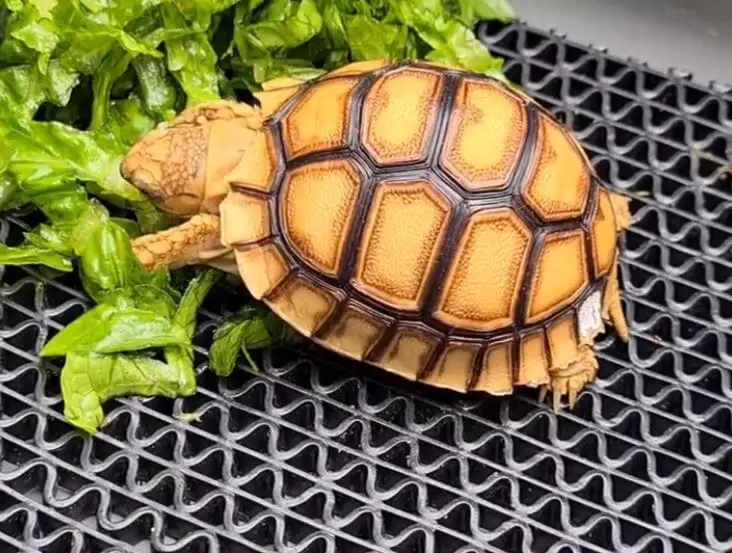 Like we discussed earlier, what is the best bedding for Sulcata tortoise is almost difficult to decide. Here are some factors we think you need to watch carefully:
1. Moisture retention
To grow well, tortoises need plenty of hydration.
This is why bedding, which can maintain humidity for long periods of time, is significant.
Choosing a kind of substrate that can retain a suitable content of moisture is significantly required, particularly for hatchlings.
However, if the bedding remains wet for too long, it is also a concern.
Each different species has its own needs, some can tolerate the wetness, others love dryness.
Too much water will cause bacteria and other dangerous microorganisms into your breeding ground.
Nice bedding could hold a lot of water, but also can dry up a few hours later.
The substrate must also drain properly, ensuring that there are no water puddles.
2. Burrowing behavior encouraging
Most tortoises love to dig.
As such, the good substrate should have ample yield, but they also have adequate structural stability to prevent collapsing directly after your pets have dug in.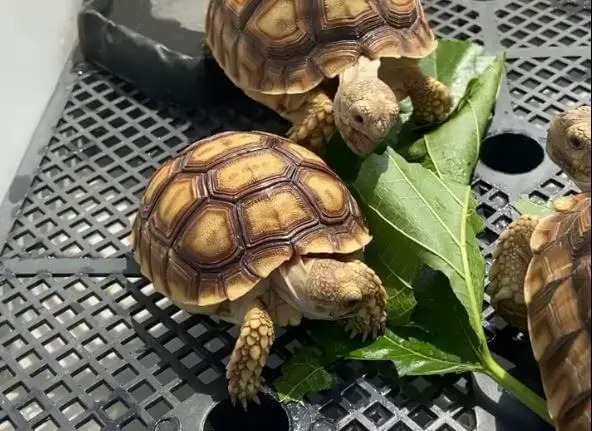 3. Safe
Many tortoise keepers face the risk of having their pets impacted by choosing the wrong products.
The effect arises when a certain material approaches the digestive system of the tortoise and is not broken or transmitted.
This object blocks the gastrointestinal tract with allows it to rupture afterward.
Substrates must be safely passed through the pets' gut.
4. Stability
The substrate must be stable enough to walk on.
Some materials with big chunks can be unstable sometimes, making them tough, particularly for smaller ones and hatchlings, to walk around.
5. Non-toxic
You should pick the ones which are not poisonous to your pets.
It may sound obvious, but a lot of people do not really know which material is toxic or not.
Check out the video on how to set up the best Sulcata tortoise enclosure: 
Buying The Best Substrate For Sulcata Tortoise: Frequently Asked Questions
1. What Can I Put In My Sulcata Tortoise's Enclosure?
Glass or plastic aquariums are the two most widely used kinds of tanks.
2. What Is The Coldest Temperature That A Tortoise Can Tolerate?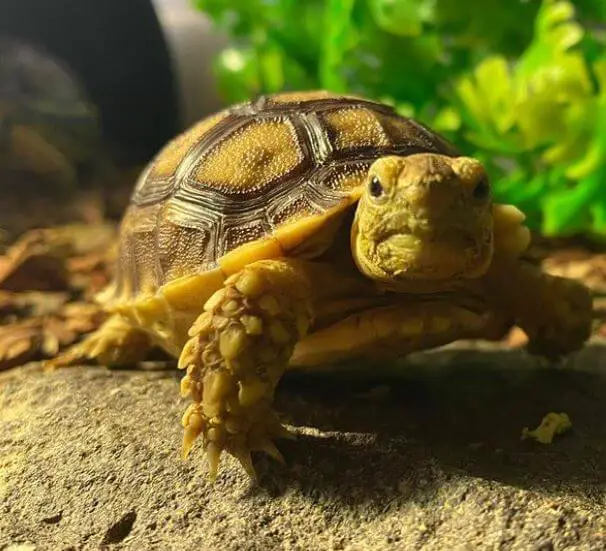 The answer is 45 degrees Fahrenheit.
Outside living Sulcata tortoises tolerate varying levels of temperature.
Hot temperatures would be no concern if your pet has a shaded area to hide as he desires.
Surprisingly low temperatures around 45 degrees Fahrenheit, the tortoises themselves can withstand without any issues.
The ideal temperature for this kind of reptile live health is from 77 to 95 degrees Fahrenheit during the day, and no lower than 45 degrees at night.
The perfect basking spot's temperature can be up to 122 degrees.
3. How Often Should I Bathe My Sulcata Pet?
It is recommended that 3 times a week, 30 minutes per time is enough for an outside living pet.
But you should soak him more often in the hotter months. For inside tortoises, twice-weekly relaxing is perfect.
4. Can I Let My Pet Walk Outside?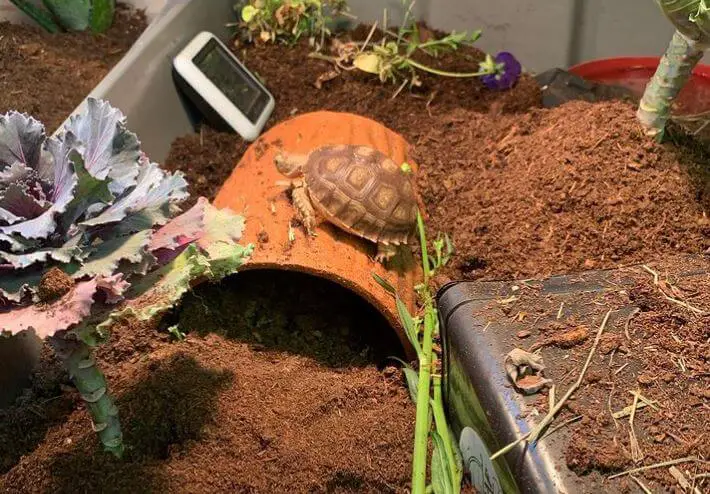 During the warm months, almost all tortoises can and should be in the open air.
For their well-being growth and metabolic development, they all need the UV rays of the sun.
They should be outside even very young hatchlings, as long as they are safe.
5. What Will Happen If I Do Not Hibernate My Tortoise?
Do not hibernate if your pet is under the age of three to five years (depending on the different species).
In the wild, a tortoise prepares for winter hibernation just as soon as the last one finishes.
A tortoise must have an adequate amount of body fat, vitamins, and water that have been prepared during the summer, to last in the winter.
Conclusion
Caring for a Sulcata friend is a delicate and fun task since care and attention are needed.
One way to ensure your animal is growing stably and comfortably is to provide the necessary substrate for them to live on.
To us, the best substratum pick for Sulcata as well as many desert tortoises is ZOO MED ECO EARTH COMPRESSED COCONUT FIBER SUBSTRATE.
From newbies to the experts, coconut fiber substrate is never let you down.
It can keep the humidity in the bedding and the air inside the tank, which makes the animals feel comfortable. Moreover, no mites, no mold, who would ask for more?
CARIB SEA REPTILES CALCIUM SUBSTRATE SAND, which is editable and digestible, is also a good option for the overthinking keepers who always afraid that their animals will eat all the substrate.
There are a lot of available options to use on the market today, which makes choosing the best substrate for Sulcata tortoise harder than you think. Any product you pick should be good enough on its own as long as they fulfill the criteria, but you can also mix and match two or three to fit your preferences. We hope after reading our suggestions, you can come up with your own decisions, at least for you and your pets.
Further Reading:
Tags: african spurred, type of substrate, peat moss, large tortoise, sphagnum moss, water dish, housed outdoors, spur thigh, baby tortoises, baby sulcata tortoise