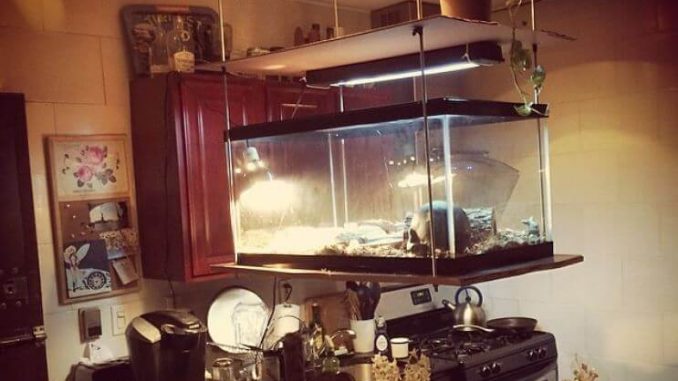 Have you ever asked why you need the best tortoise enclosure?
When in captivity conditions, all animals, especially tortoises, need to have a home that is as close to their natural habitat as possible.
Many species have very particular requirements, which if all of those needs are not satisfied, may lead you to an unhealthy pet.
Although it is not preferable to have the tortoise indoors, you should pick the proper enclosure type in order to make it more appropriate.
Keeping a shelled reptile is not too hard, but you need to consider the basic needs required to ensure a healthy living environment for him.
In the following article, we will let you know what your tortoises need for their living space, and how can you prepare as well as maintain it best.
The Top-Rated Tortoise Enclosure (Recommendations)
#1. ZOO MED TORTOISE HOUSE – TOP PICK
#2. TURTLE TANK AQUARIUM – BEST BUDGET
#3. ZILLA REPTILE STARTER KIT 10 WITH LIGHT AND HEAT – ALL-IN-ONE
#4. AIVITUVIN WOODEN TORTOISE HOUSE – SUITABLE FOR SMALL ANIMALS
#5. OMEM PORTABLE REPTILE TERRARIUM – EASY AND CONVENIENT
#6. GEEGOODS TURTLE AQUARIUM TANK
#7. PAWHUT OUTDOOR TRIANGULAR WOODEN HUTCH
---
Related:
Two Types Of Tortoise Enclosure: Indoor And Outdoor
Indoors and outdoors are two basic places to keep your pet.
Like what its name states, indoor enclosures are set up in your house partly or entirely.
Outdoor enclosures are exterior spaces that are typically built into the property.
They are much bigger than the indoor ones.
Both types of enclosures have their own applications, benefits, and drawbacks.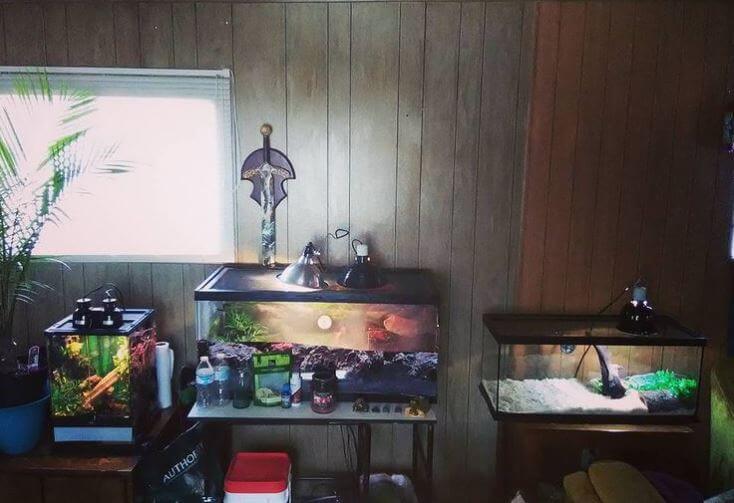 1. Indoor Type
It is advisable to make your pet be outside as long as possible, but of course, you cannot always leave them like that.
The weather or general climate in your place is way too cold for the tortoises to grow, or keep them protected from the predators.
This is why you need an indoor pen for them.
The purpose of an internal enclosure is to have a room where the tortoises can feel like their natural home.
When preparing the ideal tortoise enclosure, you need to consider several aspects.
They are the size, scale, substratum, light, and heat, water supplies, a basking spot, feeding areas, etc.
We have 4 common types of indoor enclosures in the market nowadays: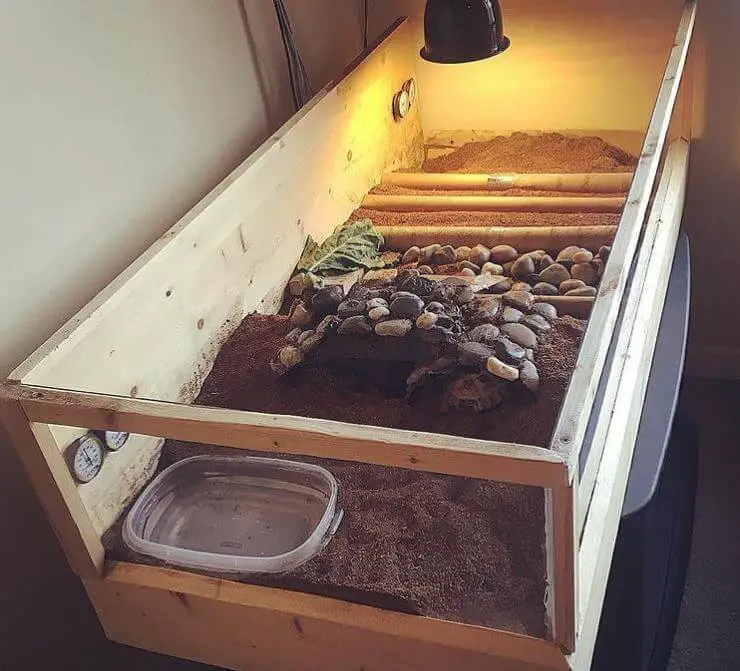 This is the most common type and the best tortoise enclosure type in our opinion.
Tortoise tables are basically wooden boxes, or stands, that elevate them somewhat from the floor.
Some could also have wheels on the bottom so that they can move around the house easily if desired.
While these tables can be made cheaply on your own, you can buy a commercial one if you do not have the skills or time to set it up.
Many people like this kind of boxes, mostly because they can see the animals through the glass walls.
However, if you can not handle the boxes properly, your pet can be stressed.
Since tortoises do not know about the glass idea, they can try to get to the area beyond the glass.
They may attempt to drag it over or try to climb over it, which may lead to damage.
You can apply colored tape at the bottom of the box to prevent this.
Ensure the taped surface is 4 to 6 inches from the substratum.
The tape acts as a barrier to your tortoises which stops them from breaching the glass walls.
However, glass enclosures do not retain water and are the highest in terms of moisture-holding.
So whether you live or intend to have it in an air-conditioned space in an especially dry location, glass type is a safe way to go, as long as you have a visual barrier.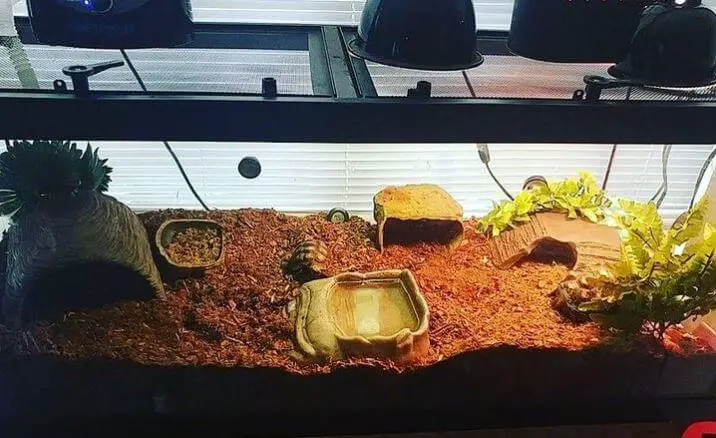 Similar to glass type, this kind is excellent at preserving moisture.
But because of the absence of optical barriers, you will not have to think about stressing your little friends.
They are also relatively light and much easier to clean compared to other kinds of boxes.
The trouble with the plastic-type is that they seem to arrive in fixed sizes, so you cannot fix it or extend it than what is available.
However, it is a cheap option to house smaller tortoises or a temporary option to keep them if the main enclosure has yet to be finished.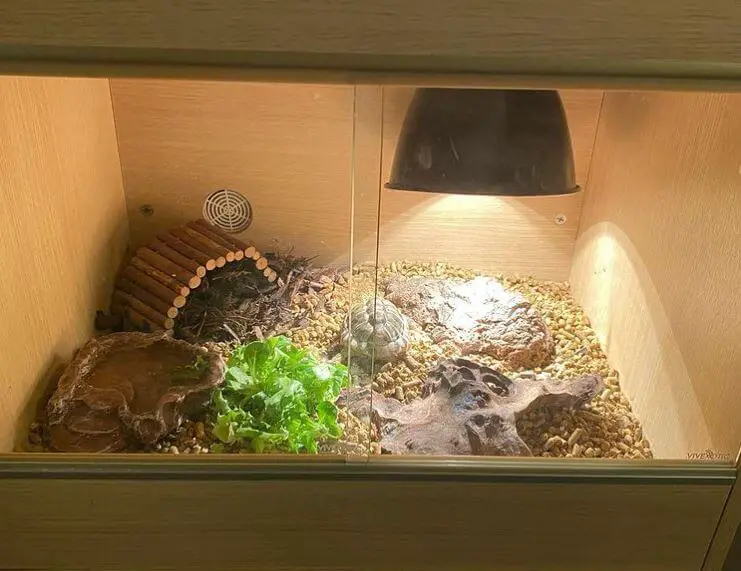 This type is popular among pet keepers because it can be conveniently designed and personalized for any room you choose.
You can build up a DIY wooden enclosure with a hammer and nails.
It is also very durable, as long as you find ways to preserve the wood material.
Wood can warp the same moisture that many species of tortoise require in order to survive if exposed to humidity.
They are also vulnerable to shaping.
Make sure that you handle your animal correctly before place it in these enclosures.
2. Outdoor Type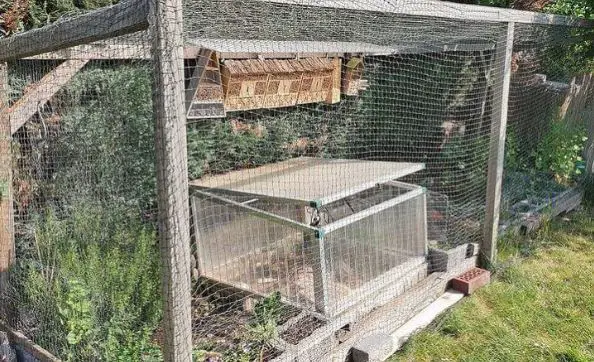 Simple saying, outside cabinets, are similar to inside ones, but on a larger scale.
Any environmental conditions such as temperature and moisture in an outdoor enclosure are much more difficult to maintain.
And it is obviously a bad idea to leave your tortoise outside during cold seasons.
Nevertheless, outside enclosures will create a more naturalistic living space for your pet which the indoor ones can not compete with.
And if you intend to breed the tortoises, laying their eggs outside is pretty much better.
What else do you need to consider for the best tortoise enclosure outside?
Here are some factors you need to pay attention to:
Pens can be built from different materials. It should not only be strong enough to resist outside forces but also to withstand your shell friends.
Some species are known to bulldoze through certain things without any care if they are in the mood.
Some good materials for pens are concrete, landscaping lumber, chain link fence, metal, and PVC.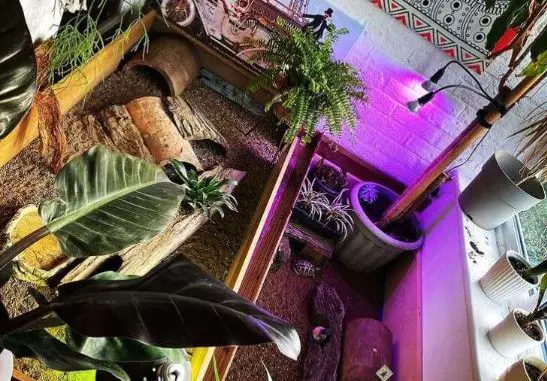 Predators include dogs, cats, birds, rats, or even children, can be potential dangers.
You should put up a roof and fence to keep the predators from coming through.
You may have to depend on electrifying the perimeter of your fencing if the enclosure is large. But ensure that the tortoises are not electrified themselves.
Since it is very hard to control the temperature and humidity level outside, it is easier to do so in their hiding spot.
Hide houses may be built from scratch or plastic doghouses.
Make it easy for the tortoises to go through the entrance and comfortable staying there.
The interior of the hide house must have heating pads to keep it warm and safe.
Instead, you can also use heat lamps.
How to make the perfect outdoor house: How to make an Outdoor Tortoise Enclosure
Here are two basic enclosure setups we suggest: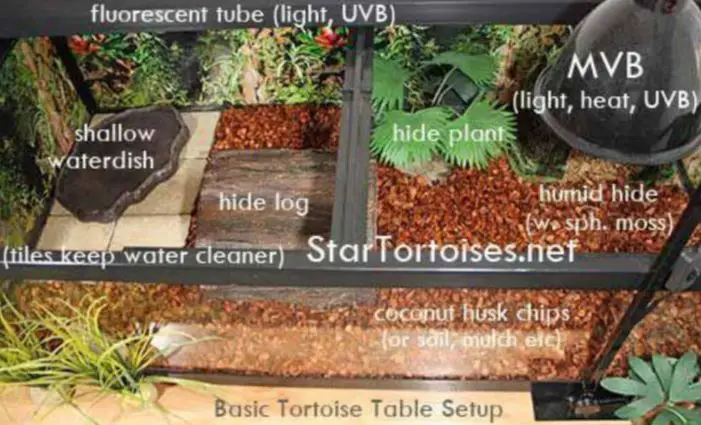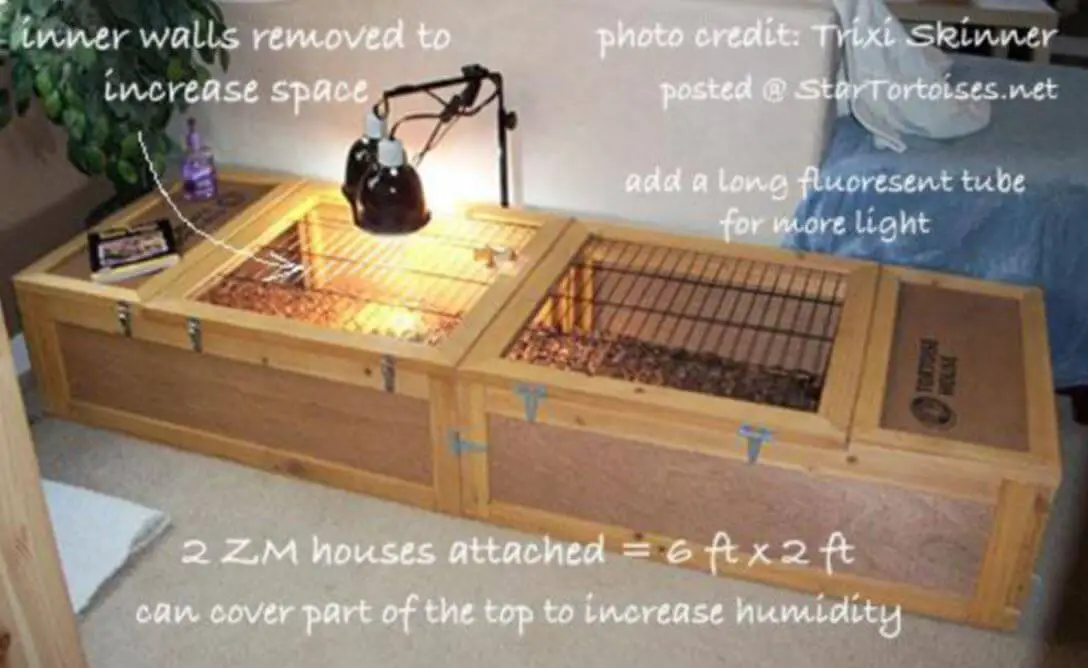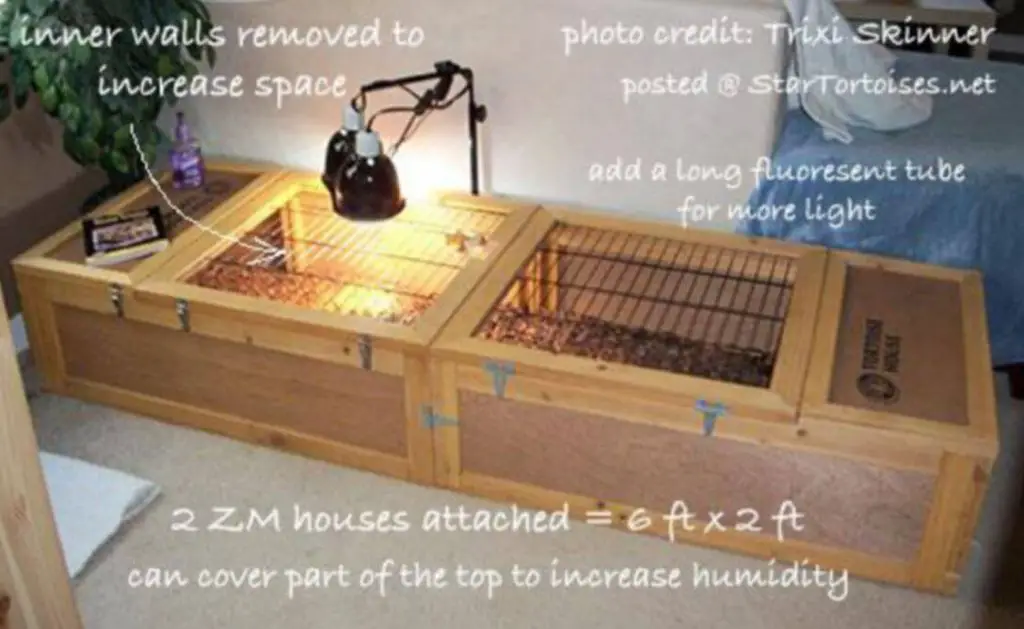 Best Tortoise Enclosure Shortlist (Updated List) 
*Ratings are from Amazon at the time of publication and can change
The Best Tortoise Enclosure
Size: 36 x 24 x 12 inches (L x W x H)
Weight: 19 pounds
Material: Wood
Zoo Med's super cozy and safe tortoise house is number 1 on our list.
For the owners that are concern about their pet's environment, this type is a smart alternative, since it is 100% renewable and biodegradable.
The specialized wooden sliding door ensures maximum protection and the meshed ceiling portion enables enough sunlight they need.
It is also ideal for both indoor and outdoor use, which is a major advantage, with its weather-resistant features.
As far as scale is concerned, it gives your pet a comfortable house with 36 x 24 x 12 inches size.
Moreover, users can extend the size of this wooden house just by removing the panels and connecting it with other houses.
This is a perfect starting enclosure, but you should always let your shell reptile to walk around outside in the daytime.
Pros:
Easy to assemble
Weatherproof
Has a private sleeping area and lockable wire safety cover
Durable
Cons:
The wood is weak and splits easily
Assemble direction is unclear, not all the parts will line up exactly
Strong fumes when new
Suitable for small ones only
Size: 18.39 x 9.84 x 7.01 inches
Weight: 110 grams
Material: Plastic
This turtle habitat is a great alternative for the animals who want to spend time outdoors as much as possible.
This tank is built of high grade, durable and non-toxic plastic. It has several multiple stages, connected with an easy-to-move ramp.
The ramp itself has a special non-slip floor that makes sure your pet is both secure and comfortable.
On the contrary side, it has no top cover.
Thus, if you have other pets such as dogs or cats, it might not suitable for you.
But if you only keep tortoises, it is an ideal option.
This is a perfect choice for owners with a small budget, plus it is super stylish and easy to clean.
Pros:
Three colors to choose
High-quality transparent plastic
Has platform and ramp for basking
Non-toxic and non-deformative
Good price
Cons:
Small size, the walls are not as tall as they look
Size: 20.25 x 10.5 x 12.56 inches
Weight: 17 pounds
Material: Glass
This Zilla Starter Kit with a glass tank is perfect to look for if you are a new enthusiastic in this field.
At first, its trendy appearance will be a significant focal point in any room.
It is rated as the best enclosure for Sulcata or Russian tortoises, as well as reptiles in both hot and humid environments.
The glass walls allow an optimal temperature to be maintained and, where necessary, thermal gradients.
Although it is vital that your tortoise sometimes loves the outdoor air, this tank is an excellent option for fun indoors.
It has a special safety lock and is easy to assemble and well ventilated.
You can order extra features separately, including the heating lamps and water bowls.
It means that you can customize and modify the tank to meet the individual specifications of your pet.
Pros:
Assemble design, includes most of what you need as a starter kit
Well ventilated by the humidity and temperature gauge
Ideal for desert dwelling animals
Included night-black incandescent, white spot bulbs, and reflective dome light fixture
Cons:
Buyers have to pay more for additional features for a full set up
The daylight bulb quits working in less than an hour
The clips that lock the lid do not stay in place
Size: 39.4 x 24 x 12.4 inches
Weight: 24.2 pounds
Material: Wood, plastic, acrylic
 The Aivituvin Wooden House is one of the finest enclosures for different kinds of a tortoise.
It is long-lasting, attractive in the finish, and easy to open up for feeding or taking off the pets from the cage.
The upgraded waterproof feature also helps to avoid flooring moisture.
Therefore, this wooden cage can be used both inside or outside.
It has a safety screen against predators and a hiding area to make the animals feel secure and safe.
Personally, we think this is a well-designed product.
Its bottom is sealed and closed so that the dirt can not get through.
The two-side viewing makes it easy for you to see what your pet is doing.
The manufacturer provided a weatherproof private sleeping area and public viewing spot where the pet can reach the UV and heat lamps.
Pros:
Large room
Well designed
The waterproof specification is suitable for both outdoors and indoors
Easy to open the cover
Cons:
Pricey
Heavy
Hard to assemble
Size: Various choices of size
Weight: Depends on the size
Material: Plastic
 If you are a traveler and want to bring your pet with you, the OMEM Portable Terrarium is suitable for you.
Although being spacious, it is lightweight enough to carry around.
Since it is made of 100% transparent plastic, it offers a crystal clear view with ample space.
Moreover, the product has a good ventilation system with several holes, which help to ventilate but also hold humidity well.
Moreover, you will receive a feeding bowl for each purchase of this product.
Pros:
Cheap price, available in different sizes
Easy to clean
Spacious but lightweight
Durable and waterproof
Well ventilated
Cons:
Do not suitable for permanent living
Ventilation holes are too big for some using purposes
Appeared to be smaller than expected
Size: 17 X 10 X 6 inches
Weight: 7 pounds
Material: Mostly plastic
 Geegoods Turtle Aquarium Tank is an option to go if you are finding the best indoor tortoise enclosure.
Its well-constructed appearance is the first thing that attracted us.
The layer smart design makes it easy to change the water just by taking off the leach water layer.
Moreover, to prevent the tortoises from climbing over the tank sides, it has a cover around the edge.
This cover stops your pet from moving out while maintaining the open space.
However, we think turtles will like this house more than tortoises.
Geegoods designs the lower area is suitable for swimming, plus the non-slip crawling with a suitable slope for them to climb to the feeding spot.
But if you do some customization, it is still good for a tortoise.
Pros:
Easy to change the water
Unique snap design with non-slip crawling
Filter position for the freshwater
Well constructed to prevent the pets from escaping
Cons:
Small size
Preferable for turtles than tortoises
Heat lamp clips keep falling down
Size: 48 x 24 x 4 inches
Weight: 19 pounds
Material: Fir wood, steel wire
Pawhut Triangular Wooden Hutch is the best outdoor enclosure for tortoise.
It has plenty of open space so that your reptile is free to roam and get plenty of sunshine and fresh air.
There is even a shade and hiding sleeping box. Especially, it is planned for outdoor uses.
The unique triangular shape allows the tortoises to have enough sunlight and heat they need, without worrying about predators or dangers.
This frame not only makes it more lightweight but also sturdy and durable.
The steel wire-style box enables adequate ventilation and decent viewing.
Pros:
Unique and smart design
Spacious and durable
Easy to install and clean
Screen for protection
Cons:
Only suitable for small pets
Not waterproof
The floor can be rotted
Some critters can open the door easily
What To Consider When Choosing The Best Tortoise Enclosure?
 Tortoise Table Or Vivarium?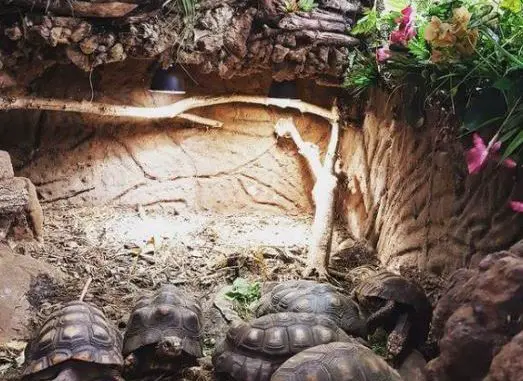 Table ones for hatching and young pets have been suggested in recent years.
In contrast with an enclosed vivarium, they tend to be wider and more readily thermal gradient around. It is much easier to feed and to tame your little friend.
Some species such as Horsfield or Hermann ones are excellent climbers.
Therefore, the tortoise table would be suitable for them, just make sure that the sides' height must be 10 inches or more.
On the contrary, in the vivarium system, the maintaining of humidity is better.
Thus, it is preferable for tropical animals from wet habitats, like the Red-footed from South America.
If you decide to choose the vivarium, pick the ones that are as big as possible.
 When you buy or set up an enclosure, there are a few factors you need to consider.
1. The Tortoise Type:
There are several species of tortoises including Greek, Sulcata, Leopard, Russian, Indian Star, etc.
The features and requirements of each species are different.
This is why it is better to learn carefully about what are the needs of your specific pet.
When selecting, you need to be mindful of what suits the tortoise best.
2. Space: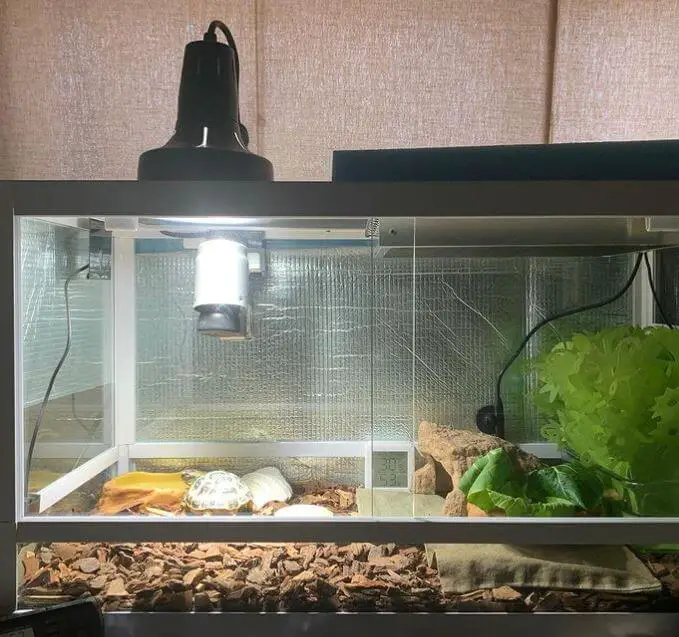 It is vital to provide plenty of space for your pet.
It enables them to move freely and not to be trapped in a small confined area.
You need to take into account the wishes and welfare of your animal to determine the location of your enclosure.
An indoor enclosure is the safest option for baby tortoises or in harsh weather.
However, an outdoor box is easier to clean and would not cause any mess.
You will also get a larger space.
Some species can be more tolerable outside than others.
For example, Sulcata tortoises are more likely than many others to survive cold and high temperatures.
They are therefore suited for outdoor houses.
3. Heating And Lighting:
Shell reptiles require light and a temperature appropriate for their natural surroundings to survive.
Your pet's precise amount of light depends on his species.
The safest option for them is always the natural sunshine.
UVA and UVB bulbs can be used if reaching a natural light source is impossible.
Bulbs are also a strong heat source. Moisture is important, too.
The moisture content of the enclosure also depends on your animal.
You may use substratum to retain water or add misted plants to add the humidity that your pet needs.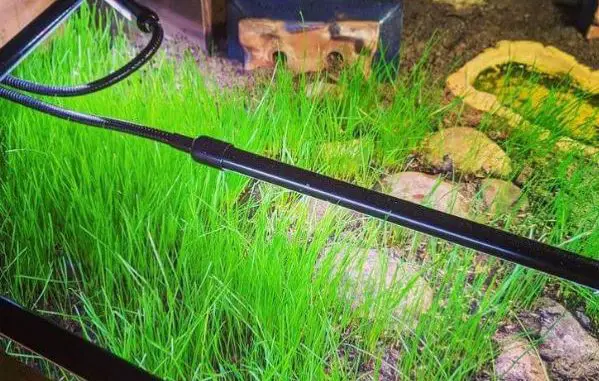 4. Bedding:
Sand, coconut husk, soil, moss are some common substrates.
Bedding and substratum are not only for retaining humidity.
They are also parts of the natural habitat.
There are a variety of bedding styles, choose the one that suitable to the tortoise's needs and your own expectations.
Some people like soil because they are natural and provide the pet with an excellent walking surface.
But their smell and the likelihood of bugs and insects discourage some owners from using them.
Best Tortoise Enclosure: Frequently Asked Questions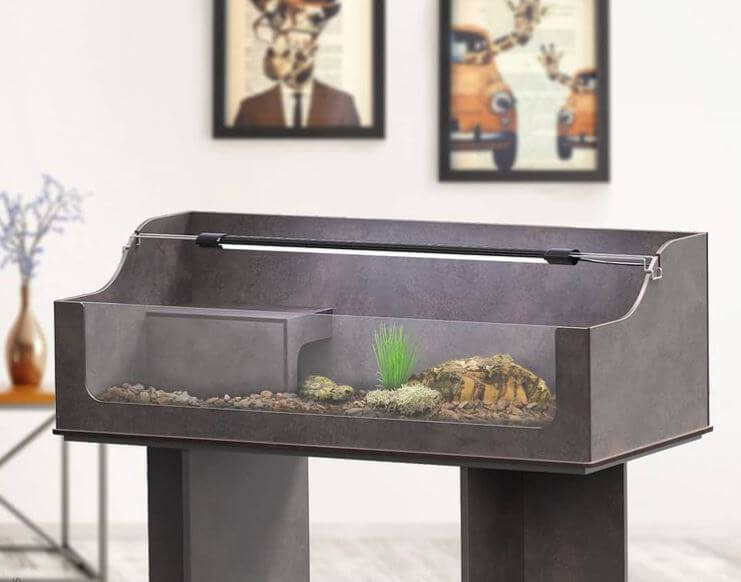 1. What Is The Suggested Size Of A Tortoise Box?
A 4 x 8 ft cage is recommended for a shell pet that is hatchling to 4 inches. This wide enclosure can comfortably hold up to 10 tortoises.
For an adult pair of Horsfields or Hermann ones, 10 x 20 ft is a suitable size.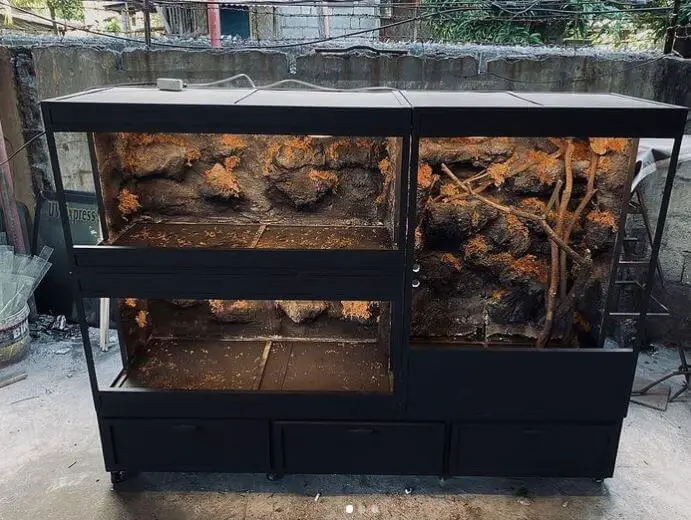 2. Can I Let My Tortoise Live With A Rabbit In One Environment?
No, please do not do that. Rabbits and other rodents tend to injure the tortoise.
Your shell pet may eat the rabbit's waste, too.
Neither should dog, cats, and tortoises are left together.
The dog may appear friendly, but to him, the tortoise is just like a moving bone.
They can attack each other, which sometimes disastrous consequences.
3. My Friend Also Has A Tortoise. Can I Leave Them Together?
No, it is not recommended to do that.
If they are two different species, they can attack and get hurt by each other.
The tension of the appearance of a strange one may also weaken the immune system and make your pet more vulnerable to diseases.
4. Shall I Keep The Basking Lights On All Night?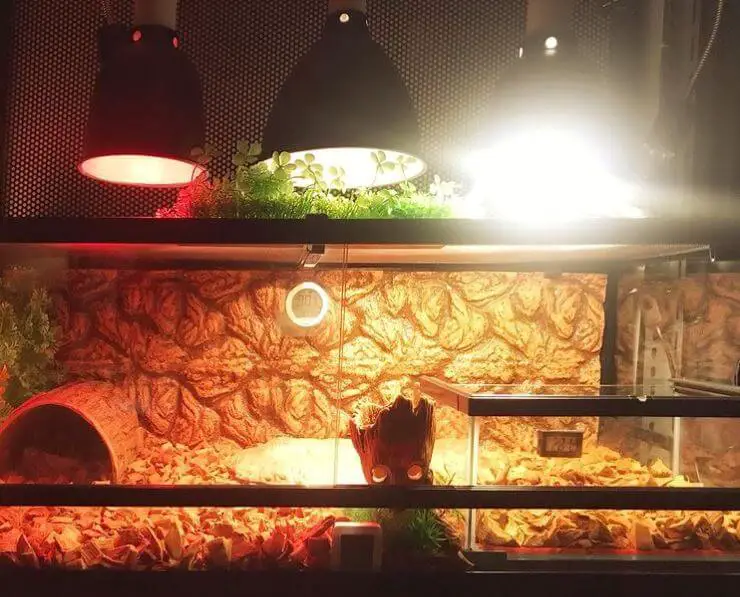 No, the animal has a period of day and night biological time.
Thus, the lighting and heating lamp should be shut down overnight.
As long as the temperatures at night are not lower than 10 – 12cC or 50 – 53oF, no more background heat is required.
Besides, tropical species require warmer temperatures obviously.
5. My Pet Seems Lonely, Should I Get Him A Mate?
In fact, he can live on himself very happily. You have to consider if you have enough space for another one before adding.
You should also ensure that the new tortoise's species or subspecies is similar to the current one.
It can struggle the two and the male one can harass the female one constantly.
So you must be prepared to split them if necessary.
In such cases, all new additions should be quarantined for at least 6 months to ensure completely safe until they can meet.
Conclusion
What the tortoises want their owners to deliver is a living environment in which their indigenous ecosystem can be reproduced as nearly as possible.
We recommend using the ZOO MED TORTOISE HOUSE if you still do not know that to choose among our suggestions. It is the basic style and fits all the needs of owners from beginners to experts. On the other side, it is advisable to keep your tortoise pet outside. PAWHUT OUTDOOR TRIANGULAR WOODEN HUTCH will not let you down. It gives your pet a sunny and airy space to be outside, but still happy and healthy.
Having the best tortoise enclosure is paramount for a good mood and healthy pet. It does not have to be pricey or needs a lot of kinds of stuff. Special items are not needed and nothing is more than necessary. All the needs of a shelled reptile are a safe and healthy place to live, and the love and affection of their owners.
Further Reading:
Tags: outdoor pen, heating mat