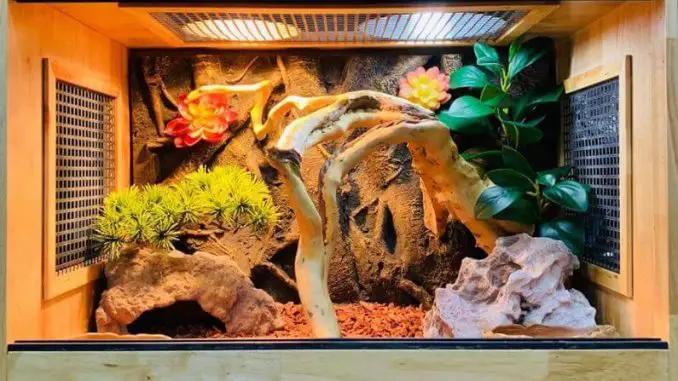 If you are confused to find a real simple and best bearded dragon lighting setup, you cannot miss our site. Keep reading our experience below to find your solution.
Firstly, we should know what type of lights needed for the tank.
Then, you will make a decision with the right and specific lighting options for your beardies.
Finally, it is necessary to know some tips and questions for setting up the perfect lighting system.
There are 3 main and simple types for every tank including a heat lamp, a UVB bulb, and a ceramic heat emitter.
However, it will be excellent if you can afford a thermostat, timer, heat lamp guards, and thermometers & hygrometer.
However, don't be worry, with 3 main important types, you already complete your lighting setup perfectly.
The Top-Rated Bearded Dragon Lighting Setup (Recommendations)
#1. TEKIZOO UVA UVB SUN LAMP – BEST HEAT LAMP
#2. WACOOL UVA UVB REPTILE HEAT LAMP – RUNNER UP
#3. ZOO MED REPTISUN 10.0 UVB T5 HO LAMP, 24 WATTS – BEST UVB LIGHT
#4. ZOO MED REPTICARE INFRARED CERAMIC HEAT EMITTER – BEST CHE
#5. 2RZ 110V 250W PET CERAMIC HEAT LAMP BULB, PET INFRARED BULB, REPTILE HEAT EMITTER – RUNNER UP
#6. WH1436A TEMPERATURE CONTROLLER 110V DIGITAL THERMOSTAT – BEST THERMOSTAT
#7. BN-LINK 8 OUTLET SURGE PROTECTOR WITH MECHANICAL TIMER – BEST TIMER
---
Related:
Guide for Best Bearded Dragon Lighting Setup 
1. Choosing The Good Lighting For Bearded Dragons
Type of lighting: a mercury vapor light is always an advisable choice for the owner. However, it is quite expensive. Thus, ceramic or fluorescent bulbs are also not bad choices.
Heat: A good bulb needs to produce enough amount of heat also. It will take more money for buying a high-quality bulb but it saves the cost of using extra basking lamps or other additional heating devices.
Intensity & spectrum: They need both UVA and UVB for staying healthy. Thus, you have to make sure that it has both rays but acceptable amounts for keeping well-being.
Fixture: Some lights can be set up with normal fixtures while some come with special fixtures. Thus, you should focus on what will be the right fixtures for your needs.
2. UV Lights
There are 3 types of UV:
UVA is a long wave ultraviolet A ranging from 320 to 400nm. UVA level impacts how they see the food and environment. 

UVB is a medium wave ultraviolet B ranging from 280 to 320 nm. This light penetrates past the skin layers of beardie. Your beardies need UVB for metabolizing calcium and vitamin D synthesis. 

UVC is a short wave ultraviolet C ranging from 180 to 290 nm, it is dangerous but filtered out through the atmosphere. 
3. Usage
Firstly, it is necessary to check if the bulb can provide both UVA and UVB, so you can provide all the needed UV radiation for your beardie.

It is better to use mercury vapor bulbs since it can provide heat and UV rays

Install your lights following the instruction then you can make use of the heat and UV rays produced.
Best Bearded Dragon Lighting Setup Shortlist (Updated List)
*Ratings are from Amazon at the time of publication and can change
The Best Bearded Dragon Lighting Setup
1. Heat lamp
A heat lamp is designed to emit strong heatwaves for keeping warmth, sometimes, it comes with UVB light. 2 models here will make you satisfied:
Tekizoo is called an all in one lamp providing visible light, UVA, UVB heat from the bulb.
This mercury vapor lamp produces natural sunlight, vitamin D3 for keeping them healthy.
Especially, your pet needs the UVA UVB from the sun basking lamp.
It is compatible with different enclosures such as tanks, terrariums, cages, and vivariums. 
It is recommended to use a good quality ceramic socket.
However, don't use it with the thermostat, don't splash water on the lamp, and keep it far from your pets.
Pros
Perfectly mimic wildlife

Providing both light and UVA UVB heat

Can be used for different types of pets from reptiles to snakes and turtles. 

Compatible with all types of enclosures

Premium quality mercury vapor
Cons
A little low UVB output 

Being expensive 
Wacool – one of the best tools in the bearded dragon lamp set up, is exactly what the professional breeders expect since it provides not only visual light, UVA, UVB, but also infrared light.
All functions are in one easy setup bulb. It can work as a sunlight lamp, basking, and heating lamp.
It is also compatible with all types of enclosures.
Especially, it can shut down when getting overheat for avoiding burn.
It will automatically cool down after 15 to 20 minutes. 
This bulb is perfect for not only best bearded dragon lighting setup but also snakes, turtles, etc.
With the natural sunlight, it can promote the synthesis of vitamin d3, stimulate reproduction.
This full-spectrum solar lamp is also a pet-friendly environment for clearing the natural visible light for preventing bone disease and enhance appetite.
You should use it with a high quality ceramic socket and large dome for large and high watt bulbs. 
Pros
All in one lamp

Suitable for different types of pet

Protect well from the self-ballasted and overheating 

Promote pet's health

Good price
Cons
2. Bearded Dragon Uv Lighting Setup
The mercury vapor bulb can supply both light and UV light, but actually, it will not enough to cover entire tanks. Thus, it is necessary to have a UVB light. Uvb can prevent skin diseases.
Zoomed reptisun 10.0 UVB is a high output lamp emitting UVB 20/51cm from the lamp's surface to avoid/reserve the metabolic bone diseases.
It is designed to use for large terrariums, more than 12 inches of UVB penetration.
It can also use above the screen cover which filters out up to 50% UVB wavelengths. 
This low heat lamp comes in full spectrum.
This lamp supports vitamin D3 and calcium absorption and comes in 24 watts model, T5 size bulb.
It provides the spectrum visible light and is suggested by veterinarians and top reptile pro worldwide. 
Pros
Provide strong UVB and bright light

The perfect option for reptile

Reverse metabolic bone disease 

High quality at a good price
Cons
Packaging should be improved
3. Ceramic Heat Emitter 
Ceramic emitter uses the invisible infrared lights for heating up the enclosure:
Zoo med is a famous brand without thousands of lamps, this model helps to keep warmth and good health.
Firstly, this is a coating free porcelain heat bulb that provides intense muscle penetrating infrared heat without lighting.
Secondly, compare with other lighting setups for a bearded dragon, it is designed with a flat style for avoiding heat buildup and makes it more durable for daily use. 
Also, It is suggested to use it with the arid enclosures with high humidity for keeping your beardie comfortable in the right temp.
Finally, it is also easy to set up, you just need for screws into the standard porcelain socket and use the 100-watt power. 
Pros
Provide 24 hours heat source

Produce intense muscle penetrating infrared without light-emitting

Flat convenient design 

Durable even for daily use 

Easy to install 

Run economically
Cons
After use, the bulb is very hot
This device made of high-purity pottery clay.
It has ceramic, infrared, and electrical heat sources without light emitted, that's why it will not disturb your beardie's sleeping time.
It can help in promoting health and healing since it widens the blood vessel and raises blood circulation. 
This ceramic emitter is easy to set up, just need to screw it into the standard porcelain E26 socket.
It is recommended to use different types of pets from poultry to lizards.
Besides, it is perfect for 24 hours heat source. It can last for a long time from 9000 to 15 000 hours. 
Pros
Great heating source for 24 hours

No light emitted

Easy to install

A suitable material for a wet environment

Good price at nice quality
Cons
Don't tough directly during using time 
4. Monitoring The Temperature
The thermostat is designed for controlling the temp. It runs by reducing or turning off the power to stay the temp at the right level.
One of the best thermostats I would introduce you is WILLHI.
This thermostat is very easy to use, you just need to plug it into the power outlet. It has a max power load of 1100 W and 110 V.
Its sensor cable is 9.8 ft in length.
This thermostat comes with a readout for setting up both C and F temp.
Besides, it features the temp probe which is waterproof and very durable. 
 It has an accuracy of 0.5 and is calibrated.
There are a high/low temp alarm and auto turning off timer for more safety. Its weight is around 15.2 ounces. 
Pros
Using heating/cooling devices

Wide temp range

Durable probe with long cable

No complex wiring 

High safety 
Cons
The construction seems not very sturdy 
5. Timer
The light timer is really necessary which supports controlling the time when the light turns on/off.
They do not need the light at night, it should be better if you have a light timer. Let me suggest to you one nice option:
BN-LINK 8 Outlet Surge Protector is user-friendly to use and install.
It controls your pet's enclosure light with 4 outlets and 4 always-on outlets.
The timer pin dial can be installed in increments as low as 15 minutes.
The program schedule repeats every 24 hours. 
It has indicator lights that indicate when the power for the row is on.
You can not miss this timer if you are expecting the best bearded dragon lighting setup.
Pros
8 power outlets

Surge protection

Economical energy 

Can use with other devices 
Cons
A little noisy when turning on 
Commonly Asked Question About Bearded Dragon Lighting Setup
1. Can I Use A Normal Bulb For My Best Bearded Dragon Lighting Setup?
I am sure that many people will wonder about this question.
The regular light is more yellow for humans while the beardie needs the whiter light or natural light should be the best.
Focus on the light with the frosted surface and distribute visible light. 
2. Should I Leave The Uvb Light At Night?
Absolutely no, you should not leave it all night, only for basking in the daytime. 
3. How Can I Mount The Uvb Light?
The screen can filter out UVB light, so you can mount the light inside the cage. You can buy an under-counter fluorescent fixture or command hook to mount it.
Only, you need to stick the hooks on the back of the wall and then hang the light fixture. 
4. Should I Have A Red Light For My Best Lighting Setup For Bearded Dragon?
You might wonder why some set of lights comes with a red light. It is not necessary. Beardies love the natural environment, there is no red light there. 
5. What Is The Right Temperature of Light?
Cre: thesprucepets
If you have a vivarium, at the warmer end, you should make it hot around 37 degrees C.
Then, around 26 degrees C for the cooler end. The best night temp should be around 21 degrees C.
You also should be aware of the temp for different ages.
For beardie from 12 months or over, the temp should be from 33 – 35 degrees C.
While from 4-11 months, it should be around 35, and for babies from 4 months, the temp can be 35-37 degrees C. You can use the thermometer for measuring the temperature. 
Read more:
6. Do My Beardie Need Heat At Night?
They do not need heating at night.
Heating on at night can discourage beardie from getting, bask and be active in the morning.
However, if the temp in your area is too cold, you can use the ceramic heat emitter for heating only without light. 
7. How Long Should I Leave Uv For My Beardies?
The beardie is a special pet, impacted directly by the temperature.
Hence, it is very important to keep the right time to expose the UV for them.
They need to receive around 14 to 16 hours of UV exposure in the summertime, and 10-12 hours in the wintertime.
Conclusion 
Apart from the food, lighting set up is one of the most important factors that you should consider.
It affects directly your beardie's happiness and health. 
Fortunately, you won't need to spend a huge amount of money on lighting setup for bearded dragons and also the light will be easy to replace at a low cost if you spend time considering what you need to buy. I hope that this article might be a guideline and saving money method for beardie lovers. 
Further Reading: 
Tags: basking spot, amount of uvb, 12-14 hours, basking light, white light, 100 watt, cool side