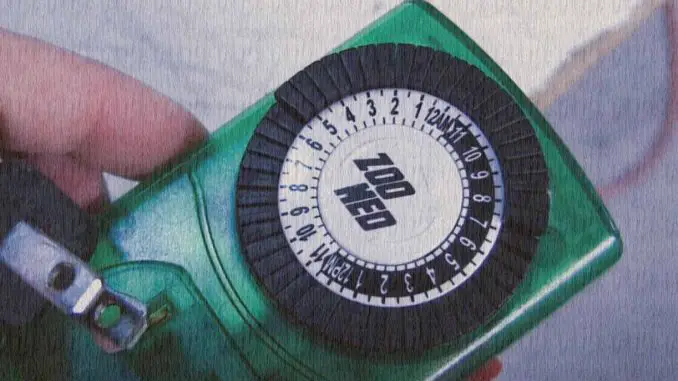 For reptiles, the most important factor for creating natural habitat is the day and night cycles repeated correctly, the best reptile light timer could be missing out. 
We know that you might get confused in the market of thousand models for a different type of animal and human, that is the reason why we are making this page. 
Like us, in our environment, the animals also need light to wake up and darkness to sleep.
The light affects their schedule, so their cycles also change and decide the animal's behavior. If your pet could not sleep or be active at the right time, they will get stress and unhappy. 
Thus, a system of a turn on/off the bulb at exactly time would be a priority. 
The Top-Rated Reptile Light Timer

(Recommendations)
#1. BN-LINK BND-6-/U47 INDOOR MINI MECHANICAL OUTLET TIMER – TOP REVIEW
#2. GE7-DAY PROGRAMMABLE POWER STRIP WITH DIGITAL TIMER – RUNNER UP
#3. ZILLA REPTILE LIGHTING & TERRARIUM HEAT POWER CENTER – BEST FOR TETARRIUM
#4. FOSMON 3-PRONG DUAL-OUTLET PLUG-IN MECHANICAL – BEST FOR AQUARIUM
#5. IPOWER 7 DAYS HEAVY-DUTY ELECTRIC – BEST BUDGET
#6. ZOO MED LABORATORIES SZMLT10 REPTI DAY-NIGHT TIMER
#7. BN-LINK 8 OUTLET SURGE PROTECTOR WITH 7-DAY DIGITAL TIMER
---
Related:
Guide For The Best Reptile Light Timer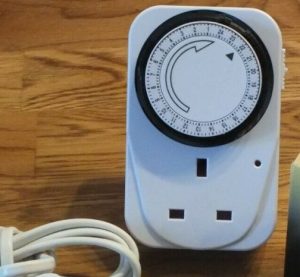 Firstly, let take a quick look at 3 types of lights that need to be turning on/off at the right time.
If you are using them, don't hesitate to buy a tool to control it immediately. 
1. Moonlight bulbs
This kind of night-time lights but it simulates the moonlight and allows your reptile carry on their activities, especially for a nocturnal pet.
Some animals need to hunt, reproduce, or eat the night, thus a low light from the moonlight bulb will provide enough light for them to easily do what they want. 
Or in case, some pet does not need to be heated up at night, you can pick it which emit only light without heat.
To make sure everything going on well, just connect this light with a device.  
2. Infrared lights
Infrared lights are night lights that allow you to see your reptiles in the darkness.
Besides, it also provides the red light, without heat, still helps to maintain a pet's night schedule while you still and enjoy seeing them. 
Especially, as the moonlight bulb, it also supports for pet's night activities such as hunting, eating, etc. 
Surely, you could not always be at home to set up the light, the timing controller for this light is an important part. 
3. Daylight bulb
The daylight bulb is an alternative solution for the sunlight in the reptile's environment.
It helps to give the UV light and heat in the exact amount for them to keep them healthy. 
In addition, a daylight bulb needs to be kept for 12 hours and turn off at night for 12 hours.
Therefore, make use of a timer will help us to get all the benefits from the daylight bulbs easily and accurately. 
How To Set up?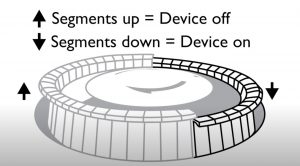 Reptile timer should be placed outside the terrarium, there are full steps for you to set up a reptile light timer: 
Step 1: Plug in the device 
Firstly, you take your device out of the box and then plug it into the electricity source. 
Step 2: Lug the light into the timed outlet section 
You can set up it close to your pet tank because some do not offer the long cord 
Step 3: Turn on the device
Don't forget to turn it on by switch the on/off button designed at the side of the device in some models. It might become red to inform that it is already on. 
Step 4: Turn on the lamp
Don't forget to turn on the lights you need to control.
Step 5: Start to set up detailed for the timers
Step 6: Set the current time on it
By turning the dial to set the current time and the time you need to turn off the light. 
Step 7: Set the schedule 
After all these steps, don't forget to test. 
Note: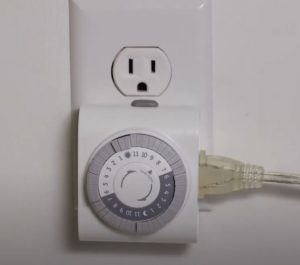 There will be a switch or a button (up to the products) on the tool, allowing you to change between the timer and manual function. 
The manual feature will let you turn on/ off the light as you would but by switching to the timer feature.
That means it will be turned on or off any time you set on the device. 
If you want to change the timer while it has the power switch on the outlet, you should turn the power off for the outlet to avoid damaging it. 
Mostly, the device will have a rotatable circle that can indicate how many minutes between each hour marked. 
Some have the standard buttons paired up with the display to indicate the time. 
To know more about how to set up your device, you can check out the light timer instructions going together with your tools for a specific model.
Best Reptile Light Timer Shortlist (Updated List)
*Ratings are from Amazon at the time of publication and can change
The Best Reptile Light Timer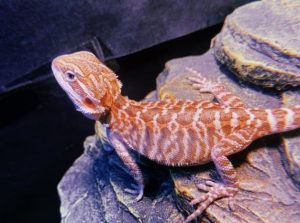 BN-LINK always brings great products with nices customer service, come with this model, the simple and efficient design and features are equipped. 
You can turn off it by pin UP, and pins down to make it on. Pull the pin-up to start setting time
It is used for different purposes such as to monitor lamps for small animals, decorate the Christmas tree, or other devices. 
You can make use of designing your schedule with 24 hours on and off settings/day.
You can program the devices to turn on/off in as small as 30' intervals. This setting can be repeated daily. 
One package will include 2 tiny timers that can be used in 2 different locations.
It is completely compatible with portable fluorescent lighting, LED bulbs, and small appliances. 
Moreover, this BN-LINK brings all the security and energy savings into your life.
Its price might satisfy most of the users, especially, tight-budget reptile owners. 
Pros
The portable design which is smaller than the standard timer and simple setting ups

Good price 

48 possible half-hour settings for selecting 

Come with rugged construction which is heavy plastic. 
Cons
The length of each set will be a half-hour
GE 7 – a best reptile light timer will never make you disappointed, it helps you to control not only the reptile lamp but asl other household appliances. 
It has 4 timer-controlled outlets on the left side and 4 ON outlets on the right side with the twist for locking for safety.
You can have the space for plugging in and controlling all the lights in your pet's enclosure. 
Besides, you can program the light for each day making weekly cycles that are programable down to the minute. 
Using GE 7, you can save power and money, its power strip eliminates standby power by disconnecting the power from the timer in 4 timed outlets.
When the power goes off, you don't need to reset the device since its backup battery keeps it going in the case of a power failure. 
GE 7 is compatible with a wide range of plug-in lightings such as LED, CFL, Halogen, and incandescent bulbs. 
It also comes with a 3ft cord extends reach for more convenience. this indoor strip device is great for electronics, lamps, and appliances rated for 120VAC/15A. 
Pros
Provide control for multiple lights

Be possible to program for a week

Save power

Backup battery to save settings in case of power failure 

Easy to read display

Twist to lock outlet covers for more safety
Cons
Not for aquarium 

Does not offer the surge protection
Zilla is a 24/7 Digital that allows daily programming with on/off outlets and constant power outlets including 4 days/night alternating outlets and 4 constant outlets. 
Besides, you can use it easily with the easy-to-use digital programming and the LCD.
You just need to plug in Zilla and plug the light in and then set the on & off times.
You don't need to reset it since it will continue to run the schedule you choose. 
It takes a perfect monitor of habitat fixture on/off cycles by a power strip.
This model is up to 1875 watts and 15 amps.
Especially, Zilla is built to protect your devices, thus, you don't need to worry in case of a power surge.
Zilla offers you a 2ft length cord for convenient installation. 
It can be compatible with most of the day/night heat lamps, heating pads, UV sources.
Thus, it is the timer for reptile light owners, especially for bearded dragons. 
Moreover, if you are looking for a product with nice refund police, don't miss this brand.
They have a superb service for customers also. 
Pros
Easy to operate

Auto control your animals' day/night schedule. 

Great refund policy 

Don't need to reset 

Come with power surge protection

Used with different appliances
Cons
The instruction is not English 
Fosmon is working well with LED aquarium lighting in regulating lights of the fish tank and reptile's terrarium also.
It is simple to set up and operate. Coming with 2 outlets for controlling 2 devices. 
It is designed with a 24h programable outlet and accession of 30 minutes and furnished with the dual outlets for plug-in 2 appliances at the same time. 
It is a multipurpose tool that makes a great product, it is not only for fish tanks but also for lamps, humidifiers, holiday lights, and terrariums. 
The manufacturer offers manual instruction which can be litter baffling but if you can figure it out, it will work well. 
Especially, each package will come with 2 timers powering 4 devices at a very affordable price for most users. 
This handy tool supports to save on energy and reduce the cost as turn on/off your electric device automatically. 
Pros
Ideal for saving energy and cost

Designed for a variety of purpose 

Top rated for quality 24h programable outlet 

48 push pins equipped 
Cons
A little complicated installation instruction 

Need resetting each time dial
Ipower electric model is a reptile automatic light timer, comes with 8 on/off the program with flexible independent time setting for minutes, hours, and days.
In addition, it all automatically repeats weekly and backed up if the power gets failure. 
Especially, it has an LCD digital display for easy reading and control.
Moreover, it comes with a backup battery, dual-outlet, and double control capacity. Its grounded 3 prong design is for making sure the safety. 
If you are looking for a multiple purpose device, it would be your best of choice because it is compatible with fans, lamps, lights, heaters for saving energy and money, it is essential for reptile lighting too. 
Pros
Come with daylight savings time switch 

2 grounded outlets controlled by the same program

Battery backup feature 

LED and easy to read display
Cons
Can not know the battery charge level
With Zoo Med, you don't need to worry about turning on/off the bulb every morning/evening anymore. 
It makes sure that your animals will get enough UV radiation from the lights in the right amount., also they will be active as they are supposed to be, and take a rest at night with enough sleep. 
This model comes with 8amps/900watts which is less powerful than the Zilla model. It is also easy to set up, 
With this zoo med reptile light timer, you can easily set up a nature day/night cycle.
However, its price is very cheap, but quality and lifespan are also secured. 
If you are owning a bearded dragon, missing out on this choice would be one of your serious mistakes. 
Pros
Easy to set up 

Can be used for regulating the heaters

Work well at maintaining day/night time in the enclosure 

Affordable price
Cons
One more product from BN-LINK, one of the famous brands for the timer, it comes as normal with 4 controlled outlets and 4 always-on outlets.
Besides, it all is fully protected by the surge protector and the circuit breaker switch for more safety. 
This model is easy to set up to 8on/off programs for 4 grounded outlets. 
In case of a power outage, its long-lasting backup battery will keep the setting, then you don't need to take time for setting up later after the power on. 
BN-LINK also is one of the most friendly to the user and easy to install the device, with 3.28 ft cord and the power strip has mounting holes on the back for making it easy to mount to the wall. 
This model can be used for different applications such as controlling the lights, water coolers, even scheduling when turning on the set-top boxes. Being a perfect choice for both aquarium and terrarium. 
 It is simple to configure and also offers a nice energy-saving function. 
Pros
Perfect choice for multiple plugs and timers, specifically, for reptiles and fish tanks

Easy to use

Well programming 

Come with the surge protector

Very durable 

Good for outdoor use also 
Cons
The instruction and description should be better
What Do You Need To Consider When Purchasing The Best Reptile Light Timer?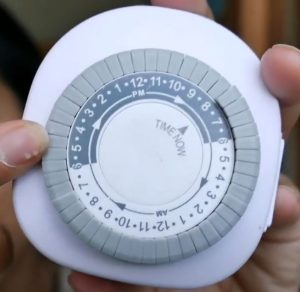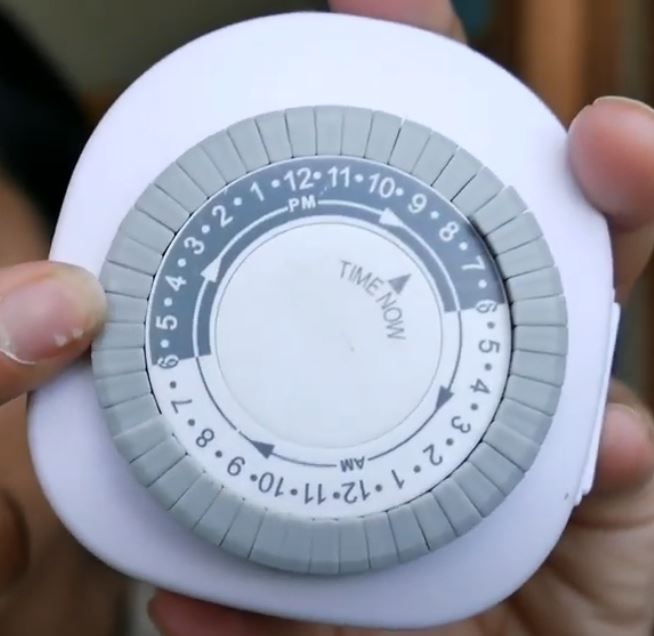 When starting to look for the timer, you will see too many items on the market, your choice would be market hardly.
Thus, some suggestion for guiding you will be useful at this time:
Features
Firstly, you should check to see that the device can turn on and off the light perfectly at the right time. You can see this information in the product description. 
Efficiency
Secondly, it will not be for consuming more power but helps you to save energy and money on the electric bill. 
Durability
Don't see only how it looks, but how durable it is. A device with a good guarantee and a nice giving back policy would be more worthy than none. 
Convenience
Don't forget to choose the timer which is easy to set up and operate since most of us are not professional in technical. 
Security
You will not use any device which is at risk of damaging your pet, so make sure that it is safely be used with reptiles. 
Price
Price is one of the most important factors, it decides how durable and nice quality it is.
Thus, it is recommended to choose the one with an affordable price rather than a cheap price but bad quality.
Besides, some products may give you gift cards for the next buyer.
Commonly Asked Question About Best Reptile Light Timer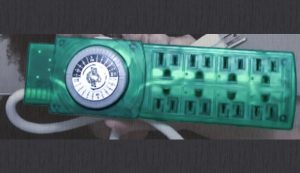 1. How Many Types of Light Timer For Reptiles?
There are two types including the mechanical and electric types. They will come in 2 models, one is hardwired and another plug-in.
2. How Long Will Be The Perfect Time for Keeping Lights on For Reptiles?
A full UV source is needed for 12 hours during daytime in spring and summer, and 8 hours in the winter and fall.
Remember, the UV could not pass through the glass or plastic, so make sure there is no covering between the bulb and your reptiles.
3. Does The Timer Cause Some Fires?
No, there is no evidence or logic at all that this kind of device can cause a fire. 
4. Will All Light Timers Save Money on Electric Bills?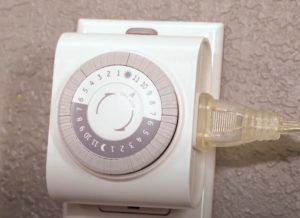 It depends on the cable box, they can sometimes consume a small amount of electricity.
Especially, if you have it with the outlet your cable box is plugged in, you can even save more energy. 
5. Why My Timer Does Not Work?
Several cases are happening.
Firstly, the bulb might be burned out already, or there are some mistakes on the tool needed to be fixed.
So, you can get on the sturdy ladder and then twist the bulb into the socket perfectly, then turn it on again.
If the light still fails, it might be burned out.
6. Is it ok To Keep the Basking Lamp on The Night?
It is not recommended to keep the basking light on at night.
Because it is a kind of daytime light, it will make it hard to get into sleeping. 
7. How to set a reptile light timer?
Reptile light timers are used to regulate the power going to a lamp. Reptile light timers can be set in a number of different ways for a variety of lighting schedules, depending on what type of timer is being used and how many lights you have running.
The most basic way to use a timer is as an "on/off" switch. Many timers have a setting for "manual" or "continuous". Manual will keep the lights on for as long as the dial is turned to that number, and continuously turns the lights on at whatever time you preselect.
Conclusion
The best reptile light timer plays an important role in maintaining the reptile's behavior and keeping the cycle well. 
We hope that our page could narrow down your list of great timers for reptiles, if you are still considering exactly our most concerning items, I would let you know BN-LINK BND-6-/U47 INDOOR MINI MECHANICAL OUTLET TIMER which offers great features and energy safer.
Another great choice after would be ZILLA REPTILE LIGHTING & TERRARIUM HEAT POWER CENTER which is perfect for a reptile terrarium.
Finally, I am sure, no matter what will you end up for, we hope you will both have more information after reading and enjoy our valuable sharing.
Further Reading: