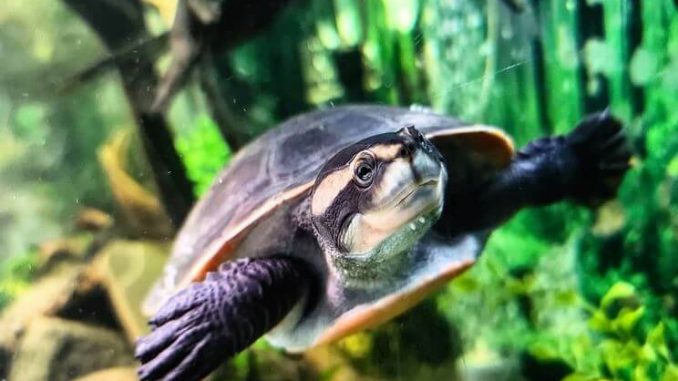 Are you going to decorate your aquarium with a really natural look and search for the best plants for turtle tank? Turtles enjoy living plants as they want to eat them, as well as replicating the natural habitats.
But there are advantages and disadvantages of having plants in a tank, regardless of live or fake plants, and prior to making a decision, you should think about that. Having plants helps to clean and oxygenate the water.
The proliferation of toxic bacteria and algae is reduced by both.
Keeping water clean and protected from unexpected developments gives the turtle a healthy habitat.
In this article, we would like to suggest some more plants for you if you already have experience with aquatic turtle tanks.
If you are a newbie, let's take a look at some of the benefits and drawbacks of growing plants in the setting before deciding which one to buy.
The Top-Rated Plants For Turtle Tank (Recommendations)
#1. JAVA FERN MICROSORUM PTEROPUS POTTED – TOP PICK
#2. ECHINODORUS BLEHERI LIVE AQUARIUM PLANTS PACKAGE  – EASY TO FIND
#3. SUBSTRATE SOURCE ANUBIAS BARTERI – EASY TO CARE
#4. LEAF RED ROOT FLOATERS PHYLLANTHUS FLUITANS – BEST FLOATING PLANT
#5. MARINELAND BAMBOO 3 FEET – BEST SELLER
#6. ONORY99 SIMULATION FAKE PLANTS
#7. AZLNRMU MOSS BALLS DECORATIVE MOSS BALLS

---
Related:
Why Do You Need Greenery For Your Tank?
Having plants in your turtle's habitat has a range of benefits.
They not only have hiding spots to keep the reptiles secure, they also increase the aesthetics and help to flush ammonia and nitrate out of the water and even richen the oxygen levels.
When you get aquatic plants for the enclosure of your turtle, go along with edible ones.
This way, if the tortoise tries to snack the vine, there will be no harmful effects.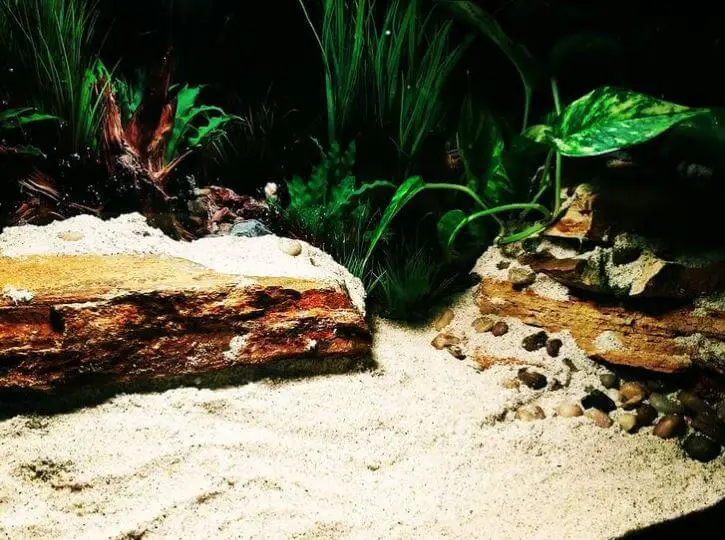 1. Advantages:
Live plants help filter nitrate and ammonia out of the water by regulating carbon dioxide and can help to eliminate algae. Thus, the biggest pros of having real plants in a turtle tank are improving the water's quality.
They help to oxygenate the water, which prevents anaerobic bacteria from developing. Many bad bacteria are anaerobic, but in the presence of oxygen, they will not go well.
They bring natural appeal to the living environment.
Turtles also like to explore and hide in the plants. They can also mumble on them sometimes. Your pet will feel more at home with the appearance of plants.
2. Disadvantages:
Some species need a substrate for them can root in something on the bottom of the tank.
At least one or two times a week you have to clean the substrate, turtle's wastes, and the remaining food.
These dirty factors might foul the pool, churn the water, and get your pet sick.
However, some plants do not require any substratum and can receive the nutrient directly from the water.
Some species are poisonous to turtles, so please do not randomly pick a plant until you know it is healthy and safe.
Often tortoises prefer to make a plant salad. That is going to make a real mess that you have to clean up.
Turtles sometimes dig out plants from roots for no reason.
Additional note: It might be a lost cause to add natural plants to your turtle tank, depending on the plant and the age of your animal.
As they mature, for example, most turtles get more herbivorous.
Sliders normally have a diet of about 75% vegetables as they get older.
Therefore, when the tortoises are still young, it is advisably best to put the greenery in the tank.
Check out some safe aquatic plants in the picture below: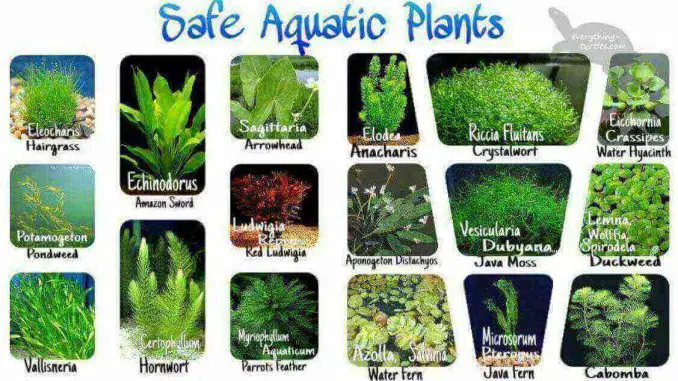 3. What Is An Ideal Planted Turtle Aquarium?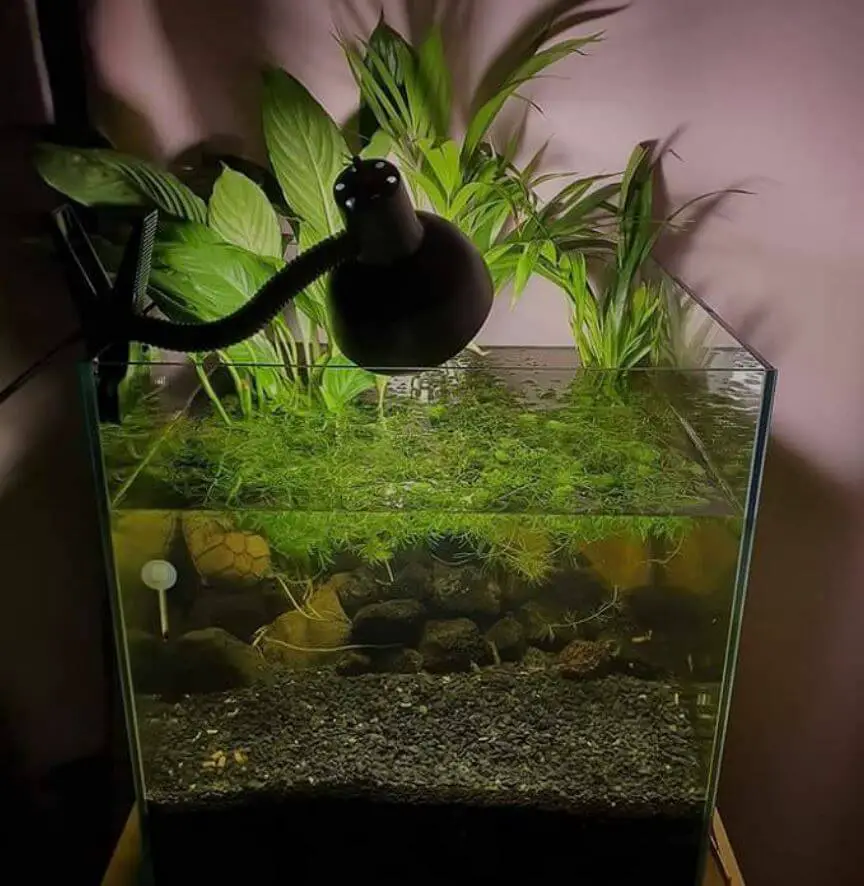 (Credit: Tankarium)
Take a look at an ideal planted tank above.
Firstly, having plants and aquascape gives a nice and functional home to your aquatic turtles.
Secondly, some rocks imitate a natural basking platform which is very attractive and the floating plants bring some shade.
Finally, we really love how plants reach out of the water, it makes the aquarium looks like a natural pond.
Best Plants For Turtle Tank Shortlist (Updated List)
*Ratings are from Amazon at the time of publication and can change
The Best Plants For Turtle Tank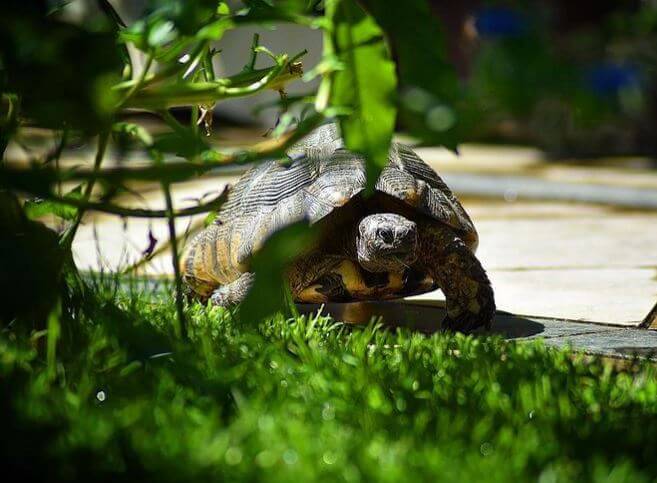 Key feature: 
Binomial name: Microsorum Pteropus
Water pH: 6.0 – 7.5
Growth speed: Slow
 One of the finest live turtle aquarium plants is Java Fern.
This is hard, economical, and easy to find in most pet shops.
It can either be cultivated completely or partly underwater. Many turtles are not going to eat it, which is the best of all.
In the best condition, it can grow tall up to 14 inches.
Their leaves have different lengths and sizes.
The wood drift, rocks, and other objects are what the Java Fern sticks on in nature.
It does not have solid roots, so ut just will not function well in the substratum.
It is likely to come loose and shift in the tank. There is something you have to attach them to.
Therefore, the best way to use Java Fern in a turtle box is to bind it to a rock or a piece of driftwood by means of a cord.
You can also tie it into a suction cup and connect it to the bottom of the tank, then put a little substrate around its base.
Dental floss or cords may be used to tie it.
Pros:
Enhance tank's appearance
Easy to grow
Does not need special care
Good for water filtering
Cons:
In some special water conditions, it might turn brown and gives a nasty bacterial infection to your tank.
Need preparation before putting into an aquarium
Key feature: 
Binomial name: Echinodorus grisebachii
Water pH: 6.5 – 7.5
Growth speed: Medium
 The Substrate Source Echinodorus Bleheri Amazon Sword is fairly hardy and easy to grow, but they require a good deal of light.
Do not plant them under the turtle dock in the dark areas of your tank.
It can be nibbled by turtles and fishes, but they do not usually consume the entire tree.
The tortoises appear to pick them up by the roots.
Perhaps they want to know if the root tastes better than the leaves or not.
This plant requires a lot of light to survive.
Moreover, the roots of sword plants must be planted in the substratum.
It will help at first tie them to a rock, however before they have the ability to establish deep roots. Usually, you can only replant them if they are uprooted.
They are also very tough and easy to get at any pet store.
Pros:
Easy to care
Broad leaves are excellent hiding spots for the turtles
Offers a high level of filtration
Turtles do not favor them.
Cons:
Required a lot of light, may not be suitable for some species of turtle
Grows slowly
Smells bad when being taken out of the water
Key feature: 
Binomial name: Anubias barteri
Water pH: 6.0 – 7.5
Growth speed: Slow
There are about 5 varieties of Anubias Barteri, but the one we suggest is a broadleaf native from West Africa which requires 72 to 82oF temperatures to be attained in a turtle tank.
They also thrive at a normal pH level and do not need too much light.
A plus benefit is that tortoises do not like these leaves and are not going to make a mess with them.
Besides, they are not harmful and do not really need a substratum.
It is shipped with a pot but you can take it off for optimal growth.
These plants may be anchored into the ground of the aquarium by attaching them to weight like rocks.
Note that never release the plant into the wild. Allow it to dry entirely before discarding excess growth.
Pros:
Easy to establish and hold down with stone, wood, or decorations.
Does not require much care and thrives in almost any condition.
Turtles do not eat them.
Gorgeous leathery leaves can grow up to 12 inches.
Cons:
Slow growing plant
Do not appreciate very strong light
Should be grown submersed
Key feature: 
Binomial name: Phyllanthus Fluitans
Water pH: 5.0 – 8.0
Growth speed: Medium
Lead Red Root Floaters is not a very common type you can find at any pet store, but it is a beautifully worth-the-pay decoration.
Firstly, if you provide them a good source of light, the whole system will turn red naturally.
Sometimes, the tiny yellow flowers will bloom, giving an amazing look to your tank.
Besides, it is considered the best plants for turtle tank when talking about floating ones.
Each order is expected to arrive with approximately 15 leaves and will grow properly in a freshwater tank.
Especially, they can grow freely without any special requirements of chemicals or substrates.
However, for spangles to grow well, you will need a special light.
You will need to check the ensure that your water temperature is stable between 21 to 30 Celsius degrees and the pH level is from 5.0 to 8.0.
Pros:
High quality, safe, and stable floating plants for the turtle.
Turtle friendly species
Beautiful
Covers the water surface, gives the turtles spacious hiding shadows
Cons:
Not suitable for beginner pet owners
Needs specific care
Needs frequent cleaning up
You will enjoy the Marineland Bamboo plant if you have chosen now to use a fake plant for turtle tank.
The plastic leaves look very realistic provided that it is an artificial plant.
That the leaves are gentle and have no sharp edges, easy for your turtle to swim through.
Thanks to the length, you can either float it at the top of your tank (best for at least 23 inches long tanks) or anchor it under the rocks to allow your turtles to explore the different sights.
It is good for aquariums and terrariums, as well as for turtles.
 Pros:
3 feet long, ideal for aquariums and terrariums
Does not require care
Can be anchored to the tank bottom or float freely on the water surface
Provides a place for the pet to hide
Comes in many varieties, sizes, and styles
Cons:
The anchor is not weighted and does not look natural
Besides the top five list, we would like to introduce to you the other ones that are highly recommended by online buyers.
Going back to the plastic plants for turtle tank, it does not matter if you are a newbie or an expert who want to have new greenery for the aquarium, Honory99 Simulation Fake Plants product is an ideal choice.
The unique decoration is an extremely cost-effective option and is available in several sizes from 40cm to 100cm.
This ensures that you can pick the size that ideally corresponds to your tank, meaning that your aquatic environment matches well and reduces the chances of overgrowing.
The artificial leaves are made of safe plastics so that it will not harm your pets.
This product has been chosen by a lot of users because of its friendly properties and extreme durability.
It lasts as long as you like.
Pros:
Great for all kinds of aquarium
Long service life
Different sizes available
Cons:
Not realistic appearance
Reported to be too heavy to float
Key feature: 
Water pH: 6.0 – 8.0
Binomial name: Aegagropila Linnaei
Growth speed: Fast
 Moss Ball is a type of green algae filamentous.
A ball of marimo is a very special and unusual type of this species, where algae fusion into large green balls that look like a moss of velvet, hence its name.
Moss ball is a very special alternative when choosing your best plants for the tank. 
They simply lie on the bottom and are not really tasty, so turtles will not really outright consume them.
They are also fantastic in the low light aquarium, which is ideal for a turtle's tank bottom.
Moss balls also build a fun toy in which your turtles can drive and enjoy.
They also have a strong sense of water filtration, which extracts unhealthy compounds and excess nutrients from the water. We can not ignore that they look cutely amazing, too.
Pros:
Hardy and easy to grow
Great oxygenator and nitrates filtration
Affordable
Cute appearance
Cons:
Can bring snails into the tank if not being cleaned carefully
Overgrowing leads to a smelly tank
How To Choose The Best Plants For Tank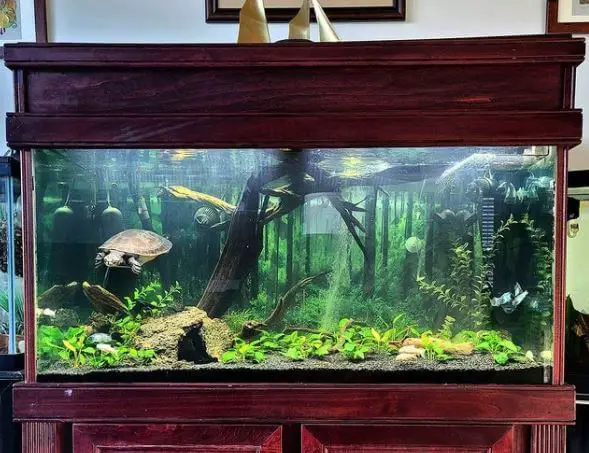 Cre: myturtlecam
There are 3 important factors that have to be addressed when selecting greenery for a turtle habitat:
The toxicity of the plant for your turtle. Do the research before purchasing, most of them are not toxic, but better be careful.
If the turtle finds the plants so delicious, they will eat before the plants have the chance to grow.
How well the plant does is relative to a warm, rather low light submarine. Moreover, you may need to keep it deeply rooted in the substrate, thus, any type with a strong root system is a great bonus.
Toxicity:
Most turtle owners prefer plants that their pet can not consume, however, the plant should not be poisonous.
Moreover, accidental consumption can cause health complications and even death.
It is important to know the plant species and whether it is toxic.
Especially, Milkweed, ivy, and hemlock are some toxic species you should avoid.
Do not choose plants that need too much light or CO2:
You can maintain these factors technically, but they are a great deal of work and demand additional care.
For them to thrive, you may need special light systems.
For example, the water hyacinth needs full sun and heat as hot as the summer temperatures.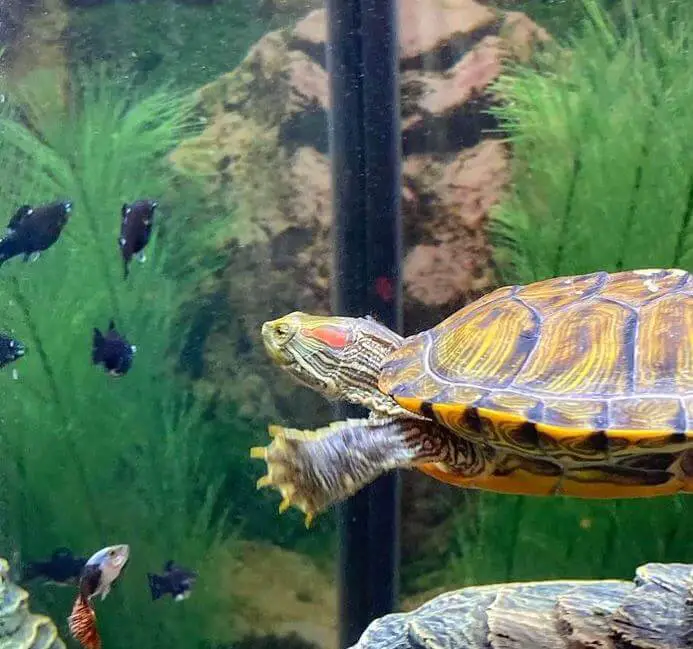 Source: thetyedyediguana
Artificial Or Plastic Plants:
If it is too much of a job to tend real plants, you can try artificial types. In most turtle aquarium, artificial ones work fine.
The ones molded in a single piece tend to hold better than the others in which the plants' leaves can be removed from their stalks.
Turtles are much stronger than fish and are going to separate flimsy plastics.
For water quality (unless they cultivate algae), artificial plants for tortoise tank would do no good.
They would simply make the tank more appealing and less bland for the tortoises for people to see.
If you have them in your tank, they will also provide a place for shrimp or fish to hide.
Personally, we agree that at least having plastic leaves is better than having nothing at all. They make your turtles less boring though.
Read more:
Frequent Asked Questions About The Best Plants For Turtle Tank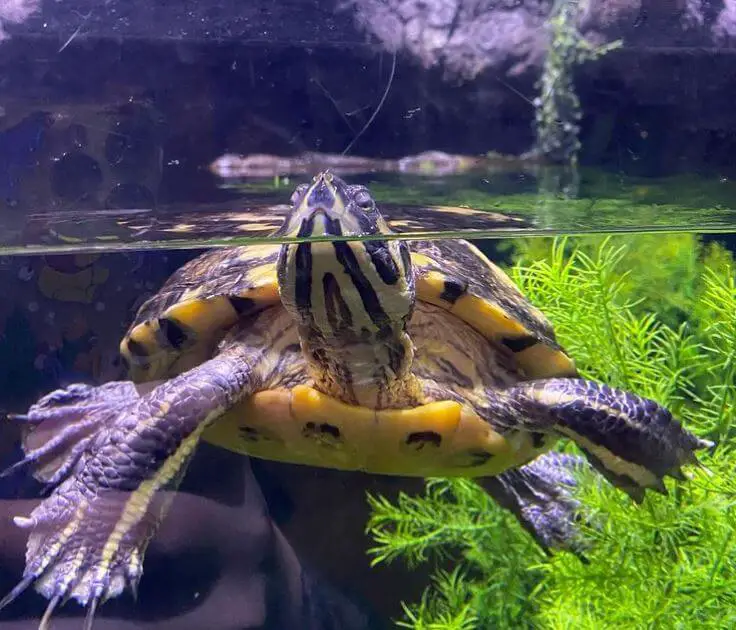 1. Can I Keep Java Moss As Floating Plant For Turtle Tank?
Although it is theoretically feasible to grow floating, it is neither simple nor recommended.
Java must anchor to something like gravel, driftwood, or bricks.
When floating freely, it does not do that well.
When it floats easily in an aquarium, it can create a variety of complications, and it may just not grow. Therefore the response here is no.
2. Is Putting Fresh Cut Small Logs Into Turtle Tanks Appropriated?
Yes. However, you better boil the log in hot water to remove any trace bacteria or noxious infectious conditions.
Then you do not have to fear the tortoises could get ill. Of course, if you do not boil the log, the chances of your pets getting sick is low.
It is just our advice.
3. How Often I Need To Change The Water Of My Tank?
You need to change the water at least once a week and clean entirely once or twice a month.
Turtles may spill salmonella into their urine, and their body, skin, or habitat can easily be infected by the bacteria to get sick. Cleaning and keep good water quality is essential.
4. Are Moss Balls Fine For My Turtle Aquarium?
Yes, you can place it at the bottom of your aquarium. However, it is not especially delicious to turtles so sometimes they might eat it but will not consume it entirely.
Furthermore, moss balls enjoy low light tanks, so do not use too much light if you want to have these balls.
5. Why There Are So Many Algae In My Tank?
Wherever the sun can access that has a wet and humid condition, algae development is likely to happen.
This ensures that the aquariums are perfect destinations for algae to live.
While tiny algae would not damage your pets, it can be detrimental to their wellbeing by overgrowing.
You can use bleach or chlorine to combat algae growth.
Bleach kills and stops the growth of them. Mix them with a ratio of ¼ teaspoon for each water gallon.
Do not forget to bring all the living species in your tank including animals and plants to a safe place before doing the treatment.
Conclusion
Growing plants in a tank have a lot of advantages.
However, our priority is still the turtle's wellbeing.
If you decide to buy an aquarium plant for your turtle tank, the most important thing is making sure your turtles are safe to live with them.
Taking all the mentioned products into consideration, we would like to suggest the JAVA FERN MICROSORUM PTEROPUS POTTED as our top pick.
Adding them to your tank does not only bring a beautiful natural underwater look but also keeps the water clear and provides more oxygen supply.
You are too busy to take care of all the living species? Give MARINELAND BAMBOO 3 FEET, the best fake plants for a turtle tank, a try.
Since it is a plastic plant, you do not need to worry about its living factors. Moreover, this artificial one is designed very realistically and does not harm your little friends.
  While it may cause confusion when attempting to choose the best plants for turtle tank, it does not have to be the case. Either real or fake, we believe that the products we suggested will bring a perfect vibe to your tank. Thus, all you have to do is choosing the most suitable ones for your needs.
Further Reading: 
Tags: live plants for turtle, water lettuce, dwarf hair grass