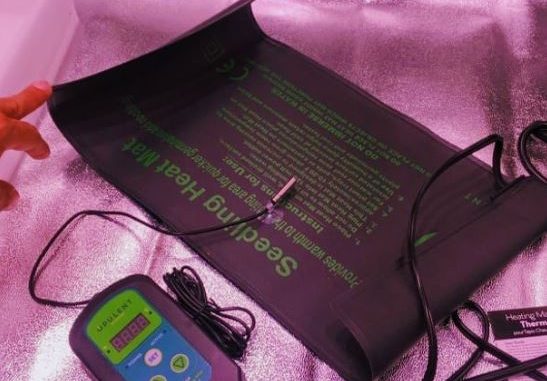 Either you are a professional pet breeder or a rookie in the field, considering the best heat mat for leopard gecko is always challenging.
As we know, the native living area of leopard geckos is arid, warm and mostly they are drylands or semi-deserts.
They then become kept lizards, which means there must be an adaptation to the current living temperature so that they can stay healthy and happy.
 Leopard geckos, just like other types of lizards, do not have a fixed body temperature. In other words, their body temperature changes along with the surrounding environment.
Therefore, to generate adequate heat for a leopard gecko, we need assistance from primarily essential equipment which is a heat mat for them.
However, it is not easy for us to choose the best heat mat for leopard gecko at all as we shall consider their multiple features and characteristics. If you are busy with confusion and contrasting ideas and problems, let us share with you how to deal with it.
Today, we would love to share with you these perfect product choices and purchasing guidelines so that you can promptly possess the best heat mat for leopard gecko at the end of the day.  
Without any further due, why don't we just embark on our terrific journey to find out a Mr. Right for our beloved leopard gecko!
The 5 Top-Rated Best Heat Mats Review (Recommendations)
---
Related: 
Guide For The Best Heat Mat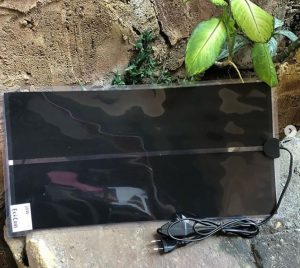 It is difficult to choose a suitable heater for your little pet. When coming to choose a proper heater, its size should not be more than 1/3 of the enclosure base area.
1. Different Sizes
| Heat pad size | Tank size |
| --- | --- |
| 4x5-inch (10x13 cm) | 10-gallon |
| 6x8-inch (15x20 cm) | 10-20-gallon |
| 8x12-inch (20x30 cm) | 30-40-gallon |
| 8x18-inch (20x45 cm) | 50-60-gallon |
Furthermore, if you are absolute beginners in growing up a leopard gecko, there should be more attention paid to install the one.
2. Position
This diagram below shows how electric wires go and how different appliances are connected.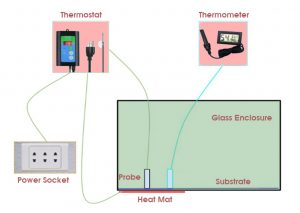 As shown on the map, your heat mat positions under the glass tank on the left side (right side or on the outside is fine, too).
This part will be the warm side and the other will be the cooler part. These such separation areas create a similar natural environment of a leopard gecko and help them healthy.
When installing the system, remember not to place the thermostat next to the heat mat. It is because this can result in a false reading.
In case the thermostat and the heater are close to each other, the heat from the mat can directly cause change to the figures calculated by the thermostat and therefore, give inaccurate information.
Best Leopard Gecko Heat Mat Shortlist
*Ratings are from Amazon at the time of publication and can change
The Best Heat Mat For Leopard Gecko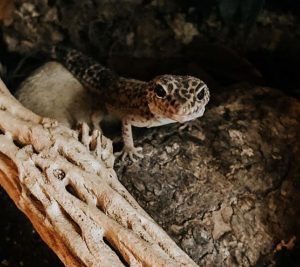 IPower is considered the best heat pad for leopard gecko thanks to its 3 in 1: Not only does it has an improved design, but it is also surprisingly adhesive and proof against liquid.
First, the product is water and moisture-proof, therefore, you do not need to worry much about its capability during the rainy season.
Second, the heating film together with its ability to insulate maximizes the heat transferred.
Last but not least, this product locates exactly where it is pasted according to its strong grip to the contact area. 
Moreover, it can help you to adjust the temperature to the wished within only a few minutes. Besides, the manufacturer also provides 6 ft of the 120V standard power cord.
Pros:
Uniform heat transferred through the glass
Highly adhesive
It comes with 4 different sizes to choose
Convenient to clean
Cons:
Slightly more expensive than other types
 FOCUSPET under tank heater works perfect to warm the glass for a tank. With the small design of 6×8-inch, it fits well a 10-gallon tank.
Additionally, it takes you only a few minutes to reach a suitable temperature for your pets and maintain the temperature at 113℉.
Especially, the appearance of an insulation layer helps the entire mat perform consistently and stably. 
This best heat mat for leopard gecko is a 120V appliance, which is accompanied with 6 feet of a standard power cord, and a standard plug.
Besides, it solely uses 6 watts of electricity to run. When applying the pad, you need to paste the adhesive paper layer on its back onto the tank. 
Pros:
It will not interrupt your adorable pets' sleep
Stable performance
The adhesive element is more solid than equivalent materials
Be free from melting
It is quick to warm and energy-saving
Waterproof and moisture-proof
Cons:
Only fits small size tank, around a 10-gallon tank
 Another best heat pad for leopard gecko you cannot miss in this list is Tikaton. When operating the equipment, you can adjust it to have a suitable temperature for your lovely pets.
In winter, 68-86°F is preferable while in summer, it would be no more than 113°F. Furthermore, it is composed of high-quality composite materials with a foldable surface.
So, it will be convenient for you to store it without taking much space. 
What's more? With its solid-state heating elements, this best heat mat for leopard gecko can help you save a deal of electricity bill due to its energy consumption being only 16 watts.
Before attaching it to the tank, you are required to connect the pad to the electricity source and let its surface becomes smooth.
 Pros:
The price is favorable
Safe for your pal during his sleep
Desired PVC materials
You can fold the pad surface and wash it easily
Energy-saving
2 sides can be used
Cons:
You must wait for the pad surface become smooth after plugging in for the better performance of the double-size adhesive tape 
To ensure the perfect and consistent comfortability of your cute leopard gecko, the pad distributes the heat equally to the substrate surface.
Not only do you have a perfect pad, but you also receive a temperature controller, which allows the heat to be suitable days and nights.
Welcome to the next best under tank heater for leopard gecko. With a low expenditure, you will surprise with what you can receive from the Forliver reptile pet heating pad!
Besides, you do not need to spend money on an adapter, as the merchandise can be used with a US standard plug and voltage.
When you apply Forliver under tank heater, the coverage area of the enclosure should be less than 1/3 of the base area. Generally, the bigger the tank, the smaller the application area should be.
Pros:
It keeps the heat stable and constant
No adapter needed
Waterproof and moisture-proof
Favorable price
Energy-saving
Cons:
It should not be located underneath any type of heat source
With this best heat pad for a leopard gecko, you can possess a piece of multi-functional equipment either you are at home or traveling. Why do we say so? Let's find out!
There are a great number of benefits you can gain from the last boss of our checklist today. First and foremost, this brand has offered two sizes for your pick.
The pad has a medium size (5.9 x 11 inch) is more preferable with your small tank. If it is not the case, there is another option, which is 7.8 x 9.8-inch available.
Second, it exploits high-quality thermal wire, which almost immediately meets your pet's requirement of satisfying temperature.
Third, using a temperature controller with 3 levels to choose, you can master the comfortable level of your pet during different kinds of weather. 
Not just that, your pet will be happy if they know they can be out and witness the world outside. On your trip, now it is not impossible to bring the pet along with your travel as the heat pad can be charged by a power bank or via USB port. Excited?
Pros:
Two sizes available for your option
It takes up just a small space
Quick heating time
Waterproof
Easy to clean
It features a camouflage design that mimics a real jungle for your pet.
Cons:
The price is a little bit high compared to other types
 The next competitor in our series of the best heat mat for leopard gecko must belong to the Aiicioo brand. Along with its high price comes a full set of an under-tank heater and a digital thermostat.
This combination brings you more free time on doing your jobs rather than busy with adjusting the temperature in order to get a proper one for your baby.
Not just that, it is hardened and therefore, becomes more solid than other common products.
This prevents the equipment from melting after several uses and keeps you safe from electrical matters.
Besides, this combo is especially highlighted with the rubber feet which helps to release the excess heat and maintain a standard temperature inside the tank.
Together with below pros and cons, the above-mentioned versatile features of this under tank heater for leopard gecko is definitely worth your time of considering.
Pros: 
The digital thermostat helps you with adjusting the temperature easily
Rubber stands included helps surplus heat to go out 
Simple installation 
Uniform 
The design allows the optimum heat transferred
Energy-saving with 16 watts of power
Cons:
The price is much higher than the rest
 VIVOSUN Reptile Heating Pad is multi-size optional. A 6 x 8-inch pad is preferable for your 20-30-gallon tank. In case you own a tank of 30-40 gallons, 8×12-inch will be much more than good for you.
In addition to that, the most satisfying temperature for your baby is ranging from 75 to 85°F.
The merchandise is listed as the best heating pad for leopard gecko thanks to these main reasons.
First, it is electrically economical because it consumes a maximum of 16 watts using solid-state heating elements.
Second, the product offers optimum and constant heat transferred within 24 hours, a loyal roommate to take care, supervise, and protect your dear pets. Last but not least, due to your convenience, it can be either mounted under or on the side of your tank. 
Are those versatile functions persuasive to you? Let's have a more detailed look at the advantage and disadvantages below.
Pros:
The manufacturer offers 3 years of warranty
The price is favorable
Nice installation with 3M adhesive material
Cons:
Should be used with a digital thermostat to ensure a better heat transferred control
Exclusively used indoor and glass terrarium
Zacro heat pad brings your beautiful lovely creatures a stable and comfortable environment.
At first, it possesses the same basic functions as these of a common heat pad, which is to keep your animals safe and free from being cold.
More than that, this product offers purchasers a durable, long-lasting, and highly efficient product. 
To be more precise, this best heat pad for leopard gecko is made of high-quality composite materials (PVC) with a soft and flexible surface.
It shall be connected to the power to smoothen the surface before being applied to the tank with double-size tape.
With this best heat mat for leopard gecko, you do not need to worry about your electricity bill as this equipment only consumes 8 watts.
Pros:
Easy to clean
Long life span
The surface can be folded, and therefore, it helps with saving storage space
More stable performance
Energy-saving
Cons: 
The double-size tape is actually not a good choice for a long-lasting attachment. It can come off after several weeks.
Do not worry, you always can insert more tapes if necessary.
No rubber feet included
Brand WUHOSTAM also one of the best under tank heating pad for leopard gecko thanks to its positive effect on the environment.
Besides, within only a few minutes, it can easily be set to the excellent desired temperature.
In addition to that, with US standard plug and voltage, together with improved heating film and insulation layer, there is no need to worry about its safety and control. 
If you are looking for a versatile device that can be located anywhere you want, from the inside to outside, or even under the tank, this product would probably the suitable one.
You can simply put this best heat mat for leopard gecko inside your tank with a sand layer overhead to keep the beloved free from direct interaction and a burn.   
Pros:
Waterproof and moisture-proof 
No harm
Easy to keep it hygienic
New heating film to increase heat transfer performance
Cons:
No thermostat included
More energy consumed than other types (20W)
Things to Look Out For In a Good Heat Mat for Leopard Gecko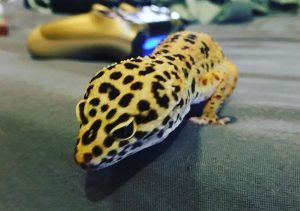 Among a forest of products online, these are standard criteria you should pay attention to for choosing a perfect heat mat:
1. Temperature
The body temperature of leopard gecko varies according to the surrounding environment. Should the temperature go up or drop much or within a short period, it can affect your pet negatively.
Therefore, it is a must to maintain a suitable and consistent temperature during the days and nights for your affectionate animals.
A heating pad cannot work well without a thermostat, a useful tool for you to monitor and adjust the temperature of the mat appropriately.
Without this beneficial tool, your heat mat can go wrong and you can end up burning your leopard gecko.
Thus, make sure you do not purchase any non-thermostat-controlled heat mat or heat pad.
2. Size of a Heating Pad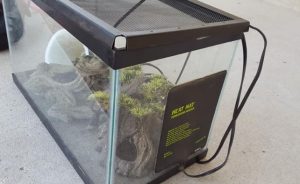 Size is an important factor to choose the best heat mat for leopard gecko.
A heater too small cannot meet the demand for adequate heat while a too large heater can produce a great deal of excess heat, which may burn your lovely friends.
 3. The Wattage of a Heating Pad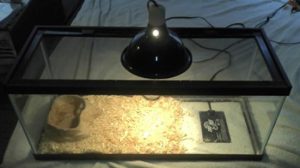 Wattage is the next vital element you should focus on.
 At first, the higher wattage a piece of equipment has, a higher possibility you will feel pain because of your electricity bill.
Then, wattage should come with a suitable heat pad size in order to have the appliance perform the best. 
Before buying a heat tool for your leopard gecko, let's consider the compatibility between the heat pad size and its wattage, as shown:
| Heat pad size | Wattage |
| --- | --- |
| 4x5-inch (10x13 cm) | 4W |
| 6x8-inch (15x20 cm) | 8W |
| 8x12-inch (20x30 cm) | 16W |
| 8x18-inch (20x45 cm) | 24W |
Commonly Asked Questions About Heat Mat for Leopard Gecko
1. Why Leopard Gecko Needs A Heat Mat?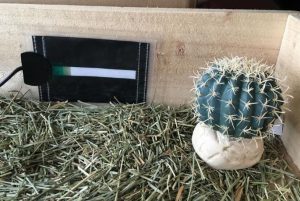 Leopard geckos are native in a warm place where the weather never gets cold.
Then, they become housed pets, close friends of humans, which means their natural habitat changes and it is highly likely that they cannot easily adapt to the unstable weather conditions.
Therefore, a heat mat and other types of heater such as heat pad or heat lamp is a must to retain and mimic their natural living space.
2. What Is The Best Temperature To Set For A Leopard Gecko?
The best temperature for a leopard gecko is ranging from 75-85℉ (24-29C).
The chart below details different kept animals along with their desired temperature.

3. Should I Use A Heat Lamp Or Heat Pad For A Leopard Gecko? 
As leopard geckos need to be belly heated, a heating pad is preferable.
4. How To Choose The Right Heat Mat Size For My Leopard Gecko?
Its size relies on the size of your tank or enclosure. In general, it must cover no more than 1/3 of the bottom area.  
5. How Much Wattage Is Needed For A Heating Padd? 
The size of a heat mat depends on the size of your tank, and it should take place no more than 1/3 area of the tank floor. How much wattage needed depends on the heat pad size.
A 4×5 inch (10×13 cm), 4W heat pad can be used for a 10-gallon tank.
10-20 gallon tank fits well with a 6×8 inch (15×20 cm), 8W heater.
8×12 inch (20×30 cm), 16W is for a 30-40-gallon.
50-60- gallon needs 8×18 inch (20×45 cm), 24W heat pad.
6. Where To Put A Heating Pad For A Leopard Gecko?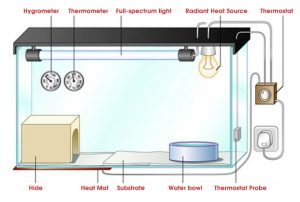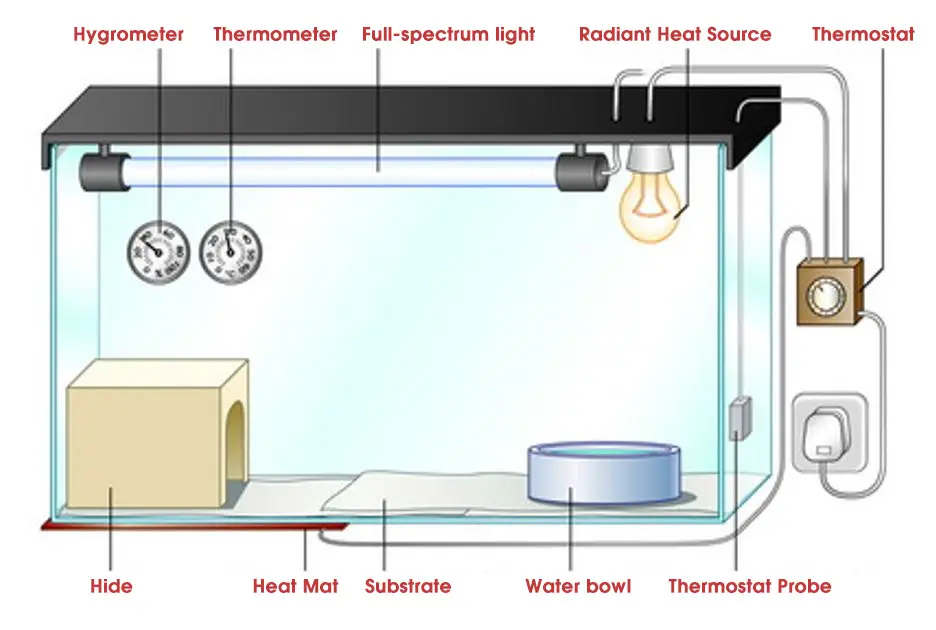 Heating pads can be pasted either on the outside or under your glass tank.
Besides, it can be located inside the tank in case you have a wooden or composite enclosure because these materials perform worse at heat transfer.
Attentionally, do not directly put a heating pad right under your leopard gecko, there should be a substrate between the two unless you want to see a cooked pet.
7. How Long Do I Need To Turn On The Heat Mat For Leopard Gecko? 
As your lovely pet requires constant heat, the heat mat should be turned on 24/7. All the time, the heat mat must connect to a thermostat so that the temperature can be adjusted and your baby can stay healthier.
Conclusion
As a leopard gecko addict, you may encounter several questions, problems as well as surprising facts when starting to raise the one.
One of the most common struggles you must deal with is choosing the right heater for your kept species.
If you are still reluctant, may we recommend the type of heat mat that is convenient to clean and energy-saving: the IPower Reptile Heat Pad. 
In case your tank is small (around 10 gallons) and you want a heater with stable performance, FOCUSPET Under Tank Heater is going to serve you right.
With our topic of the best heat mat for leopard gecko today, we hope you somehow feel it a bit easier in facing obstacles relating to your favorite pet. Thank you for spending your time.
Further Reading: