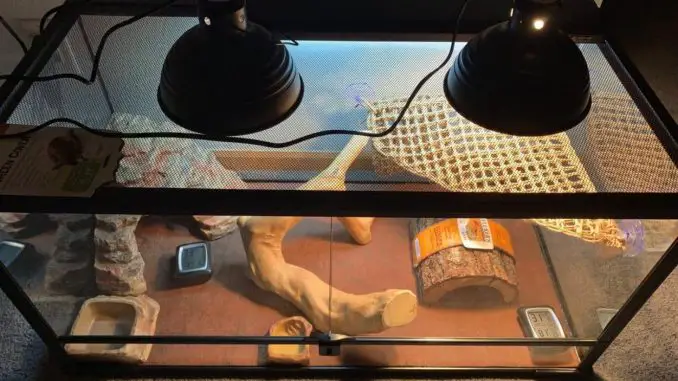 The best heat lamp for the bearded dragon will support effectively beardie's wellbeing. Why don't you take your time to find out the right one?
Beardie needs warmth and UV light for their health.
Beardie wildly lives in deserts, which is why it is necessary to keep their natural habitat for them.
If you want to mimic the wildlife at your home, you could not miss the heat lamp.
If you feel it is hard to get the best lamp, you can review our article.
We might have some solutions for you with a list of heat lamps and some useful information about it.
Firstly, let's take a quick look at the highly recommended lamps with the actual rating below.
The Top-Rated Bearded Dragon Heat Lamps (Recommendations)
#1. OMAYKEY 75W 2 PACK LAMP – TOP REVIEW
#2. SIMPLE DELUXE PRCLAMCR150MCTR L 150W REPTILE BULB & 150 CLAMP LIGHT – BEST COMBO
#3. ZACRO REPTILE LAMP 100W WITH A DIGITAL THERMOMETER – BEST BUDGET
#4. WUHOSTAM 2 PACK INFRARED CERAMIC LAMP – BEST INFRARED CERAMIC HEATING
#5. LUCKY HERP 100 Watt UVA+UVB – BEST MERCURY VAPOR BULB
#6. ZOO MED DELUXE PORCELAIN CLAMP LAMP FOR REPTILES
#7. FLUKER'S CERAMIC HEAT EMITTER FOR REPTILES 60 WATT
#8. ZOOMED REPLICATE CERAMIC INFRARED HEAT EMITTER
#9. BOEESPAT CERAMIC HEAT EMITTER
---
Related: 
Bearded Dragon Lighting Useful Information
1. Classification
This common type of lamp produces the light and heat for your beardie's habitat. It comes in high watt.
Because of the high heat, it is prone to catch the fire.
Thus, for safety, make sure that the lamp fixture can be compatible with high watts.
Coiled lights are lower heat than basking lights. Some models can produce UV lights for producing vitamin D for healthy bones.
This type is designed for producing heat only, it is one of the most suitable lamps for beardies.
It looks like bulbs but can last for long and maintain the temp at night without affecting your pet's sleep. However, it cost more than regular lamps.
Mercury lamps provide enough temperature, light, and UVB for saving costs.
Because of these features, it comes with high watts so you should make sure that the lamp support can be compatible with high watts for safety.
2. Installing In Tank
You can take a look at the picture below to see how to set up the lights for the tank.
Beardie needs the day and night routine. In the day time, the UV light should work all over the enclosure.
The temp should be around 105 degrees F at the basking zone which is the hottest place, the cold zone will be in the hiding place and water supply (from 84-86 degrees F).
In the nighttime, the temp should range from 85 and 60 degrees F.
Don't forget to install it on the area where your beardie could not reach.
You can mount it above the tank or the screen cover of the terrarium.
Make sure the light will illuminate your beardie's whole body.
Your bulb should come without hotspots because it can make some thermal injuries.
Best Bearded Dragon Heat Lamps Shortlist (Updated List)
*Ratings are from Amazon at the time of publication and can change
The Best Bearded Dragon Heat Lamps
OMAYKEY 75W is made of solid ceramics, coming with a great heat radiation function.
It does not release light, so it will not disturb the pet's sleeping schedule.
Thus, it becomes a perfect choice for beardies, lizards, and snakes.
Especially, you can easily install,  just screw it into the E27 porcelain socket (use this type only because the plastic socket can be melted the holder of the lamp)
Its input Vol is AC 90-120V and 75 watts. This product supports 24 hours, it can last 9000 to 15 000 hours.
However, its surface temp is very high so don't touch it directly when using it.
Pros
Solid ceramic material

No light emitted

Long-lasting

More efficient

Good value for the price
Cons
Simple Deluxe comes in a set of a bulb, a clamp light, and a digital thermostat controller.
That's why it is a little more pricey than the other above types.
The product is designed for reptiles especially the beardie, so it can increase blood circulation for boosting healing and health.
Simple Deluxe has a 24-hour active, doesn't produce detachable light, so it will not wake your pet up when sleeping.
It made of ceramic and NiCrAl.
Thus, to avoid scald, you should wait around 1 hour for cooling down after turning off.
It comes with the multi clamp light with easy to use switch for saving energy and an 8.5-inch reflector.
Its thermostat offers temp control from 40 to 108 degrees F.
Pros 
Full set

No light emitted bulb

Safe and resistant to the humid environment.

Simple set the temp probe for the thermostat

360 degrees adjustment clamp light
Cons
The element can get hot easily
This product provides 24 hours activity for most of the reptile types with a digital thermometer that reaches up to 99% high thermal efficiency.
Your pet will sleep well without disturbing the light because it is a non-light model.
Its solid ceramic element comes with the perfect heat radiation function.
Its flat-faced design is very efficient and lasts for a long time compared to the conical design.
You can not use it with the plastic E27 socket because it will be melted the lamp holder or cause a lamp explosion.
Thí product will work efficiently in the winter.
Pros
24 hours active

Small and compact size with great functions

For most type of reptiles including beardies

Simple and durable design

High-quality element
Cons 
Wuhostam is made of solid ceramics with a nice heat radiation function and no light emitted for 24h with 100% heat efficiency.
The input voltage is 90-100, power is 50 watts, and 2.95 inches in height – 3.94 inches.
The bulb is simple and easy to set up just screw in the E27 screw socket and will be a perfect choice for lizards, snakes, etc.
This product comes with the black ceramic heat emitter which is perfect for 24h.
When using it, you need to screw it into the standard lamp.
It does not emit light or UV, the ceramic heats the tank only.
The temperature on the bulb's surface is high during working time, hence, don't use your hand to test the temp for safety.
Pros
Long-life up to 15.000 hours without burning out

Well heating the tank

The ceramic socket is easy to use
Cons
Can not use with the plastic socket

No UV or light-emitting
Mercury Vapor Lamp is one of the nicest basking lamps for bearded dragons with a powerful heat source and visible light without UVC and provides warmth and vitamin production for pet's health similar to natural daylight.
Especially, it is compatible with any type of enclosure such as tanks, vision cages, and terrariums.
This product is a good choice for those who require UVB light.
It is not recommended to use it with the thermostat.
Don't forget to use the ceramic sock and the large dome with the exact vol rate.
You will be surprised because of its long lifespan coming with the warranty.
Pros
Good heat output

2 in 1 bulb

Visible light for more absorption

Long-life lasting

Usable for different cages, tank, and vivaria

At reasonable price
Cons
Zoo Med is an effective lamp for reptiles, especially, beardie.
With a simple design, it is convenient for a dragon tank with dimensions of 5.5 inches or 8.5 inches in width.
In addition, it has a ceramic socket which provides heat efficiency and it can reach the hotter 100-wattage variety.
Especially, this product is easy to use switch for turning on/off, so it makes the switch more convenient at night time.
Also, its polished aluminum dome increases the UV output by up to 30 %, the heat, and the light.
Moreover, you have to choose a lamp that fits the tank's size.
For example, we should get a higher watt for the big tank.
It has a clamp lamp safe cover for protecting your pets and home.
Pros
The ceramic socket can deal with different watt

Easy to use the switch

Simple and useful clamp

It easily heats up
Cons 
It is a little heavy

If using the ceramic emitters too much, it can cause some damage to the lamp
This product is perfect for nighttime heat since it does not emit any light, active for 24 hours.
It comes with 100 watts, 60 watts, and a 150-watt ceramic heat emitter for bearded dragons and other reptiles.
Its price is quite reasonable for most pet owners.
The bulb is designed for use with the repta-Clamp lamp with the switch.
As we all know, the beardie is a cold-blooded animal depending on the surrounding environmental temp for regulating their body temp.
Besides, there is a light timer which is used for turning off the emitter in the evening and turn on in the morning for the perfect natural environment.
Pros
24 hours active

Good price

Emit no light

Perfect emitter for beardies and last for long
Cons
Need another light source
One more product from Zoo Med is designed with 24 hours activity for all types of reptiles.
Firstly, you just need to screw the porcelain heating devices into the standard porcelain socket.
Besides, the bearded dragon heat lamp at night gives off intense muscle penetrating infrared heat without light.
Thus, your pet will not be disturbed by the light.
Especially, it has a flat-faced style which is more efficient and longer-lasting around 25.000 hours.
It is recommended for use in terrariums with a high level of humidity because of the high temp-resistant nickel-chrome alloy heating material in the ceramic sleeve which is good for protection against deterioration and corrosion.
Pros
Long-lasting time

Provide great heat without light

Not only put out the heat, but also muscle penetrating heat
Cons
BOEESPAT has the input of AC 110-120V, 100watt, and 150-watt bulbs.
Made of high purity pottery clay and Ni Cr Alloy resistance wire which is great for quick heating.
It is also produced for 24 hours active with the ceramic heat emitter which is a radiant heat source for creating the natural sunlike heat with a uniform pattern.
Especially, 15000 hours is a long life span compared to their counterparts.
Besides, your pet will sleep well without disturbing the light because this night heat lamp for a bearded dragon only provides heat.
Designed with 99% high thermal efficiency and heat penetrating the skin tissue would be efficient for promoting the pet's health and healing.
This product can be used for warming reptiles, cats, dogs, and even plants.
Pros
Long lifetime

Effective heating with the annular distribution of the filament

Thick and sturdy

Waterproof and anti-crack

High-quality ceramic
Cons
Things to Consider for Using Bearded Dragon Heat Lamp 
1. Bearded Dragon Heat Lamp Temperature
Beardies could not stay for long without heat, this product is necessary for keeping beardie's tank at the right temperature. 
A tank should be at the range of 32 to 35 degrees C during the day. The basking areas need to be closer to 38 degrees C.
At night, you should turn off the lamps, but make sure the temp is still over 18 degrees C. Or a lamp without light-producing is a nice choice at the nigh time.
A nice recommendation for controlling the lamp automatically is using a bearded dragon heat lamp timer.
2. Suggested Wattages For The Best Light Bulb Of Bearded Dragons
Before choosing the lamp, it is necessary to know the ideal wattage.
As I just mentioned about the perfect temp of the tank, so ensure it will fit with the range of watts.
Especially, the higher watts will make more heat the bulb release.
In specific, the ideal watts for beardies are from 50 to 150 watts.
Besides, it also depends on the size of the tank and the distance between the bulb and your beardie.
Finally, the number of aim is around 75 watts. 
Detailed recommendation for wattage:
| Tank size | Wattage |
| --- | --- |
| Less than 20 gallon | 60 watt |
| 20-50 gallon | 100 watt |
| More than 50 gallon | 150 watt |
You can use the dimmer switch for regulating the inside tank temp. It helps to secure the right temp and make sure your beardie's health. 
I am sure you will play with several light bulbs before finding the best wattage for bearded dragon based on your pet's heating needs. 
Commonly Asked Question About Bearded Dragon Heat Lamp
1. Is It Safe To Use The Bearded Dragon Heat Lamps?
If you do not follow the safety regulations in installing or using this tool, it might cause some accidents.
Normally, if any users comply well with all the recommendations from manufacturers, then the heating lamps reach end of life without any problem.
Some main tips for safe use below might help you somehow:
Use the right suggested sockets

Using the metal dome. The dome should keep the bulb away from the mesh for avoiding contact. 

Make sure the cord will be compatible with the power of the lamps. 

When decorating the tank, you should consider materials which will be resistant and nonflammable to the high temp. 
2. Is It Possible For A Bearded Dragon Without Heat Lamp?
As you know, beardie wildly lives in the hot deserts, they need to soak up the sun all day long.
Thus, without the heating lamp in the tank, it will drive them to serious immune system issues and decreased appetite.
The heating lamp is a must-have device for every beardie owner. 
Read more: 
3. How Many Heating Hours Will Be Ideal For A Bearded Dragon?
It is suggested that 10-12 hours a day is needed for turning on the heat lamp, and it should be turned off for 12 hours.
When turning off the light, it is better to use the heat emitter for making sure the temp is over 18 degrees C. 
4. Should I Use The Heat Rocks Or Pads For Bearded Dragons?
Heat rocks and pads should be used in the case that you are challenged with temp regulation or requires additional heat.
Using them, you should be careful because they could be burning your bearded dragon easily. 
Conclusion
It is impossible to deny the important role of a heating lamp in a beardie's life.
As the owners, you should make sure of your pet's well-being all the time.
The best heat lamp will be effective and helpful.
Although finding the right one is not an easy task and the variety of light bulbs on the market might be challenging you.
Actually, from my own experience, the best choice of heating is a ceramic heat emitter. WUHOSTAM 2 PACK INFRARED CERAMIC LAMP will be efficient and easy to use for most users. Or LUCKY HERP 100 Watt UVA+UVB could be better for those who are looking for both heating and UVB light.
Hopefully, our list and guidelines will make it easier for you to choose the best heat lamp for bearded dragon. Don't forget to share your experience as much as you can. We always appreciate it. Thanks for reading and good luck!
Further Reading: 
Tag: # basking bulbs, # exo terra, # uvb rays, # incandescent bulb, # white light