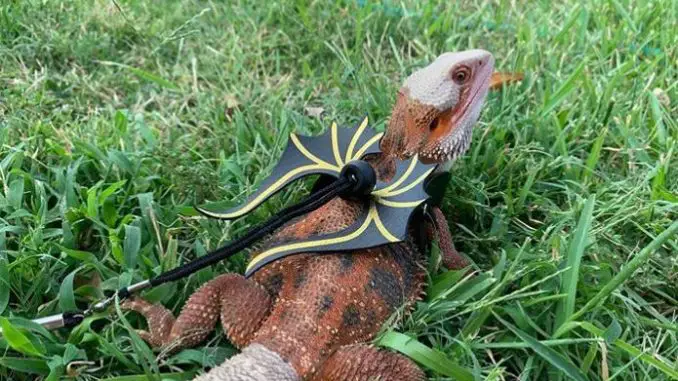 The topic today will make beardie lovers satisfied. Surely, you would find all items needed in our list of best bearded dragon accessories, perfect your pets in a second!
Although they seem to be easy to controlled or taken care of, a perfect living environment is necessary to ensure their health.
Therefore, choosing accessories should be careful. In this post, you will see our suggestions for the full set of accessories for your pet from clothes, furniture, toys to carriers. 
Let get started right now:
Awesome costumes for both of pet & owner
How wonderful it is when you hang out with your pet with a lovely outfit and perfect photos.
Accessories for Beardie Owner
#2. Book
#3. Starter Kit
#4. Travel Carrier
#5. Pet Camping Tent – Playpen
#6. Pet Camera
Beardie Accessories
#1. Clothes
#2. Harness & Leash
#3. Chaise Lounge
#4. Hammock
#5. Toy
#6. Water Dispenser – Water Bowl
#7. Hiding Furniture
---
Related: 
The Best Accessories for Bearded Dragon Owner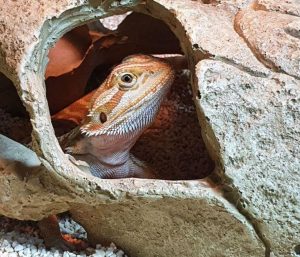 #1. Best Clothes for Owner 
We recommend: 
Best T-shirt for Adult – Slogan:
Other Accessories
As you know, it depends on your style and personality, so feel free of your choice.
Let's check some product reviews:
This T-shirt combines a simple form with a delicate color and design. Made of 90% cotton, it allows you to feel comfortable to wear.
Especially, with the eye-catching photo in front, you would be standing out and fashionable. 
This lightweight T-shirt has the classic fit, bottom hem, and the double-needle sleeve. It is a nice gift for any beardie lovers. 
Pros
Lightweight 

High quality at a reasonable price

5 different colors available

Machine washable 
Cons
Carefully check the size before making an order
See Latest Price
This vivid design makes a good match for you and your tiny dragon. 7 color options combine with the unique 3D artwork, which makes a nice gift for those loving yoga and art.
These costumes for humans are made of 100% cotton with organic dyes, which make sure there is no toxin or harmful materials. 
Pros
Good quality and comfortable to wear

Suitable for a tropical vacation

Unique style 

Many colors to choose
Cons
The neck is a little tight 

The size is smaller than the normal size of shirt
#2. The Best Book on Bearded Dragon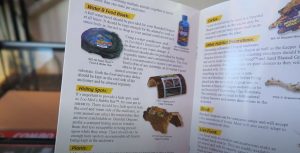 We recommend: 
*Ratings are from Amazon at the time of publication and can change
#3. The Best Bearded Dragon Starter Kit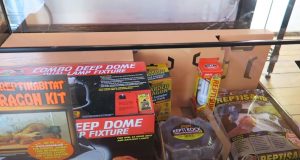 Firstly, you should consider some guides for choosing the best starter kid: 
It must permit good air circulation.
It should be a good insulator.
It must provide good security.
It must be able to be cleaned thoroughly and with ease.
It must ensure that your pet has no direct contact with heat lamps as they will get burned.
The materials of the starter kit should not emit any toxic fumes even when it is hot.
The enclosure should not warp or melt when hot.
We recommend: 
*Ratings are from Amazon at the time of publication and can change
Let's check some product reviews:
This product is also a fully equipped kit with a 30″ x 12″ x 12″ terrarium, a light bracket, a large sand mat, and a medium water dish.
With a small and light terrarium, it's easy for you to move and replace your dragon house without being tired.
Pros
High-qualified equipment
Easy for newbie
Suitable size and weight for every house
Cons
#4. The Best Bearded Dragon Travel Carrier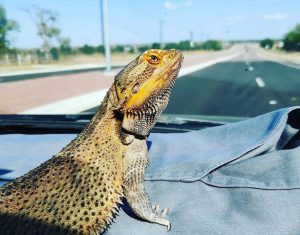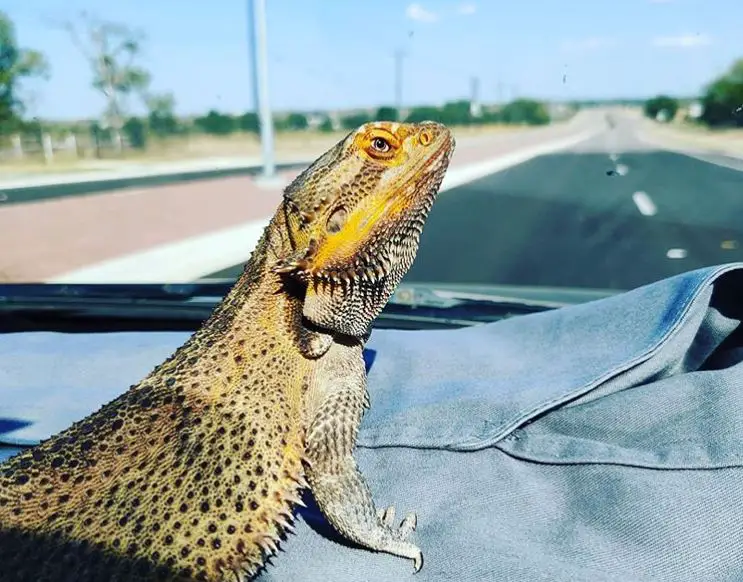 We recommend:
*Ratings are from Amazon at the time of publication and can change
Let's check some product reviews:
This product offers 3 different sizes, you can choose the best size for a beardie. It comes with the handles, adjustable shoulder strap for more convenience.
Besides, it is easy to be cleaned with the machine-washable fleece pad. It has dual zippers, which allows you to put your beardie inside from both of the sides and the top. 
You should wash it with cool water and mild detergent, especially, don't use any bleach, clean, or iron. You should select the carrier's size based on the pet's length and height, not weight. 
Pros
Reliable design 

Comfortable style with a soft-sided carrier

High safety 

Nice adjustable shoulder trap 

Lightweight and cheap price
Cons
The leash inside can make some injury 
This model has a large open for easier access and a transparent lid for more convenient to look after your lovely beardie.
You can use it for traveling outdoor thanks to the sturdy plastic and four lockers. It is also easy to assemble.
Its two handles offer good balance and comfort. 
Pros
Can fit even the large beardie.

Lightweight and easy to carry

Sturdy construction with high-quality plastic

Easy to clean 
Cons 
Can only opening on the top

A little expensive
#5. The Best Pet Camping Tent
We recommend:
*Ratings are from Amazon at the time of publication and can change
#6. The Best Pet Camera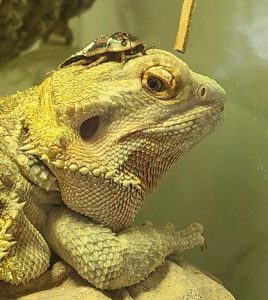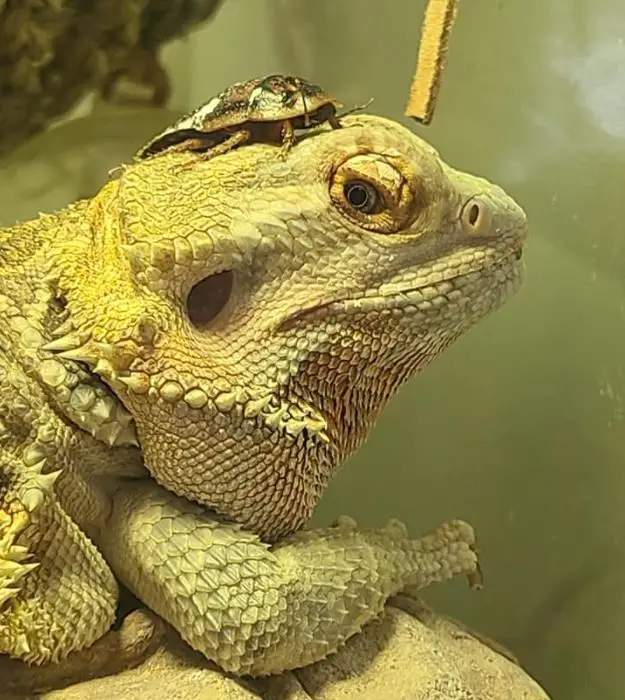 We recommend:
*Ratings are from Amazon at the time of publication and can change
---
The Best Accessories for Bearded Dragon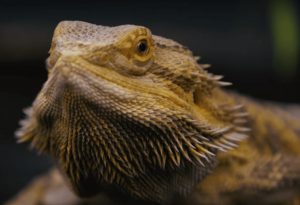 #1. Best Clothes For Bearded Dragon
We recommend: 
Let's check some product reviews:
A beautiful clothe not only makes your pet more attractive but also keeps them warm from cold weather.
This nice hoodie is one of my most favorite with 2 fancy colors and good quality. It looks just simple but very suitable. 
From environment-friendly materials, these cool bearded dragon accessories are safe and do not cause any harm to skin even sensitive skin. 
Pros
Keep warm well

Reasonable size

Safe and convenient

Offering 2 nice colors 
Cons
#2. The Best Bearded Dragon Harness and Leash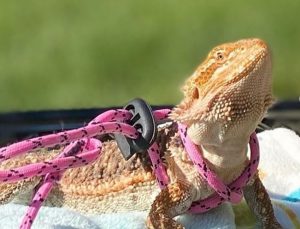 Let's check some product reviews:
POLKASTORE is made of the high-quality leather, nylon rope without toxic & tasteless for keeping your pet away from injury.
Especially, it could be used for different shapes from small to big dragons due to the adjustable harness.
It is also easy to control your pet. If you are living with more than one pet, this leash is a must-have tool.
Pros
Good quality materials

Simple to use and comfortable

Used for different size of pets
Cons
Getting a little loose over time
This leash is specialized for female pets and those who love the cute look.
With its adjustable harness, it fits all the neck and breast, the grith 6-9 inches. This leash length is 48 inches and 2/3 inches in width. 
It is not only used for beardie but also for rabbits and small ferrets.
Made of the soft, breathable, and lightweight material, this harness leash is very comfortable to use.
Funpetlife is a perfect option for daily walking and outdoor activities.
Pros
Safe locking clip
Good for daily walking and outdoor activities
Pretty look and well made
Available in 6 great colors
Cons 
Some tiny dragon owners might not like the wings attached 
#3. The Best Bearded Dragon Chaise Lounge
Let's check some product reviews:
Being the most common couch for beardie, it includes the frame base, 2 pillows, and the mattress. This set is available to use in both outsides and inside the habitat. It is recommended for adults or subadults.
 Its mattress and pillows are machine washable and the frame is easy to clean by the chlorhexidine solution. This chaise lounge has a fashionable design and vivid color which is suitable for decoration also. 
Pros
Large and easy to move around

Easy to clean 

Avoid the juveniles 

Soft and durable material 
Cons
This design is one of the most common for a beardie. It also comes with a nice set of frame base, mattress, and 2 washable pillows. It offers the 7-7/8 inches in width and 13-1/4 inches in length. 
This chaise lounge is also lightweight only 7.2 ounces. Its color is also nice.
The mattress and pillows are not cheap or cheesy.
Being in the top of best-bearded dragon accessories, this lounge is durable and well made at a reasonable price. 
Pros
Simple design with vivid color

Great quality 

Durable and well made

Comfortable to use 
Cons
#4. The Best Bearded Dragon Hammock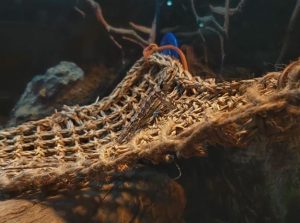 Let's check some product reviews:
A closed to nature hammock would be the best choice for tiny dragon owners.
The lounger made of 100 handwoven, soft but sturdy material, always comfortable for all pets.
Your dragon will love using this lounger for rubbing on when he is shedding his skin. 
The mat is also non-toxic, durable, washable, and reusable.
This hammock can be used perfectly for lizards, frogs, geckos, snakes, and even turtles. 
Pros
Comfortable habitat
Harmless and uneasy to deform 
Easy to clean and wash
Closed to nature and allows the pet to self-regulate their body's temperature
Cons
Come with only 3 super small suction cups
This Penn Plax is extremely comfortable and climbable for your tiny dragons.
It is handwoven made of durable and natural seagrass fiber.
This bedding type comes with the suction cup for more convenience, creates the firm bond, and allows you to move around anywhere. 
Especially this hammock lets your pet self-regulate the temperature by getting closer to the light when installing it on the incline.
Being an ideal choice for beardie, geckos, hermit crabs, etc. 
Pros
Closer to nature, your dragons will love it
Extra strong suction cup for holding in place even in plastic, glass, or window. 
Ideal for social climbers
Cons
A little expensive
Make sure you measure
#5. The Best Toys for Bearded Dragons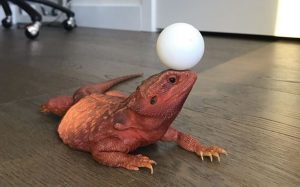 Let's check some product reviews:
Dragons usually love lugging at the small ball and sometimes attach. This lightweight ball is the greatest option for quick exercises. Some beardie enjoys chasing with the balls. 
This rubber ball comes with the textured surface and thick rubber core for more durable. You can try letting your dragons with the ball at the open area and let's see how the act. 
Pros 
Being lightweight and durable 

Bright color for more interesting

Used for dogs and cats also

High-quality rubber
Cons
Too big for a small beardie.
This toy is not only for cats but also for a beardie. It is made of lightweight and soft textured surfaces in outstanding colors. 
There are 6 pieces in a pack. Your beardie will be attracted by that colorful and crinkle sound toy. This mylar ball toy is economical for daily exercise, entertainment, and having fun. 
Pros
Great sound and color making dragon exciting

Small enough for the beardie 

No odor

Good quality with sturdily built-in
Cons
Color painted is not safe
#6. The Best Bearded Dragon Water Dispenser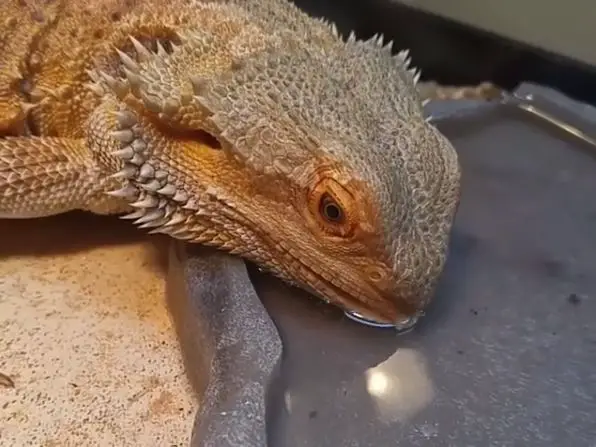 Let's check some product reviews:
Its dispenser has a big clean water reservoir for protecting pets from the dehydration.
It is normally used for iguana, lizards.
It has a wide anti-tip base and the cricket board filter screen, it is only 3.2 inches in weight.
This dispenser comes in 16 oz capacity that is enough. 
Pros
Cheap price

Simple but perfect

Thick and sturdy construction 

A great solution for extended the time away from your home
Cons
The plastic is not easy to pop back into place
This model is an auto waterer, made of the plastic and tasteless.
These best accessories for bearded dragon support your pet to avoid injury thanks to the smooth surface without sharp horns.
Its stable base can prevent the accidental tip. 
It is easy to clean thanks to its smart design.
Its capacity is 13.5 oz, so there is enough water for your pet's need. The top bottle is removable to be refilled and cleaned.
Pros
Auto design 

Keep water-filled, fresh and clean

Perfect for the majority of reptile

Good price
Cons
#7. The Best Hiding Furniture for Bearded Dragons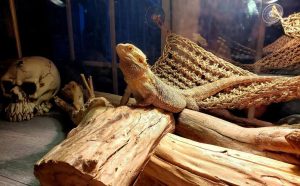 Let's check some product reviews:
This decor comes with a beautiful color of hardwood which is the hardest and densest wood.
They offer 2 sizes for you to choose from. This climbing furniture makes your dragon feel like in the wild.
It is very tough and fun for your pet to climb on.
Don't forget to clean it well before let your pet play with it. 
Pros
Provide the wild environment

Easy to set up and clean

Can put in the aquarium water

Cheap price
Cons
You can checklist of basking rock here.
---
Commonly Asked Questions About Bearded Dragon Accessories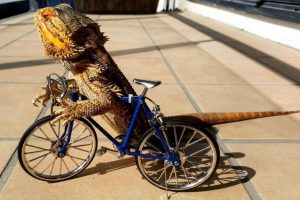 1. Can I Walk My Beardie With The Leash?
You should find out if your pet is suitable for leash training or not. Some are very easy to get stressful and not easy to handle by the leash. 
Before the leash training, you should make them familiar with the leash and form a good bond between you and your pet. When you walk with your beardie, let them explore, don't pull on the leash, always gently and slowly. 
2. Can Bearded Dragons Sleep in Your Bed?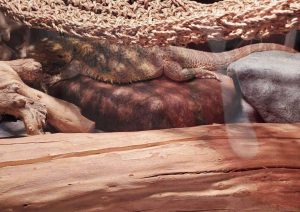 They can sleep anywhere we want. However, they are small and easy to get hurt, when you are sleeping, it is not easy for anyone to ensure a pet's safety.
You might roll over on your pet. If you want them to get close to you, you can give them a soft blanket. Then you can sleep together, but make sure a safe distance. 
3. Does a Bearded Dragon Need a Bed? 
Most of the beardies love soft things like beds or chaise lounges, but there are still some ignores totally. Understanding your beardie's characteristics is very important to decide what will be the best accessories for bearded dragon you need. 
4. Can I Travel With A Beardie Safely?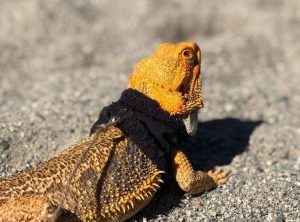 In my own experience, it is safe to travel with your pet. However, you should have a secure travel carrier. It should be lined with the blankets or the heat packs if you go on the cold weather. 
Yes, of course. However, filtered bottled water could be better since some bacterias and chemicals will be removed.
6. How to Clean Bearded Dragon Hammock?
There are some ways to clean hammock based on the hammock's materials. The most common way is using the brush and remove dirt, poo.
If you have a plastic of seagrass hammock, you can soak it in the hot water around 5 minutes. Then add some mild detergent, wash, rinse, and dry it well. For another machine washable hammock, it is easy to use a washing machine to clean it. 
Conclusion
Our review on best bearded dragon accessories provides just a few things among the large ocean of accessories. We hope you enjoy learning about it. Setting up a good environment for your lovely beardie is not easy but you can slowly fulfill your pet's need. Finally, you will be professional if you love your tiny dragon and take time with them.
Further Reading: