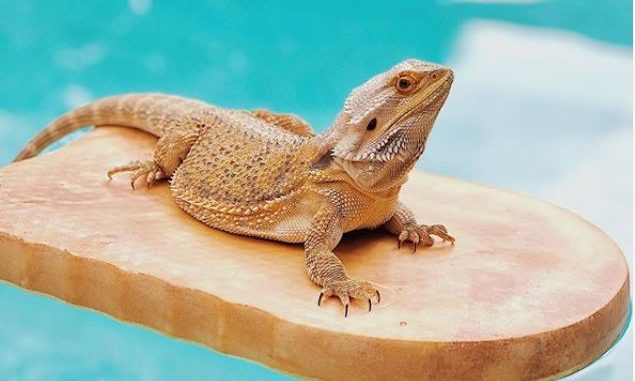 Do you have any questions about the humidity level for bearded dragons? This topic will answer for this.
It is an important aspect of the atmosphere, which is the presence of water vapor in the atmosphere.
The more water evaporates in a given area, the more water vapor rises into the atmosphere and the higher the humidity of that area is.
Because heat causes water to evaporate faster so hot places tend to be more humid than cool places.
---
Related: 
How Does Humidity Impact Bearded Dragons?
1. Too low
Bearded dragons that live in a tank with too low humidity will get shedding problems. Reptiles need to get rid of their old skin from time to time and higher humidity can really help them with this.
So a lot of people give it a bath during shedding. The dead skin gets soaked and soft and will fall off easier.
2. Too high
Bearded dragons will suffer from respiratory infections and similar diseases if they live in a tank with too high humidity for a long period of time.
Moisture combined with warmth is a perfect environment for bacteria to thrive.
Bearded dragons that are not used to living with high humidity are very sensitive to this, which can lead to diseases in your beardie quickly.
A little bit too high can be okay for a while, but a humidity of 60% over a long period of time definitely will make your beardie sick.
---
Humidity Level For Bearded Dragons
The dry and arid areas of the Australian outback, where bearded dragons come from. A high level is not good for a bearded dragon's long term health. Therefore, beardie needs a low percentage of relative humidity.
Relative humidity levels for a bearded dragon is between 35 to 40 percent. Additionally, this level closely mimics it is found in the wilderness of inland Australia.
It is an important factor you must know to raise your bearded dragon well. The humidity level for bearded dragons is the habitat's humidity.
Shouldn't use full glass or plastic covers on the enclosure for a beardie. These covers will keep humidity within the terrarium.
Therefore, this can lead to higher humidity levels and possibly respiratory problems with beardie. You should use a bioactive substrate that comes with a lot of benefits. It can control moisture and air.
Thanks to this function, it helps to create an enclosure that is beneficial for the growth of microflora and fauna, supporting the biological decomposition of the vivarium waste
---
Temp For Bearded Dragon
Their findings indicated that the optimum core body temperature of central beardie is 36.3°C (97.3°F), which requires the right temp for bearded dragons between 42-45°C (108-113°F) to achieve.
Dr.Howard's basking substrate surface temperature measurements suggest that the basking surface in a beardie enclosure does not need to exceed 50°C (122°F) due to these risks of overheating the enclosure.
The recommended basking surface temperature shown above is based on recommendations in Judish Badham's 1971 Ph.D. thesis, a comparison of two variants of the beardie.
Amphibolurus barbatus (Cuvier) (since then verified by Dr. Jonathan Howard), where rectal temperatures of P. vitticeps were taken when the dragons moved away from the sun, showed that they were done basking for the moment, and presumably had reached optimal temperatures.
If you look at Australian climatological data, it may seem to be extreme to recommend such high temp and humidity for bearded dragons when the highest average temperature is just 97°F or 36°C.
However, it's important to note that the climatological observations are based on air temperatures, not surface temperatures.
Surfaces like rocks and logs tend to collect heat over the course of the day, becoming significantly warmer than the surrounding air (for example — have you ever burned yourself on a seat belt buckle even though the air in your car wasn't that hot?).
According to a study by Jane Melville and James Schulte, active body temperatures in Central Australian agamid lizards correlate closely with surface temperatures, which means that measuring basking surface temperature is very important (more on how to measure surface temperature later).
For these reasons, a stone basking surface should be provided as this material is good at absorbing heat for bearded dragons to use.
---
What Is The Humidity For A Bearded Dragon Tank?
Bearded dragons are truly a joy to raise in captivity, but their environment requires specific conditions.
Lighting, substrate, and the size of the tank are essential considerations. However, without the right bearded dragon humidity levels, these details may not matter.
First, you should know how to determine the humidity of the beardie tank.
Hygrometers are either analog or digital. Installing two hygrometers is best.
This will provide a backup, an easy visual check on their performance and placement.
1. Analog Hygrometers
Pros – No battery
Cons – The hygrometer don't have a probe so it must be placed in a position to measure
We recommend: REOTEMP WTH6B Indoor Wall Thermometer Hygrometer, Analog
2. Digital Hygrometers
Pros – Probe can be placed where result y is measured from and the display can be placed where it is easy for you to read
Cons – Require a battery and the cord needs to be tucked away
We recommend: Wittime 3065 Indoor Outdoor Thermometer Digital Temperature Monitor
The humidity level for a bearded dragon is quite low. This is easy for us to get in the daytime than at night time. It means you must have a method to keep the level low at night time.
---
How To Reduce Humidity Level For Bearded Dragons?
Here are some tips:
The principle of reducing humidity levels for bearded dragons is to lose moisture in the air. In other words, it is air drying.
As we use an air conditioner in our room, which makes the air drier. On the contrary, we use a nebulizer to raise the humidity.
1. Why not misting?
Misting can also be a very good way to increase humidity.
However, if you constantly have low levels, you would have to mist every day, which is not good. This would lead to diseases in your beardie as well.
Besides that, misting could annoy and make beardie stressed quickly.
2. What about a moist substrate?
You shouldn't use moist substrate as it does not really belong to the natural habitat of a bearded dragon.
Further, if the substrate is too wet, it can raise the humidity higher than you actually want and you might even have to remove the moist substrate again.
So in my opinion, the water bowl is a good idea.
3. What about plants?
Plants can help to create a microclimate in your terrarium. So even if the humidity is pretty low, there can be a microclimate that has a higher level near the plants.
The problem is that there are not a lot of desert plants that can help you achieve that. You need to learn which plants you can use for your beardie tank.
Read more:
4. Do bear dragons need a humid hide?
A humid hide inside the tank isn't necessary for bearded dragons.
For example, there is a humid hide for leopard geckos is very healthy, but for beardie, a too moist environment will cause health problems.
Related:
5. Do bear dragons need a humidifier?
The answer is no. Because reptiles like bearded dragons that (X) come from a very dry area, they don't like too humid surroundings.
---
What is Humidity Level For Bearded Dragon Eggs? Is It Different?
Factors affecting ideal incubation conditions are the temperature, humidity, pre-incubation management, and the incubation substrate.
1. Guide for bearded dragon eggs
a. Ideal incubation humidity
It is generally admitted that bearded dragon eggs should be incubated in high average humidity. Although it is not always easy to keep the proper level without proper management, the average egg incubation humidity should be around 70 – 80%.
Average humidities between 40 and 50% are also acceptable.
When the incubation humidity is constantly too low (i.e. <40%), eggs will run the risk of drying out and will start to shrink and collapse – causing embryos to die.
Humidities above 85% are also undesirable and will lead to an increase in mold and bacterial growth.
Besides, the incubation temperature is probably the most important factor determining how long-bearded dragon eggs will take to hatch.
The ideal average temperature used by many breeders is 29 °C / 84 °F.
In addition, higher average incubation temperatures will lead to shorter incubation periods and lower temperatures will lead to longer incubation periods. Average temperatures above 32 °C / 90 °F degrees can quickly kill developing embryos.
Finally, too much humidity for bearded dragon eggs can make the eggs absorb too much water and mold. Also, too high temperatures will "cook" the eggs and too low temperatures will prolong hatching.
b. Ideal incubation substrates
The ideal substrate to use for bearded dragon egg incubation is one that is clean and able to retain moisture.
The most popular substrates used for incubating beardie eggs are moist vermiculite and perlite. Besides, both these substrates are clean and retain their moisture well.
Especially, don't place the eggs directly into the incubator. Instead, you should place it in squat deli cups or Tupperware pans filled with vermiculite, which are then in turn placed into the incubator.
Moreover, vermiculite is a natural product used in gardening.
Finally, it is essential to heat expanded mica, a naturally occurring mineral.
c. Ideal pre-incubation period
Damage eggs will take longer to be incubated or not hatch at all.
Before transferring eggs to the incubator, the incubator should already be set up to reach the desired temperature.
Besides, the eggs should have been deposited into an egg-laying container.
Checklist of best incubator for bearded dragon: https://www.thepettime.com/best-incubator-for-bearded-dragon-eggs/
2. Management during the incubation period
The eggs and the incubator should be monitored during the entire incubation process.
The incubator temperature and humidity should be measured using a thermometer and hygrometer. In addition, you should record this result.
Any deviations from the required ranges should be rectified immediately to prevent the embryos from dying. Bad/infected eggs should be removed and discarded as they appear.
To Wrap Up
Temperature and humidity have an inverse relationship and a close connection with the bearded dragon's health.
This gradient of temperatures and humidity, as long as they are within correct parameters, will be beneficial. If you understand it, you will have the knowledge to keep the right humidity level for bearded dragons.
Further Reading:
Tags: humidity is too high, water dishes
Tags: #tank #substrate #supplement #insect #Accessories #Incubator #Plant #StarterKit #Book #Leash #CalciumPowder