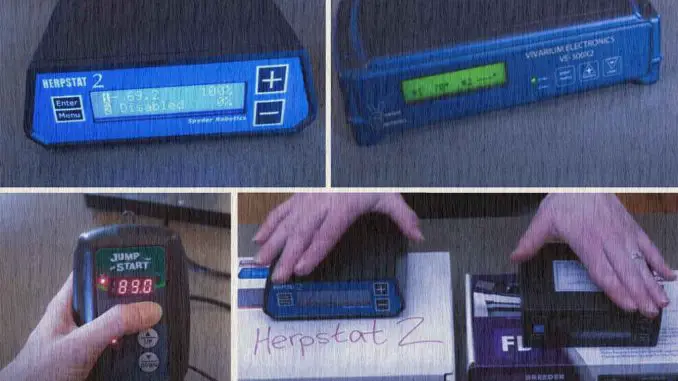 If you are an experienced reptile lover, you must understand the importance of the best thermostat for reptiles. You can come directly to the top list and the reviews.
The Top-Rated Reptile Thermostat

(Recommendations)
#1. BN-LINK DIGITAL HEAT MAT THERMOSTAT – TOP REVIEWS
#2. JUMPSTART MTPRTC DIGITAL CONTROLLER – RUNNER UP
#3. IPOWER GLHTMTCONTROL THERMOSTAT – BEST BUDGET
#4. VIVARIUM ELECTRONICS VE-300 THERMOSTAT – BEST FOR VIVARIUM
#5. LUX WIN100 HEATING & COOLING THERMOSTAT – BEST FOR HEATING & COOLING
#6. WILLHI WH1436A TEMPERATURE CONTROLLER 110V DIGITAL THERMOSTAT
#7. BAYITE TEMPERATURE CONTROLLER BTC201 PRE-WIRED DIGITAL OUTLET THERMOSTAT
In the case of being a beginner, let keep reading below carefully.
Cold-blooded animals need to be provided with the correct conditions of temperature.
They could not regulate their inner temperature and it all depends on the outside temperature (sunlight in nature).
Thus, you always need to provide them a source of heat in the reptile's habitat.
However, how can you control the temperature to make sure it going well all the time?
You cannot always stick to the reptile's tank to monitor it.
Now, a thermostat will be the perfect solution.
It can turn on the heat when the temperature going down and turn it off when the set temperature reached the expectation.
---
Related: 
Guide For The Best Reptile Thermostat
1. Types Of Heat Source
Most types of heat source need to be monitored by the thermostat:
| Heat Source | Needed? |
| --- | --- |
| Heat light bulb | Using dimmer |
| Ceramic heat emitter | Yes |
| Heat cable | Yes |
| Heat mat/tape | Yes |
| Radiant heat panel | Yes |
So what is the best reptile thermostat? That is the equipment that allows you to maintain the temperature of the animal's enclosure under the control.
There are 3 most important thing you need to remember:
Check your hotspot temp manually for making sure that all is functioning properly.
Ensuring setting up temperature is properly, using the IR temp gun to establish the right setting
The cheap device is more likely to be failed but the cheap is better than no. The high-quality model will save you more money.
2. How To Set Up a Reptile Thermostat
Install the heater at the end of the vivarium

Put the sensor at the center of the tank, avoid resting on the walls or the floors because it might affect the temperature.

Set up the temperature to your needed range

Plug it and turn on, it will take several hours for temp stabilization

Check the temp in different places in the vivarium by the thermometer. You should set up the location in the tank to escape from the heat.
3. Types Of Reptile Thermostat
a. On/off
They are the cheapest, simplest, and easiest to set up. It is perfect for controlling the temp on heat mats, heat cables, and another source that produces the warmth by the contact.
On/off works by constantly checking the temperature at the probe and turning the device off/on frequently.
However, it is not recommended for controlling the light bulb or ceramic heaters since there is a risk of blowing up the bulb.
b. Pulse
If you are using a non-light emitting source, the pulse model will be a perfect option, especially, for ceramic heat emitters.
It works by sending the electrical pulse at different frequencies.
The downright is that these types could be used for light-emitting sources due to the risk of light flashing.
c. Dimming
This advanced type will cost you a little more than others. Dimming can work well with heat pads, tapes, cables, and ceramic heat emitters.
It operates by raising or lowering the power which goes to the heating device depending on the temp needed to go up/down to reach the setpoint.
Dimming makes it more consistent than the on/off one.
d. Digital
Digital one is the newest tech with more functions and can run dimming, pulse, and on/off models.
You can get a great solution for controlling the temp.
Best Reptile Thermostats Shortlist (Updated List)
*Ratings are from Amazon at the time of publication and can change
The Best Thermostat for Reptiles
Listed in the top of best selling devices, this model will bring us excellent quality and features.
You can easily set up the temp thanks to the probe, plug in the controllers, and use the 3 button interface for temp setting. 
Besides, you can see the controller's status in the darkness by the handy LED heating and power indicator lights. 
This best reptile heat mat thermostat is easy to read on the display due to the hanging tab inside the tough plastic housing. 
The cord for the temp probe and 3 prong plug is designed to be suitable for most of the application as it can measure a 6ft length extend. 
BN-LINK can be used for seedling germination, heating, fermentation, and rooting.
It keeps the environment always in the right temperature range. 
Pros
Easy to set up and use

Easy to read display for better monitor

Durability and safety 

Long cords 

For different purposes
Cons
Being one of the safety ETL certified devices on the market, it is perfect for homebrewing to maintain the expected fermentation temp and ideal for temp control in reptile terrariums and small animal encloses
This best reptile thermostat controller is designed for basking bulbs, heat cables, heat tape, radiant heat panel, and ceramic heater. 
JumpStart offers the optimal/precise temp closed to the set points on the terrarium/enclosure for pets. 
With the LED heating indicator light and Digital display, you can easily control the temperature.
You can control the range from 68°F – 108°F with the C/F options. 
Its water-resistant probe has an extended code around 6ft, which makes it perfect for large terrariums. 
It is simple to use with 3 prong ground plug and the digital option for the plugin and set up the temperature
Pros
Easy to use and install

The probe can meet the matt directly thank the flatter probe cord without a lip on one side

Being safe to use

Convenient and don't need to worry about the spot temperature checking 
Cons
If you are looking for a cheap device but still good quality, the iPower – the best thermostat for reptiles will be the right choice.
Being a simple mat, it is successful in maintaining the right temperature for reptiles. 
iPower is not only designed for reptiles but also seed germination, rooting, fermentation, home brewing, keeping your environment in the expected temp range. 
It controls between 40°F – 108°F (5-42°C) and the temp display ranges from 32 -140°F. It has the LED illuminated indicator light which allows you to check the controller's status even in darkness and the three-prong grounded plugs for ease to use. 
You can use it with the Ipower heat mat for making a warm and nice growth habitat for reptiles. 
When you plug it into your heat mat, temperature selected, you already set it up. 
Pros
Control both heat and cold environment 

Easy to install and use 

Best cheap reptile thermostat for tight budget persons 

Having LED indicator lights 

Suitable for small pets especially, reptiles

Good quality case and hardware

Being best thermostat for reptile heat mat
Cons
Not powerful for extra warm hotspots

It doesn't work with the ceramic heaters or heat bulbs, only for lowered heat mats
Although its price looks quite high, you don't need to wonder anything about the quality.
This upgrade Vivarium Electronics version is on the top of the device for the pet's enclosures. 
Being a pulse model, it is great for suing with the ceramic heaters, it can control the temperature from 250F – 1400F. 
Having an inbuilt temperature alarm, this device will satisfy those who love to be alerted when the temp drops or rises. 
With the auto shut-off function, overheating, burn or fire will be prevented well, your pet will be safe from all harm. 
You will never be stressed thanks to the auto temp regulation.
Besides, it can allow the natural cycle of temperature for daytime and lower the temperature in the nighttime. 
Vivarium electronic comes with an expandable single outlet for controlling more than a heater at the same time, then it saves your money from buying one more. 
You can see the time of day, current setpoint value, and the probe temp setting by the display on this device.
Especially, the 3 button keyboard will make it simple for use. 
Pros
Expandable single outlet 

Having an alarm 

A great choice for ceramic heaters 

Auto shut off function

700 watt capacity with the replaceable fuse 
Cons
Not for an incandescent bulb
A programmable model will never let you down, it allows you to program weekdays/weekends at different temperature.
Wind100 also boasts the positive on/off and the heat/cool switch which allows it to use for summer and winter. 
This best thermostat for reptiles is possible to use with the fan or air conditioner for cooling and a space heater for heating.
You can use it for heating reptiles' enclosure and also other purposes. 
Coming with the patented Lux speed dial for simple programming, on/off switch for streamlined operation and battery-free memory storage, hence, it is one of the top user-friendly devices. 
There is no installation of wiring, so it is easy to plug in the then choose the expected heat.
You can use it with the space heater, air conditioner, or fans. 
Lux WIN100 has default heating and cooling schedules for saving up to 33% of energy cost a year and cut down the carbon footprint for the environment with 100% mercury-free. 
Pros
Great work in saving money 

Easy to program

A great choice for heaters with mechanical controls 

Being compatible

Friendly to environment 

Great innovation, quality and value brand
Cons
WILLHI comes with simple operation, the wide control range of temperature from -50 ~ 110 C, large power, and an advanced waterproof sensor probe. It is equipped with a US standard outlet and a maximum load of 1100w at 110 C. 
Besides, high and low-temperature alarms will be a nice solution for you to avoid the temp exceeds.
Its countdown automatic shot timer turns the heater. 
It is very simple to use and install the minimum/ maximum temp when it goes on/off due to the digital readout in C/F. 
It has a 3 meter 9.8 sensor cable for more convenience.
WILLHI can use for different purposes such as seedling heat mat, aquarium, pet breading, electric oven/ radiator, BBQ, home brewing, and incubation. 
Especially, it has been on the top-rated best thermostat for reptiles for a long time. 
WILLHI becomes reliable and easy to operate with many useful features at an affordable price when compared to the other counterparts. 
Pros
Easy to operate and set up the temperature

For different uses

Come with a user-friendly interface 

Waterproof thermocouple included

Affordable price 
Cons
Not compatible with 2 hotlines of 220 V plugs. 
You don't need to worry about your pet's habitat temperature thanks to Bayite.
It has a waterproof sensor for use in both water and terrestrial reptiles. 
There is an inbuilt high/low temp alarm that will notify the temperature changes.
It is not easy for you to find a more accurate device to control the temp correctly than this. 
It is not only a great option for heating reptiles but also the best thermostat for reptile incubators, heating aquarium, and pet breeding. 
Bayite – the best digital thermostat for reptiles is very reliable and durable because of its automatic power-on delay for protecting the compressor. 
Apart from being durable, it is also an energy saver device, thus, you will not need to worry about electric bills. 
Pros
Save money for electricity 

Can be used as cooler and heater 

For both aquatic and terrestrial thanks to the waterproof

Coming with temp alarm and auto power on display
Cons
Does not come with a timer
What To Consider When Buying The Best Thermostat For Reptiles?
1. Heat Source
We all know that you should think about what heat source you are using such as mats, ceramic heaters, or cables, to find a suitable one.
If you have heat mats/ cables, it is recommended to use the On/off type. Pulse will work well with ceramic bulbs or accurate heat mat temperatures, especially, for light bulbs using the dimming one is a great choice.
2. Functions
Reptiles are not all same, the bearded dragons and some desert lizards will need the temp gradients with day and night setup.
Besides, it is more controllable with the multi-control, calendar, timers, or overload circuit.
If you are having a complicated setup with multi heating tools, then it would be much better to have one which can control more than one heater.
3. Max Wattage
You need to see the max watt which can pass through the device.
For example, On/off type needs to have up to 100w while the dimmers can go up to 600w or more.
The larger terrarium will require a higher watt heater.
4. Temperature Control Range
You should choose the one which allows you to have a wide range of temp for more control over the enclosure's temp.
Besides, some reptiles like the hotter basking sport than others.
Don't forget to think about the enclosure's size, a large vivarium will need a larger heater and more powerful thermostat.
5. Easy to Set Up and Use
The best thermostat for reptiles should be easy to install and use as not everyone is a technical expert.
It would be a perfect choice with an easy and safe device, your children and elderly can take care of your reptiles properly when you are away from home.
Especially, focus on choosing the model with a simple design, and come with detailed instructions from the manufacturer.
6. Durability and Silent Operation
You need a device that can last for long not only some days.
You can check some factors such as water resistance, quality of materials, and careful machining which are the key to determine the product's lifespan.
Long term investment will be more efficient than many unsecured investments.
A silent device will be a suggested idea as your reptile's cage is normally placed in your house.
7. Safety
Sometimes, the thermostat failure will happen because of power surges, accidental pressing of dial or buttons, or overloading.
Thus, a safety alarm equipped will be much use for this case.
If there is any problem, the loud buzzer will sound.
Then the probe becomes dislodged but the vivarium still cannot get overheated.
8. Sensor Length
The sensor will be placed inside the reptile's cage at the end of the cable and the thermostat will be outside for easy to change the temperature.
For small cases such as for bearded dragons or geckos, the cable does not need to belong.
However, for the larger case, you need to consider to check carefully the sensor cable to see if it is long enough to suit.
Commonly Asked Question About Best Thermostat For Reptiles
1. How Does It Work?
This device is using to control the heating device when it comes on/off by altering the signal.
The sensor will be placed in the vivarium and set up the temp on the thermostat.
When the sensor detects that the temp has been reached, it will turn off the heater or reduce its power.
Once the temp drop, it will turn on the heater back or raise its power.  
2. Is It Hard To Install a Thermostat For My Bearded Dragons?
No, it is not. You can easily set it up by following well the instruction provided.
Or if you are still not confident, asking for some professional to help.
3. Can I Use a Dimming Type For Ceramic Emitter?
Yes, it is possible to use it. However, the dimming type will perform the greatest efficiency with the basking light. 
Read more:
4. How Can I Monitor The Might Time Drop-In The Temperature?
You don't need to monitor frequently the temperature at night.
Some models can detect daylight and you can set it up for adjusting the night temp.
Or some models come with a timer for setting at cooler temp at night.
Beginners get a little confusing. 
5. Can I Use More Than 1 Heater Off The Same Thermostat? If It Is Possible Then How Can I Attach Them?
Yes, it is possible to use 2 heaters or on the heater and a cooling tool from one.
It will be provided with 2 sockets and you can plug the device into each one.
Then you can specify the needed temp range.
It will trigger the heating /cooling as your requirement setting. 
6. What Is The Best Reptile Thermostat?
The best thermostat for reptiles is the device that can control the temperature well to keep the right temp for your reptile's enclosure.
You can see our experience to consider when choosing the most efficient one among the seven models above to find out the condition for the best devices.
Conclusion
At present, your right choice will be our success.
We hope that our list of best models for reptiles and some extra information below can support you to find out the awesome one for your lovely pets. 
In case you need an exact pointer, BN-LINK DIGITAL HEAT MAT THERMOSTAT will never let you be disappointed because of its quality and function. 
Or VIVARIUM ELECTRONICS VE-300 THERMOSTAT  – a perfect choice for vivarium reptiles.
Its price is the highest model in this list, which means the highest quality will come together. 
Finally, identify your requirements will be an efficient way to narrow down the choices among thousands of products in the market.
Hopefully, our knowledge can help you somehow. Wishing you get the best thermostat for reptiles soon! And let share with us your experience by leaving a comment below.
Further Reading:
Tags: temperature controller, ceramic heaters, set the temperature, bn link, services llc associates program, heating device, desired temperature, heat lamp, types of thermostats, participant in the amazon, temperature control range, dimming thermostat, affiliate advertising program designed, pulse thermostats, hanging tab, temperature alarm, amazon services llc, heat source, program an affiliate advertising, high and low temperature