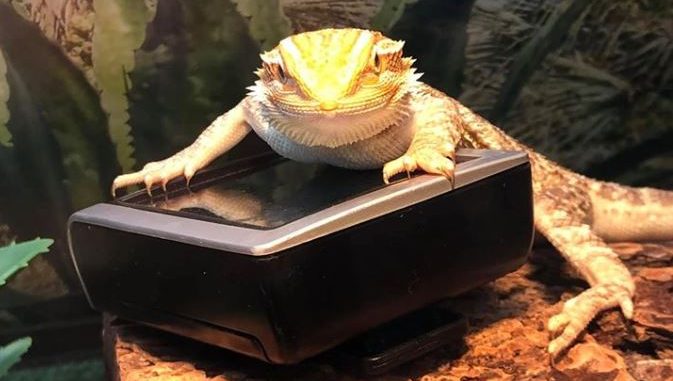 You are looking for the best thermometer for bearded dragon or even how to choose the best thermometer, all solutions will be in our reviews below just for you.
As we know, beardies are very sensitive to temperature and humidity.
And it should be kept in a 35-40 degree humidity.
Especially, they could get hurt if it is too hot or cold.
Therefore, it is crucial to make sure the temperature is right for them.
The bearded dragon thermometer is only one solution to recognize the temperature. Moreover, this will be a worthy investment for owners. 
The Top-Rated Bearded Dragon Thermometer (Recommendations)
#1. ETECKCITY INFRARED THERMOMETER 774 – TOP PICK
#2. ACURITE 00325 INDOOR THERMOMETER & HYGROMETER WITH HUMIDITY GAUGE – RUNNER UP
#3. GOABROA MINI HYGROMETER THERMOMETER – BEST SIZE
#4. KEYNICE DIGITAL THERMOMETER – BEST BUDGET
#5. EXO TERRA DIGITAL THERMOMETER – EASY TO USE
#6. ZOO MED LABS DIGITAL THERMOMETER HUMIDITY GAUGE
#7. THERMOPRO TP50 ROOM THERMOMETER
#8. RISERPO LCD DIGITAL AQUARIUM THERMOMETER
#9. ZILLA REPTILE TERRARIUM THERMOMETER & HUMIDITY GAUGE
#10. GXSTWU REPTILE HYGROMETER THERMOMETER
---
Related: 
Guide For

Thermometer
1. Why Do Bearded Dragons Need Their Tanks So Warm?
Unlike humans, all other animals have adapted to a specific type of environment, including lizards, a cold-blooded animal.
This kind of reptile originates from the warm, arid regions of Australia so they're used to high temperatures during the day and cool, but warm at night.
In the wild, they use external heat sources, such as the sun or even rocks, wood items, to help provide body heat.
Therefore, it is of paramount importance to duplicate those conditions as much as possible when caring for your pet, which will provide a healthy and enriching home for our reptile friend.
Otherwise, failure to keep the enclosure warm enough may result in digestive problems, high stress, or even death.
2. Proper Temperatures for a Bearded Dragon
A beardie is a cold-blooded animal so it does not have the ability to regulate its own body temperature.
Therefore, we must heat the terrarium similar to their native temperatures.
However, it is extremely important for you to know that to reach optimum temperatures within the enclosure, warm and cool zones for a beardie are compulsory.
While the warmest area is the sunbathing area, the cooler zone is on the other end of the terrarium.
The area between these two areas should be between those temps.
The differences in temperature within the enclosure will allow the dragon to self-regulate its body temperature, which is crucial at every life stage – from baby to adult.
So, we will discuss the proper temps for a beardie at each stage of its life.
3. Proper Temperatures for a Baby Beardie
A baby (less than 6 months old) requires more energy than an adult to grow quickly.
Therefore, there will be a slight difference in temperature requirements between them.
While an elevated sunbathing area on one end of the terrarium is highly recommended to have temps ranging between 95 to 110 degrees F, the temps should be slightly cooler and range between 80 to 90 degrees F on the opposite end of the enclosure.
| Temperature Areas | Ideal Temperature Range |
| --- | --- |
| Basking Area | 95°F - 110°F |
| Cool-down Area | 80°F - 90°F |
(On the Celsius scale, the freezing and boiling points of water are 100 degrees apart. A temperature interval of 1 °F is equal to an interval of ​5⁄9 degrees Celsius. The Fahrenheit and Celsius scales intersect at −40° (i.e., −40 °F = −40 °C). Ref: "Fahrenheit and celsius" – wikipedia.org)
4. Proper Temperatures for a Juvenile Beardie
Like a baby, juvenile dragons require the same temperatures.
However, the warmest area can be slightly cooler, ranging from 95 to 105 degrees F.
| Temperature Areas | Ideal Temperature Range |
| --- | --- |
| Basking Area | 95°F - 100°F |
| Cool-down Area | 80°F - 90°F |
5. Proper Temperatures for an Adult Beardie
Unlike juveniles and babies, the adult needs slightly cooler sunbathing areas.
In specific, the temperature for the warm area should be between 90 to 93 degrees whereas the cooler region of the enclosure should be at 80 to 90 degrees F.
| Temperature Areas | Ideal Temperature Range |
| --- | --- |
| Basking Area | 90°F - 93°F |
| Cool-down Area | 80°F - 90°F |
6. Nighttime Temperatures
At night, it is recommended to adjust the temps within the enclosure to drop anywhere between 70 and 75 degrees F for all stages of dragons.
Moreover, when nightfall arrives, you should turn off the sunbathing light so that the temps will lower, and the beardie can rest.
Especially, temps in the terrarium fall below 70 degrees F at night, you had better add supplemental heat using heat pads or ceramic heat emitters
In order to establish important light cycles of daytime and nighttime for your dragon, just repeat this process.
7. Method of Reading:
There are 3 methods of reading the temperature, you should know.
Being the most high-end type, it will utilize the light to gauge the temp. And it provides quick, exact, and easy to use features. However, it could not read the air temperature. 
It includes the stick as a probe that will be inserted into the exact area to get the reading. Especially, it can read the air temperature.
This product will stick in place when measuring. It is simple to use but takes time to set up for reading and also can not move a lot. 
Best Bearded Dragon Thermometer Shortlist (Updated List)
*Ratings are from Amazon at the time of publication and can change
The Best Thermometer for Bearded Dragon
This product is designed as a gun for more accuracy at a good distance, better than other guns.
Further, it can measure the surface temperature from -58℉ to 716℉/ -50℃ to 380℃, and it is possible to choose the unit F/C with a simple pushing button. 
For getting quicker and more exact reading, it comes with the laser design.
Above all, the laser light will offer you a visual spot for reading accurately where you are targeting.
Its 9 V battery is easy to change. Its LCD screen is backlit, it also has the auto-off feature for extending the battery life. 
Pros
Easy to use and read 

Exact readings for a long time

Durable for use in a long time

Offer the backlit display
Cons
It is bigger than others

The battery is a little more expensive
This indoor AcuRite supports you to record both humidity and temperature in 24 hours.
It is easy to read the temperature level due to the icon.
AcuRite also comes with a magnetic backing which mounts it to your fridge easily. 
Especially, it can record the temperature and humidity accurately.
Moreover, its monitor is simple to use and has many mounting options.
It makes sure the proper humidity and temperature for skin, allergen, and health advantages by stopping the development of bacteria, asthma, fungi, etc. 
Pros
Easy to read the result

Long-life battery

Can read accurately 

Simple to setup
Cons
The magnetic is a little weak to hold itself in place
Firstly, Goabroa Mini is equipped with a high-end humidity and temperature sensor which provides the exact temperature ranging from -58°F ~ 158°F, and the humidity ranging from 10% RH ~ 95% RH.
Secondly, this product lets you know the environment temp and humidity around you. 
With this mini size, it is perfect for not only a reptile tank and other places that need to control the temperature and humidity level.
Finally, a compact size at a reasonable price will be a nice choice. 
Pros
Easy and simple to use

Compact size

Cheap price

Come calibrated & spot on
Cons
The temperature display is smaller than the humidity. 
Keynice ranked in the best thermometer for bearded dragon with a great look at the design and possibly updates reading in a second.
It can be used for different purposes including aquarium use, flush-mounted, or even surface mounted setup.
Besides, it is convenient due to the temperature ranges in 2 switchable measurements. 
In addition, it comes with the unit detailed display on the backlight screen, so that we can see the temperature records even in the darkness.
Above all, its temperature sensor probe is against the rush due to the 100% stainless steel made.
Remember, do not add any corrosive liquid to the beardie tank. It is easy and convenient to set up with the meter coming with 3.3 feet cable. 
Pros
Good price 

Nice graphical display for seeing temperature easily

Display both in F and C

Do not need batteries, Powered by USB

No rust probe
Cons
Exo introduced this product at a very good price compared to other above models, while still provide the accurate temperature result.
Besides, it is also equipped with a remote sensor for more accurate measurement and lasting for a long time. 
Above all, it is very simple to use with only one single button for operation.
With this button, you can simply control the max/min memory setting.
The sensor is kept in place with the suction cup, the instrument will be mounted with the loop fastener and the hook.
Especially it comes with Velcro strips. 
Pros
Good price

Easy to control and install

Read the temperature exactly
Cons
This product is impossible to find any thermometer which is more affordable, reliable, and easy to use than this Zoo Med.
This product does not come with many features but it is still enough needed to function at a good price. 
You can read the information on the digital display easily.
Besides, a long-life battery is one of the advantages of this model.
It reads the humidity accurately, even compared to the modern thermometer. Zoo Med offers the waterproof temperature probe used submerged in water or air. 
Pros
Reliable and easy to use

Save time and space

Long-life battery and battery included

Digital readings
Cons
The small digital display is challenging to read 

The battery is a little hard to switch out
This hygrometer digital thermometer shows the level of temperatures and humidity at a highly correct record.
That is to say, it helps to make sure enough the indoor humidity protects the pet's health, skin, and avoids allergen.
Moreover, the thermometer indoor comes with a tabletop and a magnet-mounted design.
This product is also powered by an AAA battery included.
Especially, it has the F/C selector, which is easy to set, just press the button on the back to change the mode and hold for 2 seconds for the clear record max and min temp/humid readings.
Pros
Easy to control

Informative design

Come with the tabletop design and magnet on the bac for more convenient

Can be used in different condition

Create a clean and comfortable environment

Well made and neat design
Cons
This best bearded dragon thermometer is designed for not only beardie but also insects, terrariums, and fish tanks. It can be installed in a minute.
Just mount the display over the tank and put the sensor probe inside.
It can measure from -58 to 158 degrees Celsius with an accuracy of +/-1 degree C. It allows you to switch between C and F simply. 
Riserpo is a perfect choice for reptiles such as beardie, turtle, and lizard.
It comes with an LCD for easy reading and a remote submersible sensor probe.
Besides, you will be amazed by its compact design with 2 suction cup mounts.
Moreover, there are two batteries attached. 
Pros
Easy to install and mount

Good price and quality 

The cord is very long and convenient

Fast and exact temperature control
Cons
The battery door is a little bit hard to open
Zilla – the best thermometer for bearded dragon comes with 2 main functions of temperature and humidity measurements from the dial gauge.
Firstly, it is capable of reading from 60 to 120 degrees F (16-49 degrees C) and displays the humidity from 0-100%. 
Secondly, It has the enclosed permanent double side tape which can be removed for easy cleaning.
In addition, it is the perfect choice for a quick readout, you should put it at the head height of your pet to have the exact readout of air humidity and temperature in the place beardie breathe.
Its dial indicator makes it easy to give you a safe level of humidity for your pet. 
Pros
Provide accurate humidity and temperature measurements

Cute look

Being durable 

Easy to read

Good for owners who have multiple pets
Cons
A little pricey due to 2 functions 
Firstly, this tool is designed for great control of humidity and temperature in reptile tanks.
Coming with a hook and Velcro, it is easy to install in any tank.
Besides, it allows you to control the temperature at all times to ensure that your pet's good health.
On the other hand, you can easily change the R to C by pressing the hole on the back of the tool.
That's why it is listed at the top of the best thermometer for bearded dragon.
Its dimension is 2.08″ x 1.3″ x 0.67″ which is compact and convenient.
Further, it also includes the battery.
Although its price is quite high compared to others, it worth your money. 
Pros
Convenient to use

Record accurate temp and humidity

The LCD clearly and easy to read

Good for dragon's enclosure
Cons 
Things to Look Out For A Good Thermometer For Bearded Dragon
In this part, you will see the important features of the best thermometers, and you must know to get the right one. 
Accuracy is the most crucial factor for a thermometer, and you should check it carefully.
For example, some types could not read the exact temperature. 
Most are not expensive, being aware of your tiny dragon's enclosure is the best way to take care of them. So, it is extremely great if it is durable.
In short, you should choose the one with high quality, sturdy materials, even if it is a little costly than others. 
The battery is an indispensable attachment to any product.
So, the best thermometer for bearded dragon must come with a long-lasting battery.
That is to say, an expensive and well-made battery will make even the cheap thermometer ending up expensive. 
A thermometer that is capable of reading both F & C degrees would be a perfect choice to consider.
Commonly Asked Questions About

Thermometer for Bearded Dragon
1. What Temperature Will Be Ideal For My Bearded Dragon At Night?
Daily time should be between 75 to 85 F (24-29°C). At night, it should be around 70-75°F (21-24°C).
You can control the thermometers placed at both hot and cool ends' enclosure.
2. What Will Happen If My Bearded Dragons Get Too Hot?
Most will gapes if beardies are getting too hot, which is not too much concerned.
Especially, your tiny dragons will be interested in basking with an opening mouth.
In other words, they will release heat from the body if they reach a limited temp.
3. Where Can I Put The Thermometer In The Tank?
You should put it toward the central terrarium for accurate readings.
4. How Temp Should The Enclosure Be?
Enclosure's temp will depend on the time and place. 
Firstly, the hiding spot will be a cool place. Your beardies need to rest at the cool spot.
That is to say, the temperature should be around 21° – 29° C.
Secondly, the basking place is the hottest spot, where your beardies relax and absorb power.
In addition, for the small beardie, the temp will be 38° – 43° C, around 40° C for matured dragons. The overall enclosure ought to stay at 32° C. 
Especially, at night time, it is recommended to off the heating lamp and make it cooler around 18° – 21° C.
5. How Many Types Of Thermometer For A Bearded Dragon?
There are 3 types available. 
It made with the chemical substance to indicate the temp on the accumulative scale. For instance, mercury is a chemical making the thermometer.
It is made with numbers, showing the degree of both C & F. And, there is no battery.
The screen will show the temp in numbers. Besides, it runs on the battery.
Moreover, the best digital thermometer for the bearded dragon will always display the exact and clear temperature readings.
6. How To Choose The Best Thermometer For A Bearded Dragon Tank?
First, check out the quality from the price, then don't forget to choose the suitable size for the tank.
It is better to get a small model with high durability and good design.
By controlling the terrarium's temp, you can carefully consider the thermometer's durability.
It should maintain for at least 5 years. It also plays the role of the décor, don't forget to pick up a nice design. 
Read more:
7. How Cold Is Too Cold For a Bearded Dragon?
At night the proper temps for your beardie should be between 70 and 75 degrees F.
However, if the temperature drops to around 65F (18C), it would be too cold for your dragon, which can cause your pet health issues. Therefore, you need to adjust it immediately.
8. Are 115 Degrees Too Hot For Bearded Dragons?
If it has not been for adequate temps of basking spots, beardies cannot digest their food properly, which can lead to impaction.
Consequently, the temps should be 105-115 degrees, with the cool side sitting around 80-90 degrees for a baby. Regarding adults, the temps should be 95-105 degrees.
9. Should I Cover My Bearded Dragon's Cage At Night?
Firstly, it is optional but if you find it useful as it may also help with optimal temperature management within the enclosure, and you can cover your dragon's enclosure at night.
In addition, doing so will cut off external sources of light which may not be completely obvious to you.
10. Can Bearded Dragons Die From Heat?
Extreme heat will cause overheating, stroke, and death.
Therefore, if you notice your pet display some signs such as panting a lot (in general panting is fine when a beardie is sunbathing), trying to escape the tank, and digging, it might be too hot.
11. Is It Okay For My Bearded Dragon To Sleep In His Water?
Beardies will sleep anywhere so it would be nothing to worry about if your pet sleeps in his water.
However, if you want to stop it, you should take the existing bowl out as it can raise humidity and cause issues.
Conclusion 
To make sure your beardie's comfortable, a reliable thermometer is a must-have tool for any beardie owner.
Furthermore, getting the right product will make big support for your beardies' safety and happiness. 
Finally, we highly recommend ETECKCITY INFRARED THERMOMETER 774 as the best quality and efficient thermometer with a compact design and high accuracy. Besides, GOABROA MINI HYGROMETER THERMOMETER will be one of the most compact products.
We hope you enjoy our reviews of the best thermometer for bearded dragon and experience sharing. So, don't hesitate if you have any questions for us, let me join us below!
Further Reading:
Tags: bearded dragon s enclosure