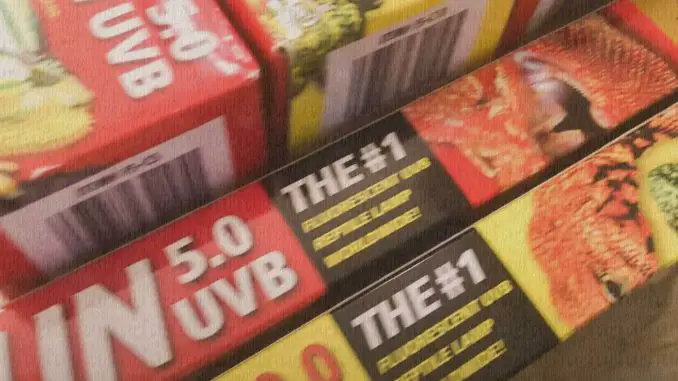 The best reptile UVB bulb is a must-have tool for all reptile lovers.
As we all know that your pet needs ultraviolet B to synthesize Vitamin D3 allowing them to absorb and metabolize calcium.
Reptiles could not live without ultraviolet B, or lack of it could lead to many health issues such as soft bones, metabolic disease, and deformation. 
UVA light is emitted from all standard lights, however, ultraviolet B needs a special output source. Let be with us if you are looking for UVB lights and related information.
The Top-Rated Reptile UVB Bulb (Recommendations)
#1. ZOO MED REPTISUN 10.0 T5 HO UVB LAMP – TOP REVIEWS 
#2. ZILLA UVB FLUORESCENT BULB 18 INCH – RUNNER UP
#3. MEGA-RAY MERCURY VAPOR BULB – BEST MERCURY VAPOR
#4. AIICIOO MERCURY VAPOR BULB REPTILE BULBS – BEST BUDGET BUY
#5. LUCKY HERP 10.0 UVB FLUORESCENT DESERT TERRARIUM LAMP – BEST COMPACT
#6. MYCOMFYPETS UVB LIGHT AND UVA 2-IN-1 REPTILE BULB
---
Related: 
Best Reptile UV Light Guide
Firstly, you might not know that the reptile habitat should have a photo gradient with zones that go down to 0 UVI (UVI is UV index, a unitless measure of UV), allowing the pet to regulate or control the exposure to ultraviolet B.
You can check out our picture below to decide what zone should be your animal's upper limit. 
After figure out what should be your upper zone and UVI limits, you can take a new step to find how many types of ultraviolet B bulbs on the market.
We will get it for you right now. 
1. Types Of UVB Light Bulbs
There are two forms of tube light including T8 and T5. The T5 will be smaller and higher in quality and efficiency.
T8 is the most available in the US, it is cheaper to make, good for a terrarium, while T5 has a higher output. 
Fluorescent tube types are used commonly because of their reasonable price.
However, it is not suitable for large tanks and also needs to be replaced every 6 months. 
As you know, Mercury vapor type can create both heat and UV rays because reptiles are cold-blooded animals, they need heat. 
It is convenient, but you should take caution when using mercury vapor lights.
Its wavelengths are shorter than the light from the sun which can cause cell damage, hence, you should keep them high enough to avoid damaging your animals.
The recommended distance is at least 12 inches. 
Mercury vapor types are not cheap at all, they provide the longer term of UV radiation output and you don't need to replace it frequently.
Since it is powerful, even it is installed far from your pet, but still, be effective. 
Fluorescent coil bulbs are compact and safe for reptiles. It is a good choice for tropical or nocturnal animals such as geckos, chameleons.
It is quite small and has a high UV output.
However, some desert lizards will need several coil bulbs which could be cost-prohibitive. 
2. How To Set Up The UVB Bulb For Reptiles?
Installing a bulb is not too difficult if you know how to set it up with safety before you carry out.
Normally, the light should be mounted at least 7-10 inches away from the basking area where your pet is using.
It is important to provide them enough light but also give a shady spot for hiding if they need to take a rest.
It means you should put it inside the tank. Even it can be filtered by glass. 
For a mercury vapor, you need to take another distance, should be on the outside of enclosing at least 3-4 inches away from the cover because it is very powerful. 
In case, you have an extra powerful mercury vapor type you can hang it above the tank around a food above the lid of the tank.
Note: If you are a newbie, it is recommended to use the normal style of ultraviolet B device rather than a mercury vapor.
It can easily get some risk if you cannot mount it properly. 
3. Safety Tips For Using UV Lights
UV lights are not the same as the regular types so you should use it correctly. 
When you set up the hot zone for basking, you should make use of bulbs to cover the whole body of your reptiles better than heating only a small spot. 
Don't put the UV light at the side of the enclosure because the reptiles have thick ridge for protecting eyes from the sun.
Thus, if you do that, then it will glare into your pet's eyes directly and cause some damage. 
Remember to maintain a suitable distance between the lighting and your pet, at least 6 inches, and not over 18 inches.
Then you can avoid burns and reduces Ultraviolet B. The best distance is 12 inch-gap. 
Besides, you should make sure that the light is kept out of eyesight from your pet, you, and another family member to avoid UV light directly. 
You also have to replace it after 6-12 months as manufacturer's instruction since the UV bulbs produce a diminishing about of ultraviolet B over time. 
Don't forget to set the whole enclosure by light, you should provide some kind of place for your pet to be away from the UVB device sometimes and maintain a 12-hour cycle of day & night. 
Best Reptile UVB Bulb Shortlist (Updated List)

*Ratings are from Amazon at the time of publication and can change
The Best Reptile UVB Bulb
With Zoo Med Repti, your reptiles will become more active and happy with this one of the best-rated reptile light bulbs after just a few days of use.
Since they are provided with enough vitamin D3 and calcium thanks to ultraviolet B from the bulb.
It has a reasonable price for a nice investment.
Besides, it also offers UVA wavelengths which can increase appetite, activity, and induce reproductive behavior. 
It comes with a spectrum and low heat lamp, thus, it is safe for pets from small to adults.
Zoo Med reptile also emits ultraviolet B with a full 20/51 cm from the lamp's surface for preventing metabolic bone disease. 
This model is suggested to use with a large terrarium that is greater than 12 inches of ultraviolet B penetration needed.
Zoo Med ReptiSun 10.0 is suggested for using above the screen covers filtering out up to 50% ultraviolet B wavelengths. 
Pros
Cheap price

Can use both outside and inside the tank

Work efficiently on beardie

A great option for the large tank

Highly durable product
Cons
Packaging should be better

No padding or protection of packaging

Check carefully before buying to avoid second-hand products with burned-out one
Zilla Fluorescent Bulb converts ultraviolet B into calcium for helping your pet's health.
This model is recommended for the small enclosure, especially for bearded dragons. 
It has the full spectrum lighting for providing the most natural light for your pets as well as avoid affecting and annoying them.
Zilla is one of the cheap reptile UVB bulbs but it very durable, it can last for 12 months with proper ultraviolet B levels, which could be lower in some other counterparts. 
This bulb is very bright and strong which is for bearded dragons.
You should use it together with the Zilla T8 strip fixture for the best performance. 
Pros
Being suitable with most of the fluorescent fixture types

Being best uva UVB reptile light

Good price

Easy to install and use for both beginners and professionals 

Can be used as a basking area 
Cons
Need to use a ceramic heat emitter because it cannot put out much heat

Cannot work for the fish tank. 

This model is for reptiles only
Mega-Ray is a perfect choice for those who are looking for UVA & UVB bulbs.
This lamp can not only provide UV but also heat effectively for most reptiles, especially, a bearded dragon.
Being an economical choice thanks to the multiple functions equipped. 
The best reptile UVB bulb comes with the tuned peaks for making sure the appetite, activity, great colors, and optimal calcium absorption via Vitamin D3. Besides, it also offers a balance, infrared, and visual light. 
This self-ballasted mercury vapor one simulates the sunlight and provides the radiation of the sun for pets.
This 160-watt (120V0 mercury vapor bulb is a great source of light and heat for UV and basking light.
Your pet will not get any problems to cause by a lack of calcium. 
Pros 
Durable materials of metal and glass for a long time of use

Suitable for amphibians and reptiles

Produce the same amounts of ultraviolet B and natural light

Provide vitamin D3 

Avoid the metabolic bone disease
Cons
Stronger than the conventional bulbs, so have to install on the enclosure's top with carefulness

Should have a timer or turn off it

Come with a constant buzzing sound
Besides, this bulb is a nice option for amphibians and reptiles such as tortoises, bearded dragons, turtles, snakes, and some birds also.
Its price is reasonable for most pet owners, while still provide enough functions. 
AIICIOO is also an option of multi-features including warm light and ultraviolet B for your pet.
Especially, it has auto turn off protect which rarely comes in most of the products on the market, hence, it can prevent burns. 
It is also a self-ballasted bulb that can provide natural sunlight which is an important factor to keep your pet healthy. 
All in one bulb will provide visual and infrared light, thus you don't need to buy one more heating device.
It is easy to install, however, you should check the size of the enclosure for making sure that the bulb is not too big for your fixture.
It can fit the standard ceramic socket easily, does not require the ballast.
This 100 watt UVB reptile bulb can expose ultraviolet B up to several feet from the lamp's surface, so it is suggested for the large terrarium. 
This product is also made for durability with high quality of materials, include premium quality nickel-plated threads for avoiding corrosion. 
Pros
Easy to install 

The ultraviolet B output is excellent

Cheap price

Good all in one lighting bulb

High recommended for bearded dragons and turtles 
Cons
It is not going well with the thermostat but the timer

Replace every 6 months 
LUCKY HERP is a cheap reptile UVB bulb for small reptiles such as a baby bearded dragon. One biggest advantage of it is that it can help to transform into essential nutrients for a pet's body.
This bulb will stimulate appetite, reproductive behavior, and activity, provide the needed ultraviolet B rays for optimal calcium metabolism. 
This model is highly recommended for using on screened terrariums or terrariums with dense screen covers for ensuring ultraviolet B penetration. 
Lucky is not exothermic, hence, its longevity can be enhanced and it will not burn your pet it comes in contact. 
However, it is suggested for use when your pet is young because it cannot provide enough ultraviolet B for the mature and big reptiles. 
Pros
Cheap price 

Safe to use 

Can be used for birds 

Simple design with enough necessary features 

Combine with the natural light or reptile vision for optimal visual lighting output well 
Cons
Not enough for the green iguana 

Not very durable
MyComfyPets is one of the most common bulbs that you can find on the market these days. It not only provides ultraviolet B but also ultraviolet A and plays well the role of a heating device for your pet.
With a capacity of 100 watts, a reptile uva UVB bulb can deliver all the best experiences for you and your animals at a reasonable price range.
This self-ballasted bulb self regulates and will not output damaging UVC radiation.
It supports appetite, activity, great colors, and allows the calcium to be absorbed via vitamin D3 production, also prevent metabolic bone disease.
This model is recommended for use in terrariums or aviaries of lizards, reptiles, birds, etc. It comes with a 10.000 hours lifespan, however, it will be lower in reality.
Pros
Properly lighting heating for your animals

Provide the right amount of ultraviolet B and ultraviolet A

High safety

Two in one lighting bulb

Long-life expectation up to 10.000 hours or less
Cons
Not very durable

Take 5 minutes to start radiating/showing the blue light after turning on
This all in one TEKIZOO provides UVA and ultraviolet B heat and invisible light in one device.
It is efficient in supporting the production of Vitamin D3 or pet and keep them healthy. 
It can be suitable for most amphibians and reptiles such as bearded dragons, tortoises, turtles, snakes, iguanas, lizards, chameleons, and geckos. 
Especially, it can be easy to use for most users and compatible with all enclosures from tanks, terrariums, visons cages, terrariums, and more. 
With this bulb, you don't need to worry about the supply of vital UVA and ultraviolet B rays anymore. Don't forget to check the size to make sure the lamp fits your best reptile light fixture.
Pros 
Great UV source for pets 

Reasonable price for good quality bulb

Compatible with different enclosures

Safety usage direction 

Clear instructions 
Cons
Not very high UVB output (small size)

Cannot use with a thermostat or timer
As you know, all the high-quality mercury vapor lamps will be strictly tested before the packaging process to make sure the best working condition.
It is recommended to use a good quality ceramic socket to ensure the best performance and lifespans.
Don't use it with a dimmer. Thermostat, don't splash the water on the lamp and keep a specific distance from your pet when using. 
How To Choose The Best Reptile UVB Bulb?
There are a thousand types of lighting bulbs on the market then you should look for the best for your pet.
It might be a little confused especially for those who are not professional pet owners.
Thus, it is perfect to get an accurate suggestion from an experienced breeder. Here are some tips we would like to share with you for making your choice easier:
Different reptiles will have different requirements for ultraviolet B amounts.
Some pets with less ultraviolet B need, you can go for the regular UVB bulbs but those with a high need of ultraviolet B such as bearded dragon, tortoise, chameleon, or iguana will need to have some special bulb (mercury vapor).
As we mention in the first part, there are several types of bulbs. You can read it well to see what should be a good choice. 
UV devices should provide enough light during the day and also can turn on and off to keep the cycle for your pet.
Or you might need to have a timer for doing that function. 
Sometimes, the lighting fixture could not provide the high amounts of heat, thus, it is better to see if your animal needs so much heat and ultraviolet B then you can find the one which can withstand it well.  
Commonly Asked Question About Best Reptile UVB Bulb
1. Is Red Light Good For Reptiles Such As The Bearded Dragon?
If you are owning a bearded dragon, it will be different from other reptiles.
You should not use the red light at night, because the bearded dragon can see it at night and it will disturb their sleep. 
2. How Long The UVB Light Can Last?
It depends on specific brands and types of best reptile light, numbers of an hour using, and state of socket wiring.
The normal fluorescent UVB can last around 6 months with normal use.
However, it is not suggested to replace UVB bulbs for over 6 months. 
The mercury vapor can last for longer and it will not need to be changed frequently. You can use it for 12-24 months. 
3. Why We Should Stay Away from The Coil Model?
As we know the coil bulb has a high output, it is too powerful and the output is not consistent.
Thus, it can make the risk of damaging the vision of your pet. Also, it can manifest when given enough time. 
4. Why We Need UVB Instead of UVA for Reptiles?
UVA is not too essential for helping the reptiles' heath, while ultraviolet B is super vital for the.
It impacts their immune system and also produces beta-endorphins which will be good for the pet's mood.
Let see the picture below to see the differences between ultraviolet B & ultraviolet A.
Read more:
5. Does My Pet Need UVB at Night?
As we all know that every creature has its cycle of day and night.
Thus, we also need to create the cycle the same as nature for your pet. It will follow a 24-hour cycle including the sleep and wake cycles.
Therefore, UVB light will need to turn off at night.
If you leave the light all time, then hypercalcemia can happen which will provide too much calcium.
Conclusion
The best reptile UVB light is very important for your reptile's health, hence, takes more time for research, and then you can find the right one. 
You can take more seriously ZOO MED REPTISUN 10.0 T5 HO as a regular UVB bulb, I highly suggest it for you due to its good price together with nice features equipped.
Another choice could be MEGA-RAY MERCURY VAPOR BULB, one of the best mercury vapor types. It is the best choice for a large enclosure and requires a powerful light.
It is a hard task to find the best one among a large number of products out there, thus, we are interested to help you narrow it down somehow by giving you a top of best reptile UVB bulb above. Now it is time for your turn!
Further Reading: 
Tags: exo terra, amount of uvb, light for your bearded dragon, compact fluorescent