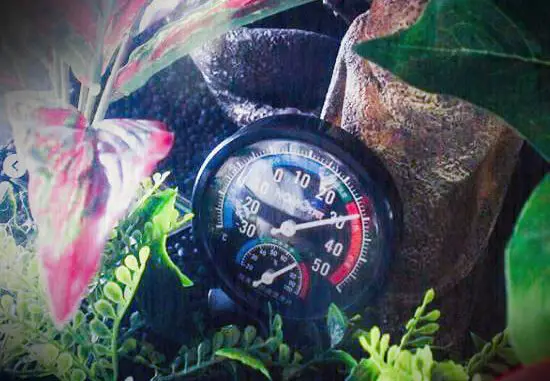 Taking care of any pet type is not easy, as the task requires diverse knowledge about their health, living conditions, and factors that influence these conditions. And, raising a reptile pet is no longer difficult with the help of the best reptile thermometer. Why is that?
Among many elements that affect your reptile's well-being, the temperature is significantly essential.
It is because reptiles are cold-blooded, and they cannot maintain their body temperature.
When the environment temp changes, their body temp also changes along with it, which causes various risks to your pet's health.
Therefore, having support from this tool is a must.
It will help you to keep the temperature unchanged at the most comfortable level for your little pet.
As a result, your reptile will stay happy and content all the time.
Even though you have equipped your captivity with perfect facilities, lacking a thermometer may result in a considerable difference.
In case the pet tank gets either too cold or too hot, the reptile's health can be negatively affected, or even driven to the edge of death.  
The following are the five best heat checkers that are highly recommended for reptile breeders.
Without any ado, it is time to scroll down and get a more in-depth insight into these fantastic heat checkers!
The Top-Rated Reptile Thermometer (Recommendations)
#1. GOVEE THERMOMETER – TOP PICK
#2. GXSTWU THERMOMETER – RUNNER UP
#3. AQUANEAT DIGITAL THERMOMETER – BEST BUDGET BUY
#4. ETEKCITY LASER GRIP 774 – BEST INFRARED THERMOMETER
#5. EXO TERRA THERMOMETER – BEST ANALOG THERMOMETER
---
Related: 
Guide For Reptile Thermometer
1. Functions & Features
If you are a total beginner in raising reptiles, the thermometer can sound a bit strange to you.
In case you may not know, it is a device that measures the temperature level inside your pet tank and then shows the result on its screen.
Different kinds of reptiles need a particular optimum temp, so keeping the tank at the most suitable temp is required.
2. Classification
After getting the overview of a thermometer's functions and features, we would now like to introduce some common types of the device currently available on the market.
From these, you can consider which is the best product for you!
Model
The one above utilizes a bimetallic strip. This strip is used to convert a temp change into mechanical displacement.
The analog type can also come with several other techniques, such as the one with liquid in glass (takes advantage of alcohol or mercury expansion), or gas (uses gas pressure).
This type of heat checker is different from the analog because of its mechanism.
A digital thermometer for reptiles utilizes sensors, which are either thermistors, resistance temp detectors, or thermocouples.
All of these models can measure the temp changes according to the voltage or the resistant change.
A humidity and heat gauge
They can quickly respond to the temp change and produce a more accurate result than analog ones.
An infrared temp gun (The Serpentarium)
To identify the temperature, the infrared thermometer for reptiles first determine the extents of thermal emissions from the pet's body.
They feature a lens to focus thermal radiation to their detector, then turn them into electrical signals. 
Next, analog will be converted to a digital signal shown on the screen. Hence, you can easily read the final result.
But there is one thing you need to remember. These heat monitors only work well within a specific distance!  
3. Installation Tips
Where you place this tool should be up to the heater position.
Then you can start to measure the temp inside the tank from the daytime to the nighttime. Below are several tips for you to correctly set up this tool.
The position of the heat checker
If you are using a heating pad, heat mat, or any other contact heaters, you should place this tool on their surface.
By that, you will keep your reptile free from getting burnt.
In case you get a warmer and a colder surface, it is a need to have three heat checkers: At least one for each area and one for the central position.
Once you set thermometers correctly, you have already made a huge step in protecting your adorable little pet.
Also, ensure your pet not to step on them because they will end up in false readings.
Best Reptile Thermometer Shortlist (Updated List)
*Ratings are from Amazon at the time of publication and can change
The Best Reptile Thermometer
The Govee model comes with high-end technology and various applications.
As a thermometer/hygrometer for reptiles, it performs two different excellent jobs simultaneously.
Little do you know that this product is also a beautiful decorative item for your lovely home!
Stylish design and high accuracy in measuring temp and moisture are two big bonuses for this versatile device.
Not yet, it features a higher-resolution LCD screen, which allows pet raisers to read the measuring result from a distance.
It also presents to you not only max/min records, real-time temp, moisture level, but also the comfort level.
With this product, you can figure out whether the little pet is satisfied easily by just a glance.
The measuring temp is accurate to ±0.5℉, and the moisture level is ±3%RH.
If you are looking for a high precision temp monitor, this model is meant for you!
If other products need at least 10s to recognize and change their reading results, the one from brand Govee only needs 2s to respond to the temp variations.
Pros
Hassle-free LCD screen

High accuracy with built-in Swiss-made sensor and Bluetooth temp sensor

Offers remote monitoring up to 80m

Features the prompt alert notification

Stores historical readings

Free data storage and export
Cons
This product is just great for those in love with state-of-the-art technology, modern design, and versatile applications. One exciting feature is the notification appears in case the temp or moisture level goes out of the set range. Therefore, you do need to have a look and check the measuring results all the time.
Are you ready to reach out to another highly-recommended product?
This model from the brand GXSTWU is internationally renowned thanks to its diverse functions and applications.
You can attach it to your tanks, terrariums, or vivariums.
As you may have known, temperature and humidity are most concerned by anyone who just starts raising a reptile.
A habitat that is sufficient in heat and moisture will result in a happy and content little creature.
So, with this heat monitor, you can now easily manage these two factors inside the pet tank.
The temp can be shown either in Fahrenheit or Celsius, just press the C/F hole on the device's back.
As the hole is relatively small, you can use a paper clip to make it easier. 
To adhere to the equipment to the tank side, simply use Velcro. Otherwise, try using the hook. Both of them are great and easy to use. 
This best thermometer for reptile cage looks very stylish, with the color white.
It is amazing! Now, let's check out its strengths and weaknesses!
Pros
Fahrenheit and Celsius convertible

Stylish and modern design

High-quality, 2 functions in 1 product

High accuracy

It has a mini size

LCD screen, easy to read
Cons
It is a bit pricy

It comes with batteries
Next, we would like to recommend the best reptile digital thermometer from the brand Aquaneat.
In case you are longing for super accurate and high-quality products, this one is going to serve you right!
The equipment suits your vivarium, terrarium, or any enclosures featuring an amount of water as it comes with a submerge probe.
The probe end can be put under the water, while the thermometer should not.
The gauge is easy for users to use and set up.
It will not be challenging for you to read the measuring result from the tank's outside with an LCD screen.
Besides, it offers a wide temp range of -58°F to +158°F (-50°C to +70°C), with +/- 1°C of accuracy.
When you want to turn it off, press "PWR" for 3 seconds. 
This product has other essential accessories: 2 PCS LR44 button cell batteries free, two suction cups to mount the thermometer, and the 3ft cable to the tank side.
Pros
It is not expensive

Features LCD screen, easy to read

Easy to set up

Suitable with different types of pet tank

Comes with free 2 pieces of battery and 2 suction cups

High accuracy
Cons
This model is said to be the best reptile thermometer gun thanks to its diverse applications.
Not only can you use it to maintain your little pet's health, but also you can use it to check whether your home appliances (like AC units or heaters) are working well.
2 cm below the infrared aiming point comes the gun's measuring surface.
To achieve a correct measurement reading, the satisfying distance from it to the target should be about 14inch (36cm).
Thanks to the laser beam feature, the gun performs a high precision level even from a far distance.
Can you imagine how wonderful it is when you can read an object's temp without getting close to it?
You are now free from being exposed to dangerously cold or hot things, such as engine parts, cooking surfaces, electric bearings, etc.
Pros
Great accuracy

Offers Fahrenheit and Celsius degree reading

Features an LCD screen, easy to read

Has an auto-off function, battery-saving

It is versatile
Cons
Batteries needed

It is expensive
Overall, the thermometer for reptile tank is a great option for you if you are looking for a handy, compact, and versatile heat checker.
With this, you can measure the surface temp from -58℉ to 716℉/ -50℃ to 380℃, which is really impressive.
Furthermore, with the auto-off function to lengthen the battery life, you will never be dissatisfied.
This excellent heat checker from the brand Exo Terra is very easy to use and set up.
When installing the device, you can simply adhere it onto a smooth surface using the sticky pad on its back. 
As a typical analog, its clear display allows users to read the temp both in Fahrenheit and Celsius degree.
In particular, the device features a temp range from -20 to 50℃/ from 0 to 120℉.     
Not only can you use it for reptiles, but also you can use it for all kinds of amphibians, which is so versatile.
Plus, there are no batteries required. Hence, you do not need to worry about the extra cost. 
With this affordable product, you will have a basic and typical good heat checker for the pet tank without spending too much money.
Now, let's look at its main strengths and weaknesses.
Pros
Tested for pet health and safety

It is not pricy

The reading is displayed in both Fahrenheit and Celsius degree

Can be used for both reptiles and amphibians

Easy to use and install

No batteries required
Cons
Reading may cause difficulty to read from a distance

Not really accurate
Welcome to the next outstanding product from brand Jedew!
With this best reptile thermometer hygrometer, you can save a big deal of money, as it is a 2-in-1 device. Sounds exciting? You are right!
The equipment can both monitor the accurate humidity and temp level inside your animal tank!
In particular, its measuring humidity range is from 10% to 99%RH with +/-5% accuracy. 
Besides, the model's measuring temp range is from 0℃ to 70℃, with +/-1℃ of the precision.
The variation is not much, which is great for you to maintain a perfect warm habitat for the pet.
With the Jedew model, you will not need to worry whether it can take up much space inside the enclosure.
This version is compact, mini, and very light. It can be applied to cars, laboratories, libraries, or places with a closed space with air condition.
Pros
Allows Fahrenheit or Celsius degree conversion

High accuracy

Features 2 main functions: Measuring both humidity and temp

It is very compact, with mini size

Easy to set up

Fast response in every 10s
Cons
Difficult to read the measuring results from the outside of the tank

Batteries needed
This product features many strengths that you will fall in love with: versatile, space-saving, fast response, two functions, LCD screen…
If you are a starter in raising pets and want to have a simple but effective heat checking tool, this is just right for you.
A small, compact, and inexpensive hygrometer thermometer for a reptile tank is what you need for perfect living conditions inside the enclosure.
If you have not found the most suitable temp checker yet, let's discover this famous model.
Having well-known for its high precision and compactivity, Veanic is considered the best product.
In particular, it features 1.89 x 1.13 x 0.6 in dimension and 18g in weight. Also, the temp range is -58℉-158℉, with the measurement accuracy, is ±2℉.
Sadly, the temp measured is only shown in Fahrenheit unit. 
The model is versatile because you can use it to supervise not only the temp but also the moisture level inside the tank, which is excellent!
It's a 2-in-1 deal! The moisture measuring range is 10%-99%RH, checked every 10 seconds.
Pros
2 functions in 1 product, very versatile

It is inexpensive

The measuring range is wide

It has mini size, very light and compact

It features an LCD screen, easy to read
Cons
No switchable display (only in Fahrenheit)

It uses batteries
Criteria For The Best Reptile Thermometer
Cre: nationalgeographic
Product reviews may not be enough for you to choose the best thermometer because you can end up being confused after reading and searching for a lot of products.
Hence, you can save time by selecting a product that meets the requirements below for a high-quality product.
Famous brands are smart choices because the quality of their products is tested.
The thermometers we have mentioned above are manufactured by renowned brands, such as Exo Terra, Jedew, Govee.
It is essential to know where the product originates and the length of the warranty.
A combo will help you gain more benefits. Currently, on the market, there are many types of hygrometer thermometer, which are so versatile. It is always better to buy 2-in-1, right?
Humidity and heat monitors get on well with each other, creating a powerful device that measures the humidity and temp inside your pet tank. Sounds great!
A product with a low level of accuracy may result in false measuring results and finally decrease your cute reptile's happiness.
It is terrible to purchase a bad deal! Therefore, try to read as many reviews about those products in advance.
So that you can know what happens to the previous users.
Buying a product online includes risks for a fail thermometer. Hence, we can lower the risk by reading the comments of buyers.
Some models come with suction cups, hook, and adhesive dots for users to hang on the tank side.
Locate the heat monitor in the right place
The more high-end technology is, the more complicated a thermometer may be. But don't worry.
If you are an experienced breeder, your knowledge and skills in setting up the tank will be improved over time.
Then, you do not need to worry about the process of setting up the tank anymore.
Ensure the heat checker you are going to purchase is readable.
Hence, choose the one with a screen that is large enough for you to read from a distance.
Besides, considering a model with your preferred measuring unit (Fahrenheit and Celsius) so that you do not have any difficulties in figure out what the number means.
Batteries With A Long Lifespan
With this criterion, you can save an amount of time spending on purchasing new batteries.
Besides, long-lasting batteries will also have you save more time and avoid unwanted situations.
Commonly Asked Questioned About Thermometer
1. What Is The Best Reptile Thermometer And Humidity Gauge?
According to what criteria we just mentioned, the best one should be suitable for you regarding quality, versatility, accuracy, simple installment, and readable screen.
If you are looking for a combination of a heat checker and a humidity gauge in one unit, then Jedew, Veanic can be considered the perfect ones.
2. Why Does A Reptile Heat Checker Matter?
Monitoring temperature in a reptile enclosure
Reptiles cannot regulate their body temp, so they need a constant heat source inside the tank.
However, the temperature inside your pet tank may fluctuate.
If you want to maintain a comfortable temp level, there must be a heat source inside.
Then you need to monitor the temp in the pet enclosure and detect failure if it happens with a high-quality thermometer.
3. What Is The Best Reptile Infrared Thermometer?
There are many options for you to choose from.
With today's review, we would like to recommend Etekcity Laser Grip 774 as the best-infrared gun.
It can be used from a distance, and you can use it to check various home appliances.
4. What Is The Ideal Temperature For Reptiles?
| Species | Preferred Optimum Temperature (°C) |
| --- | --- |
| Spur-thighed tortoise, Hermann's tortoise | 20-28 |
| Red-eared Terrapin | 20-24 |
| Bearded Dragon | 25-35 (up to 42 in basking spot) |
| Green Iguana | 25-35 |
| Leopard Gecko | 25-30 |
| Veiled Chameleon | 21-38 |
| Corn Snake | 25-30 |
| Boa | 28-30 |
| Royal Python | 25-30 |
Ideal temp ranges for common pet reptiles
There is not a particular perfect temp for a kind of reptile.
Different types of reptiles have different temp needs; therefore, you should equip them with the most comfortable living environment.
5. Is The Analog Model The Best?
The Analog model has its strengths and weaknesses.
It produces the results thanks to the changes in a bimetallic.
However, its temp readings may not be accurate as digital and infrared thermometers.
The difference also is varied according to the specific analog you choose.
Conclusion
Getting the right thermometer will save your pet's life. At first, looking for the right one may not easy.
But now, after this long journey, I hope you have already equipped yourself with useful knowledge about buying guides and product reviews.
If you are looking for the best cost-saving product, choose AQUANEAT DIGITAL THERMOMETER. And for the most state-of-the-art, may we recommend the GOVEE THERMOMETER.
We hope you find this article of the best reptile thermometer helpful. And thank you for reading!
Further Reading: 
Tags: accurate readings, temperature range, zoo med, degrees fahrenheit, bearded dragon s enclosure