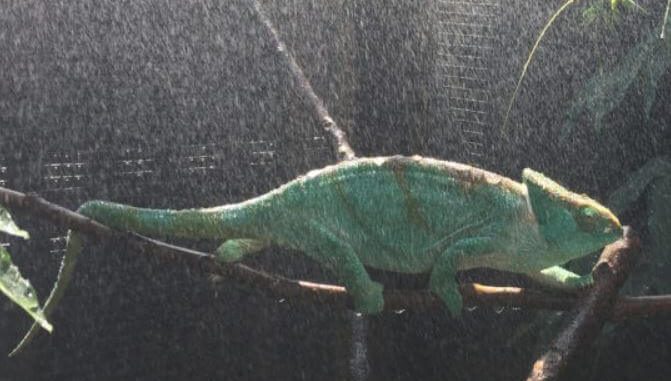 To mist down the Chameleon's cage, the best misting system for chameleons would be the easiest way for saving your time with effectiveness.
Your lovely friend will get enough water for their living.
I can say it is a time-saver.
You do not need to spray a bottle and mist your pet by hand all day.
An automatic misting system will come up with good benefits.
Take a quick look at the top best below:
The Top-Rated Misting System For Chameleons (Recommendations)
#1. EXO TERRA MONSOON SOLO II – TOP REVIEW
#2. MISTKING 22251 STARTER MISTING SYSTEM V4.0  – RUNNER UP
#3. COOSPIDER REPTILE TERRARIUM HUMIDIFIER – BEST BUDGET
#4. MRREPTILE REPTILE MISTER – EASY TO USE
#5. REPTI ZOO 4L HUMIDIFIER  – BEST FOR LARGE TANK
#6. 10L REPTI ZOO REPTILE MISTER 
The automatic misting system for Chameleon will work for different chameleons, but let see the humidity level of the varying type of chameleons in this table:
Veiled Chameleon
40% – 60%

Veiled Chameleon can tolerate the low level of humidity for the short time, but they need higher levels for drinking and shedding their skin

Panther Chameleon
50% – 70%

Panther is tropical reptiles living in humid areas, hence, they need misting system especially in case of living in the dry places

Jackson's Chameleon
50% – 65%

They also like to keep the temperature ranging from 55 to 75 degrees F
---
Related:
The Importance of Misting System for Chameleons
If you are a beginner, you might wonder why we need the misting system for chameleons. However, most chameleon owners would know that chameleons require a lot of water for humidity and hydration.
1. Humidity
The mister would support our pet to get the humidity exactly where it needs to be.
The higher humidity will simulate the natural tropical homes, and our pets will feel more healthy and comfortable.
Whereas, the low moisture could cause some issues to Chameleon's health.
Besides, higher than 75% humidity could also result in health issues for pets.
Keeping the air from 50% – 75% humidity masks would be a perfect rate.
The misting system could be programmed for a long time or more frequent sprays.
Don't forget something need to do when installing misting systems:
Moving the cage aways form AC and heaters
Keep the cage out of the windows.
Add humidity in the room.
Add live plants to the cage.
2. Hydration
 Chameleon absorbs the moisture through the skin.
They will only drink water when a rainstorm is activated.
Many owners spray down the tank for a few seconds and don't understand why the Chameleon does not drink.
Actually, after at least 2 minutes of falling water, the Chameleon will feel like there is enough rain to drink water droplets off from the leaves.
How To Install The Misting System for Chameleons?
1. Timer
 The timer is the supportive device to control precisely when the mister is on/off. There are several brands of misting systems that will go along with the timer "second".
The less expensive one will come with the cyclic timer.
A different timer should be bought if you have a system with only the frequency setting and how long.
The second timer is perfect for purposes, providing fine control over the mist because the first minutes are sufficient. We will use the mister as a shower system and spray mulch.
Misting can be utilized for owning up the temp or raising the humidity.
The cyclic timer will help sot control diminishing greatly.
It is not easy to coordinate with foggers or other cage elements. You can set up for going off 60 seconds/hour.
When the power comes on, the mister will continue for 60 seconds and wait for the next hour mark.
2. Water basin
 A water basin is needed to feet the misting system. It can be the plastic containers, and then you drill a hole for the bulkhead for installing.
You might need a lid for a bucket to keep debris & insects from falling inside.
The system should place the water source higher than the pump. It is necessary to have a lid and wash it out regularly.
If you have any problem with the pump, the manufacturer will show you to put it in place.
It is gravity fed. You can hook up to the water basin with the bulkhead coming in several models of misting systems.
You have to drill a hole in the container and screw on the bulkhead to make the watertight seal for a bulkhead.
The bulkhead will make you hook up ¼" tubing from the container's bottom.
3. Mounting the mist head
 All the nozzles will require the mounting hardware, which screws into the cage's frame; three main mist nozzles mounted.
Hydration mount form dragon Strand
Misting wedge: conner mount wedge/ mist nozzle
Misting Plate: Corner mount plate for one mist nozzle
4. Misting Strength
 The primary skill for setting up the system of misting is adjusting for the mist head strength. If you have a mist system in the smaller cage, you can reduce the mist strength by attaching extra nozzles for different cages.
Best Misting System For Chameleons Shortlist (Updated List)
*Ratings are from Amazon at the time of publication and can change
The Best Misting System For Chameleons
If you are looking for a programmable high capacity misting system at medium cost, you can not deny Exo Terra Monsoon.
Coming with two flexible misting nozzles for direct water flow, so you can make dry spots wet with ease.
Besides, it is upgradable up to 6 nozzles being perfect for multi habitats.
Because of being programmable, you can mist tank at any interval. This device also provides control and allows you to meet up with your pet's humidity needs.
The tank capacity is 1.5 liter, which is portable but requires refilling frequently—Exo Terra is ideal for small terrariums.
It features the light-up buttons for easy program spraying frequency, timing and the pump powers two sprayers for your tank. As chameleons' humidity requirements will be less than others, the shorter spray duration of this unit is perfect.
Pros
Being portable and programmable mister
Create an acceptable noise level
Easy to install, program, and refill
Flexible spray nozzles for pointing in any direction
Cons
Small reservoir size
No control over the misting power
You are a chameleon beginner; a Mistking starter kit will provide you all you need to set up the pump & sprayer to offer excellent moisture stability, even if you need to invest more.
Mistking 22251's power has the ability to misting down multi ages for a long time.
It has the controller addition allowing the mister to maintain the particular humid level.
As the best misting system for chameleons, It has one misting nozzle but still can run up to 10 nozzles for multi habitat.
This system is suggested for experienced owners who love to do some little DIY work for their pet.
Mostly, it has 15ft of ¼ inches black tubing and five tubing clips for easy mounting and the proper reference manual for walking you through maintaining and installing the system.
Its ST-24 misting controller can program with ten separate events, set at the interval hours, days, or weeks.
The controller has a built-in battery; then, no setting is lost if the power is out.
Pros
Powerful sprayer and pump
Being reliable and straightforward to set up
The system runs quietly.
Running without leaks, drips, or errors.
Can run dry, convenient and built for last
Cons
Doesn't come with the water tank
If you are looking for a good budget mister but still want to cover the spraying away from the manual spray bottle.
This 3L water tank is great for many types of reptiles, not only chameleons.
You can easily fill up water into the tank, firstly, just take the tank out and then open the lid at the bottom and fill water.
It is very safe, if the water tank is dry, it can automatically stop and the indicator light will change from green to red.
This mister comes with an adjustable fog output which can help to change the cold fog output capacity.
Coospider will not spray, only create the light mist or fog, hence, it will be fine for chameleons.
This is not automated, you should install the external timer which powers it up to your desired timings.
The tubing of this device is expandable, then you adjust to the need of the tank and it has an alert system for lighting up when the tank is running slow.
Pros
Come with affordable price
 decent sized tank
Easy to use and set up
Work well, silent and adjustable
Great long-lasting fogger for up to 12 hours
Cons
No timer, control overspray power
Mrreptile Reptile Misteris is made to run setups up to 2 nozzles.
Thus, it is suggested that those who have many habitats or require more misting extreme power.
The pump is also upgraded, more durable, and can run dry without any damage.
Because of being healthy & reliable, it is used for zoos or extensive gardens.
It features the reservoir bulkhead for mounting the pump into the bucket.
It is easy to mount with the 25 ft of ¼" tubing, ten tubing clips. Its tubing cutter with the T connector is supportive if you require to split the tubing. You can easily set up with the detailed manual provided.
Pros
High-quality misting system
Being easy to set up
Provide fine mist, reasonable control, and silent operation
Tedious pump controller
Informative and easy to understand manual
Can use distilled or rainwater
Cons
A little expensive for beginners or tight budget
Repti Zoo 4L can hold up to 4 liters of water, allowing up to 12 hours of working in the maximum mist around 300ml/hour.
With this tank, you don't need to fill up water frequently. It is easy to refill water.
You need to add water directly from the top opening, so you don't need to remove the water bucket.
Thus, the water will not leak from the tank.
Moreover, this device's misting level can be adjusted with 300, 200, and 100ml/ hour. It is easy to control mist speed to make sure your pet feels comfortable.
Its flexible tube can extend from 15.6 – 63.6 ".
Hence, it allows us to adjust the pipe length for fitting the tank well.
This best misting system for chameleons comes with intermittent timing for setting the spraying frequency, duration, and interval time.
With the controller, working can start or stop automatically. It is suggested for many types of reptiles, especially for chameleons.
Pros
Large capacity and long-lasting
Reduce the risk of adding water
Easy filling and cleaning with top-fill design
Allow you to choose the mist output.
Long provided power cord.
Cons
The instruction should be more detailed and better
Being the largest mister in this list, holding up to 2.6 gallons of water, Repti Zoo 10L is also one of the best long lasting misters.
With this tank, you can easily add the water directly to the main engine's inlet, but you don't need to remove the water bucket.
It features a super quiet pump with a stable operation for providing the pet with a comfortable and silent environment.
It has a 360-degree spray nozzle, which is multi-angle control and a wide spraying range.
The mister system nozzles can connect 20 pcs spray nozzles.
This one is a perfect choice for someone with many terrariums, and it features the internal backwatering tech and adjustable rainfall system.
Pros
High quality built-in high power pressure pump
Easy and convenient for adding water
Great built-in time
The great misting system at the excellent price
The tubing can be exchanged and improved.
Cons
This humidifier is perfect for most reptiles from bearded dragons, geckos, snakes, iguana, frogs, and toads, especially chameleons.
The reptile humidifier's tank can hold up to 2 liters of water and comes with a spill valve for simply filling.
It is a very safe device.
With the dry run protection, it will shut off the device in case of an empty tank.
It also has an adjustable hose ranging from 1.5 to 5 ft. It is suggested to use this mister with the hydrothermal or the timer for the humidifier's rest period.
Reptile humidifiers come with detailed instructions and are compatible with many enclosures such as vivarium, cage, terrarium, tank, aquarium, and cages.
Pros
Easy to assembly
The full set of tips and instructions are provided
Being compatible with a wide range of enclosures.
The removable bottle is smaller, replaceable, and easy to refill
Cons
Have to remove the hose, tank and turn it over to fill from the bottom
This humidifier looks clean from the outside, it can pump moist and fresh air into the pet's house.
Besides, with this one, you can take all the clean, quiet, moist, and odorless for our pet.
And, this humidifier is ranging from 250ml to 300ml/hour for making sure your pet is living in a comfortable condition.
Especially, it is adjusted for length and direction with the flexibility to be compatible with the enclosure.
Moreover, this 3L is great for a wide variety of pets.
This device is easy to use with the full instructions, you just need to pot the top off, dump in water and spin the dial.
3L is safe because it can shut off if it runs out of battery.
And, I am sure that 3L is a great capacity for chameleons' needs.
The outside tank is easy to clean with a soft cloth or abrasives.
Finally, it comes with great performance and bad style.
Pros
Simple to use and to clean up
Suggested for different types of reptiles, especially chameleons
Prevent the crystal build-up
Reasonable price
Quiet and safe shoes for even Korea  eating  beginner
Cons
What to Consider For The Best Misting System For Chameleons?
There are several main factors you should think about when shopping for the best misting system for chameleons.
1. Mist size
 Chameleons will respond stronger to the fine and smaller mist droplets.
However, the bigger Chameleon can drink better from the larger droplets.
Thus, it would be best if you considered the species you have to decide the mist's size.
2. Tank size
 The misting system needs to have water for spraying; most of the water will come with the external containers.
The large tank, the longer you spend between fill-up times. If you have a busy schedule and need low maintenance, the large tank is ideal.
However, the bigger tank will be more expensive and take more space.
If you have a narrow margin and wallet, you might like to see other smaller options.
Cre: nessexotic
3. Easy to use
In the past, misting systems were not as simple to use as now.
4. Program features
Depending on the specific product, there are many different products with a different number of programmable features.
Generally, the more features there are, the more money you should pay.
Thus, if you do not need something very fancy, go for the good and simple system.
However, if you require a specialized setup, such as multi cages or species, you should invest in an excellent option for their health.
Commonly Asked Questions About Best Misting System For Chameleons
Cre: chameleonforums
1. How Can I Realize If My Pet Is Dehydrated?
You can observe several signs of dehydration below:
Lack of energy
Lack of appetite
Sunken eyes
Wrinkled skin
Yellow-orange urate
2. How Often Should I Mist My Pet?
From my own experience, you should mist at least two times/day.
Don't forget to control the frequency based on the absolute humidity of the cage and dehydration.
3. How to Mist a Chameleon Without a Mister?
If you do not use the mister, you can use the spray bottle controlled for giving off the fine spray.
Especially, do not spray directly on the Chameleon. Besides, you should try to provide a well-distributed rush.
4. How Much Pressure in a Misting System?
The high-pressure system gives you the max cooling of the misting system, even in areas with high humidity. And, the high pressure is over 250psi/17 bars.
 5. What to Prepare for Making a DIY misting system for Chameleon?  
It is not so hard to make a DIY misting system for chameleons.
You need to prepare a 10 gallons bucket, chlorine neutralizer, plastic stick, aquarium heater, mini pump, a small tube of 100% nontoxic silicone sealer. 2 pcs irrigation tube, 2 inches long and ¼ diameter—3 ft of 1/4 "diameter tube, plastic inline T, plastic inline tap, mist nozzle.
6. Do We Need a Pump for a Misting System?
The low-pressure mister runs off your home's natural water pressure. Most users will require the pump to make the misting system effective; because, for quick evaporation, we should have high water pressure.
Conclusion
If you are looking for the best misting system for chameleons with high quality, EXO TERRA MONSOON SOLO II  is the best of the best on my list. However, COOSPIDER REPTILE TERRARIUM HUMIDIFIER would be an excellent choice for a tight budget.
Hopefully, you can find the best product for your lovely chameleons. It's time for your decision!
Further Reading: 
Tags: #tank #substrate #supplement #insect #Accessories #Incubator #Plant #StarterKit #Book #Leash #CalciumPowder, automatic mister