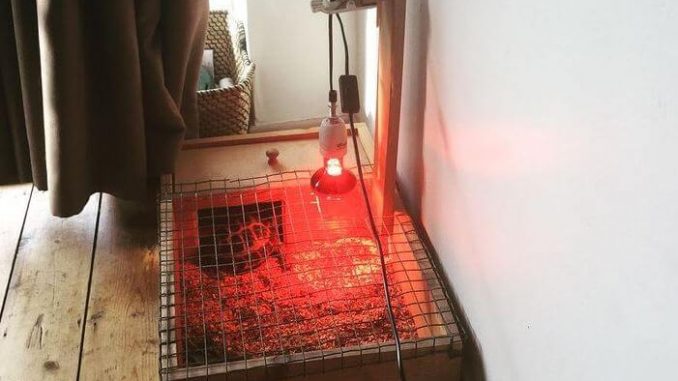 If you are having a shell pet, you probably know that finding the best heat lamp for tortoise is highly recommended, together with setting up the best living environment.
Light plays a bigger role than you might imagine, it is important for living species in the aquarium to survive, not only the tortoises themselves.
There are plenty of products on the market today.
We have tested some tortoise lamps in order to let our readers find their most suitable one.
We also took a look at their brands, values, pros, and cons from users all around the internet and gave our own suggestions.
Hope you can find this article helpful.
The Top-Rated Heat Lamp For Tortoise (Recommendations)
#1. LUCKY HERP 100 WATT UVA+UVB – TOP PICK
#2. ZOO MED REPTICARE INFRARED CERAMIC HEAT EMITER – DURABLE OPTION
#3. EXO TERRA SOLAR GLO SUN SIMULATING TERRARIUM HEAT LAMP – LIGHTWEIGHT BUT STRONG
#4. AIICIOO REPTILE HEAT LAMP BULB – EASY TO GO
#5. REPTI ZOO FULL SPECTRUM VAPOR LAMP 
#6. MEGA RAY MERCURY VAPOR BULB
#7. DGE REPTILE HEAT LAMP BULB

---
Related:
Why Do Tortoise Need Heat Lamp For Their Terrarium?
The tortoise lighting topic is very confusing for new enthusiastic or even the experts, as understanding about it is always too widespread.
Therefore, it is very hard to help everyone figure out what is best for the pet.
Lighting, Heating, And Providing UVB
For every non-nocturnal reptile, tortoise lighting requires three major bases: light enough to see (settles down to mimic a typical night-day cycle), heat enough to metabolize (processes like digestion or anything requiring warm blood flow to the organs), and UV lights to assist vitamin D3 synthesis.
The last factor is always the most underrated one in a habitat setup.
Although outside enclosures with walls made from wire can provide plenty of natural sunlight for your pet on a nice summer day, this is not a choice all year long and your indoor environment should ample enough UVB lighting.
Without UV lights, especially UVB, the tortoise fails to produce enough vitamins and minerals in its diet, so that he can not soak up the calcium for the solid bone and shell system.
This will lead to the MBD (metabolic bone disease), a soft and spongelike shell, and the lack of mobility in the reptile due to the pain it produces.
This is particularly important for young and female ones that are laying eggs.
Since it causes unsatisfactory bone and shell mass to withstand the weight of the inner organs, MBD can be fatal to your pet.
Thus, providing a good living environment with lots of natural light and UVB can be the most critical part of your terrarium set up.
How to create a proper day and night cycle in the terrarium by the lighting system
What Is The Appropriate Amount Of Light, Heat, And UVB?
Every tortoise needs these three elements, but some need this in various proportions than others, and all of this depends on their species.
For example, European species need less heat than those who are used to colder weather such as the Mediterranean or tropical ones.
We have separated some common tortoise breeds with ordinary installations to make it easier for you to figure out.
However, do not forget to inquire and investigate as much as possible about your particular breed.
European species, such as Horsfield, Russian, and Hermann, are more likely to take time outdoors since they like more temperate weather.
The best heat lamp for tortoise at these places is a UV lamp which provides around 10 to 12% UVB and heat at around 34 degrees as the settings basking on the lamp (a flood type lamp is preferable).
This type includes Greek, Leopard, and Marginated ones. They need 12% of UVB for syncretization of vitamin D3 and hot-end temperatures slightly above 34 degrees Celsius.
Tropical and Desert tortoises:
Hot temperatures (34 degrees Celsius or more) are required for most kinds of tortoises.
But due to the blocking effect of the rain forest canopy, approximately 5 to 6% of UV bulbs are appropriate for tropical animals like the Redfoot or Sulcata.
Best Heat Lamp For Tortoise Shortlist (Updated List) 
*Ratings are from Amazon at the time of publication and can change
The Best Heat Lamp For Tortoise
Wattage: 100 watts
Item dimension: 7.28 x 5.75 x 5.67 inches
Weight: 0.23 kg
 Evergreen Pet Supplies Mercury Vapor Bulb is a perfect choice for the daytime purposes.
It is a good heat source and the valuable UV radiation that your animal needs to be healthy and solid.
You will also make assured that your animals will have an excess of what they lack from the sun, even when you keep it in the shade.
This bulb goes well for a lot of animals, not only tortoises but also geckos, snakes, toads, and many more reptiles.
Also, you do not need to think about whether if it is suitable for your enclosure or not, since it can be fitted with a wide selection of cages.
It can be installed easily in the vivarium, tanks, terrariums, enclosures, or any cage you have.
Pros:
A powerful source of heat and UV rays (both UVA and UVB)
No harmful UVC
Suitable for a variety of reptiles
Compatible with virtually all enclosures
Tested for high quality and long lifespan
Cons:
High wattage is harmful to the animals' eyes if they look directly into the bulb
Got flicker issue sometimes
Wattage: 100 watts
Item dimension: 4.6 x 4.2 x 3.9 inches
Weight: 0.27 kg
 The Repticare Infrared Ceramic Heat Emitter is among the alternatives of the best heat lamp for tortoise if you want a heating system that can be used during the day for your pet enclosure.
One more reliable factor is that it is a product of Zoo Med manufacturer, a well-known brand in the pet industry.
This series has various wattage options from 60 to 150 watts are available.
In terms of infrared, they generate pure heat without light, so you may need another supply for UVB.
The lamp can heat your pets on cold evenings as well as during the cold winter season because of its a good deal of heat production.
 Unlike standard bulbs, these heat lamps can last up to 5 years or more.
This durability is a plus when mentioning the ZooMed products.
 Pros:
Durable, long-lasting lifespan (up to 5 years)
Water-resistant
Available in different wattage options
Cons:
Good for the enclosed room, not open basking spot
Does not generate light as well as UVB radiation
Wattage: 80 watts
Item dimension: 4.92 x 4.92 x 6.5 inches
Weight: 0.12 kg
The Glo Sun Terrarium Heat Lamp from Exo Terra is a good option to go if you are finding a lightweight but strong bulb.
This product ensures you have an appropriate light and heat to satisfy your pet's physiological requirements.
A unique thing about this bulb is, that neodymium is present in the glass sleeve will retain all the natural appearances of your animals and other plants.
Besides, this is a good UVA source which is necessary for the pet behavior.
You may also use the large spectral light produced by the lamp for plants in your enclosure.
Therefore, not only your pet but also the plants you have will be happy too.
Pros:
Rich source of light and heat
Give the critical UVA for physiological purposes
The light spectrum stimulates the growth of plants
Neodymium presence gives the animals and plants a natural appearance
Cons:
Reported to crack or explode suddenly, causing harm
Bulbs fall apart and do not work properly
Wattage: 60 watts
Item dimension: 2.95 x 3.94 x 2.95 inches
Weight: 0.1 kg
 Aiicioo Reptile Heat Lamp is a new product, but one of the most simple and powerful ceramic heat lamps on the market.
It is a source of radiation and produces a uniformly built sun-like natural heat.
Due to the long infrared wave, it warms up your pet very effectively.
What we love about it is its Ni-Cr-Alloy resistance wire heating faster and more energy-saving than the normal types.
 This is a perfect choice for owners who want to have a basic lamp.
Moreover, the manufacturer really cares about the safety of not only the pet himself but also the owner.
It comes with an on and off switch, plus a polarized connector to minimize the chance of getting an electrical shock.
Pros:
New design with polished aluminum inside to boost the UV radiation
Specially designed to accommodate larger bub
Perfect 24 hours heat source
No light emitted
Cons:
Does not put out as much heat as expected
Too small for open enclosures
Wattage: 100, 125, 160 watts
Item dimension: 5.3 x 3.7 x 3.7 inches
Weight: 0.27 kg
 As with the other vapor lamps, the product of Repti Zoo is a decent choice for tortoise enclosures.
The outstanding strength makes the large cages bright, it also gives full of UVB and UVA radiation.
It is, however, considered very fragile and therefore greatly decreases its lifespan.
The manufacturer is still finding how to fix this quality issue.
Pros:
Various options of wattage
All in one: Provide enough visible light, heat, UVB, and UVA
Self-ballasted, no external ballast required with integrated thermal protection prevents overheating
A full spectrum light provides an increased UVB penetration distance
Cons:
Some users complain it does not last as expected
Wattage: 160 watts
Item dimension: 7.5 x 5.5 x 5.5 inches
Weight: 0.2 kg
 Mega Ray Mercury Vapor Bulb is also a good option for your pets, especially the ones that need UVB to convert to calcium and UVA for healthy activity, mood, and breeding.
An advantage of the product is that its full range of illumination allows the livestock and captivity to access the most natural light without compromising both the sight of the pet and its owner.
Perhaps this is the most durable bulb on our list.
It is not going to easily crack.
On Amazon, it has got high rated and good comments from a lot of buyers.
In addition, the bulb is given a guarantee.
Mega Ray ensures that if the product shipped to you has any fails or breaks, they will send a replacement with no extra cost.
Pros:
High, strong, and durable wattage rate
Long-lasting
Do not waste power
Suitable for large tanks
Cons:
Expensive
Slightly blur when you touch the bulb
Wattage: 50, 75 watts
Item dimension: 5.3 x 3.7 x 3.7 inches
Weight: 1.5 kg
Boeespat Anti Scald Clamp Lamp is a tool for tortoise captivity you should consider.
This is one of the finest UVB lights that a tortoise enthusiastic would like and it looks good enough to be used as a decoration of the terrarium.
The lamp provides your animal with red infrared light and a convenient source of heat that can accelerate digestion and improve the circulation of their blood, curing wounds, and nocturnal sleep without disrupting them.
The product is made of high quality, robust material so you do not have to think about its durability.
It also has two sizes to fit with the scale of the enclosure and the age of your animal.
The indoor spot lamp can last from 800 to 1000 hours long, more effectively, longer longevity, and is consistent with the ceramic shutters.
Pros:
Red infrared light is good for your pet's health
75 watts heater gives excellent heating efficiency
Good applicability, suitable for different kinds of reptiles
Guaranteed to not leaks or freeze during the winter season
Cons:
Clamps do not work on hard surfaces, does not grab the surface tight or even unclamp
Reported to be burnt out or shattered
Guideline To Picking Your Best Heat Lamp For Tortoise
Any good tortoise lamp you buy should ideally have a few things:
Produce a rich source of UV radiation: UVA for metabolism and active manners, UVB for the processing of vitamin D3, and for a variety of natural processes.
Provide heat to warm up the animals at suitable temperatures
Imitate the normal experience of a day and night light cycle
Reliable and does not quickly crack
Available in a spectrum of watts
Not rapidly deteriorating
Therefore, there are some things you have to look out for when finding your best heat lamp for tortoise.
 If you are a new owner with no experience, this can be a little bit confusing.
We advise you to take some time to read the reviews of the previous buyers and ask an expert before making a decision.
The crucial difference between kinds of the lamp is its wattage.
The majority of wattage on the market today are 50, 75, and 100 watts.
They are suitable for a variety of tortoises based on how many tortoises you have, their size, demand, and the enclosure size.
So these considerations should be at the back of your mind when you make a decision.
Not all of the bulbs emit light because some of them are specific for heat.
Therefore, you can use the infrared heat light if you like a lamp that will only warm up your pet. However, if you wish to provide him with both light and heat, seek a bulb that does both.
In addition to your pet's heat requirements, vitamin D3 synthesis is subject to UVB and physiologic function is subject to UVA.
Few heat lamps are also provided all these radiations and you can have it in a single bulb.
However, you can choose the only heating bulb if you just want to heat the air.
Almost all kinds of lamps are explosive easily.
This is due to their heat in fact.
So go with a well-known brand and try the bulb for a few days before using them with your pet to make sure it does not blow.
In addition, follow the manufacturer's guide to increasing its life cycle.
Setting Up A Lighting System For Your Terrarium
How To Set Up A Best Heat Lamp For Tortoise Table (Vivarium World)
So, how far you should place the lamp from your terrarium? It is simple, remember that the lower the watts, the closer it can be.
You have to maintain the temperature inside the tank of 85 to 90 degrees Fahrenheit, and the distance to keep depends on the lamp's wattage.
In general, it is advisable a distance form 8 to 15 inches:
50 watts: 5 – 7 inches
75 watts: 7 – 9 inches
100 watts: 10 – 12 inches
150 watts or more: more than 12 inches
Especially, you must be careful when dealing with UV radiation types.
UVB rays do not penetrate through glass or plastic, so if you have a cover, leave an area for the bulb to expose or use a mesh cover.
Furthermore, remember to replace bulbs after two years even when it is not crack yet.
The level of UVB decline with time, if you use an old lamp for too long, your tortoise will not benefit from it.
Besides, do not forget to follow the distance guidance above to make sure that your lights are safe and sufficient.
Last but not least, all the heat lamps generate both UV and heat, thus, it is very easy to burn out or explode when getting too hot. So please be careful when using these products.
For more information about setting up a light and heat system in your tank: ULTIMATE Turtle/Tortoise Light and Heating Guide
Best Heat Lamp For Tortoise: Frequently Asked Questions
1. Should I Leave The Lamp On All Night?
Experts say that you need to maintain the indoor light in summer 12 to 14 hours a day and in winter 10 to 12 hours a day.
The lamps should be warm, bright at day time.
Generally, at night, they should be turned off for the tortoises to relax.
However, you can use some ceramic heat emitters or radiant heat panels.
These products provide only heat with no light, suitable for night time heating in cold countries.
2. Can I Use A Normal Bulb Instead Of Specific Ones?
In addition to heat, standard bulbs can emit white, red, blue, or purple light.
You should only use white light during the daytime to not stress out your pet. At night, you can turn to a red or blue thermal light.
3. Is Too Much UVB Harmful?
The 12 UVB tube is said to have UB light levels that are capable of an Arcadia, depending on the amount a tortoise can tolerate.
In terms of exposure duration, it is not considered harmful as a further synthetization of vitamin D3 simply disintegrates.
Read more:
4. Which One Should I Choose Between The Ceramic Heat Lamps And Mercury Vapor Bulbs?
Ceramic Heat Lamps create heat, but not light.
It seems to last longer than the light bulbs, which is a good option if you want to keep a good temperature through the night.
On the other side, Mercury Vapor Bulbs is an all-in-one product, including light, heat, and even UVB for raising a healthy tortoise.
It comes in really high wattages, so make sure that your lamp will accommodate a high wattage bulb to prevent fires.
To sum up, you should use a Mercury Vapor Bulb since it provides both heat and light.
5. What Will Happen If My Pet Gets Too Hot?
Basically, the tortoises will search for warm spots to sunbathe when the weather is cold and watch out for shade it is too sunny.
When it is warm enough for you to be outside in short sleeves, your pet is also warm enough to be outside to warm up.
If the outside temperature falls down too much, you should provide a heating system.
Conclusion
The use of a lamp for lighting and heating in a tortoise terrarium can not be overemphasized. Only providing food is not enough for the tortoises because they want to live in an environment that is similar to their wildlife habitat. So with the suggested products above, we hope you can pick the most suitable one to enhance your pet's health and comfort.
Our top pick for you is the LUCKY HERP 100 WATT UVA+UVB. Mercury vapor is a familiar kind of lamp that can provide both light, heat, and UV rays. Therefore, you do not need to buy separate ones. The Evergreen product is also rated to be a durable and good quality heat light bulb for tortoise.
DGE REPTILE HEAT LAMP BULB is also worth a try with its unique red infrared bulb design and a proper wattage level.
The best heat lamp for tortoise is one of the most important pieces of equipment you should have. After reading our recommendations, hopefully, you can find a suitable one.
Further Reading:
Tags: pet stores, compact fluorescent, pet tortoise, amount of heat