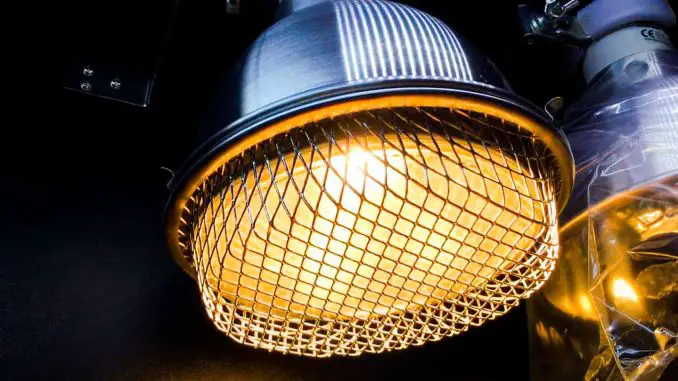 Are you currently looking for a heat source for your reptile tank? If yes, this writing of the best heat lamp for reptiles will be useful for you!
You know what will happen to your little pet once the atmosphere inside its tank gets too hot or too cold, don't you? You're right!
Like human beings, we can only enjoy life and fully grow up when we are comfortable and equipped with the necessary amenities. So do pets.
To expand their longevity and wellbeing, it is a must to provide them with adequate heat.
Why does heat matter?
It does because your home reptile is cold-blooded, which means he cannot regulate his body temperature!
When the weather changes, his body temperature changes along with it!
Therefore, it will be hazardous if we let this exothermic animal stay in an extreme environment.
Your pet can end up in diseases or even death.
As a reptile breeder, you must learn how to take care of them.
And one of the significant issues is how to deal with the heat? Here you get heating lamps!
They will help your pet remain healthy and content through all days and nights.
However, this equipment can either give out warmness and comfort or annoy, because any reptile heat lamp for sale can have low quality.
Do not worry! We are here to help you out! With today's checklist, we hope you will become more aware of the buying standards and collect several useful items!  
Time to dive in!
The Top-Rated Heat Lamp For Reptiles

(Recommendations)
#1. ZACRO HEAT BULB – TOP PICK
#2. DADYPET BASKING LAMP – RUNNER UP
#3. BETAZOOER INFRARED HEAT BULB – BEST BUDGET BUY
#4. REPTI ZOO HEATING LAMP – BEST SELF-BALLASTED BULB
#5. REPTI ZOO DUAL REPTILE LIGHT – BEST LIGHT FIXTURE
---
Related:
Guide For Heat Lamp For Reptiles
As mentioned earlier, a heating lamp has the primary function of transferring heat to the atmosphere inside your animal's tank.
It can be made of different elements, contributing to the classification of the lamp.
1. Types Of Heating Lamps
Its name tells almost everything. Made of ceramic, this model has a long lifespan and is also more expensive than regular ones.
Besides, they are nonluminous; therefore, there is no light produced, not causing your reptiles to deprive of sleep at night.
Compared to a ceramic heater, this type produces both heat and light. It is good, though, because it creates a perfect stimulating environment for the pet.
The wattage that it comes in can be up to 100W.
As a result, during its usage, you must ensure that it is not close to dry materials or your bearded dragon.  
Coiled heat bulbs for reptiles
This famous type is available on the market in two different models: the old and the new.
The light produced by the original version can be overheating, which causes injuries to your pet's eyes.
To avoid the intense light, you can probably put it a bit far from the tank.
Or simply apply the new model, which is safer for your kids.
Maybe the mercury model sounds entirely new to you.
It appears recently and conquers a lot of breeders with its multiple strengths. Not only can it produce heat, light, and UVB, but it also saves you a big deal.  
2. Use A Heating Lamp To Set Up A Temperature Gradient Inside Your Pet's Home
In the tank, the cold and the hot side are at the two ends. How about other areas? Let's look at the illustration to know more about gradient temperature.
Temperature gradient
This is needed because your pet cannot use 100% of his time lying only in a place.
Different zones keep them active in choosing the most suitable area for them to stay.
Remember, a good heating lamp will help them create a perfect gradient!
3. Installment Of a Heating Lamp
Position of a heat bulb
The best position is at one end of the tank so that you can easily create a temperature gradient.
Also, put it 10-12inch away from the substrate, not to burn your pet. In addition, the temperature around the basking area must be kept around 95-98 °F.
Best Heat Lamp For Reptiles Shortlist (Updated List)
*Ratings are from Amazon at the time of publication and can change
The Best Heat Lamp For Reptiles
Welcome to the very first option for you to check out today!
Thanks to a wide range of advantages, this ZACRO's product has been recognized as a wonderful ceramic heat lamp for so long.
It is made of solid ceramic, which is an excellent material for all kinds of reptiles.
There is no longer a need to worry about your little pet's safety and sleep all the time.
Not only is it a good heat lamp for reptile cages, but this model also works well for amphibians, hamsters, and birds.
It can provide sufficient heat inside the coop without emitting light as its ceramic element features outstanding heat radiation.   
Besides, with 99% thermal efficiency, there are no chances that this nonluminous lamp causes your beloved pet deprived of sleep.  
Furthermore, this 150W model has a flat-faced design that works better and lasts longer than its counterparts.
It has an input voltage of 100 – 110V.
The most exciting thing about the package is that it comes with a digital thermometer and an LR44 battery.
In case you may not know, the thermometer is the device that monitors the air temperature inside your pet's tank.
Significantly, a digital model featuring an LED screen can help with a clear reading of measuring results.
So, this 2-in-1 package sounds terrifically great as it can create a perfect heat source and temperature level monitor of 24 hours, regardless of days and nights.
However, this infrared heat lamp for reptiles is only compatible with the ceramic E27. In detail, a plastic E27 socket can melt away, or even result in an exploded heat bulb.
Pros
A digital thermometer attached

Easy for installment

No lights emitted, harmless for pet sleep

Is made of high-purity ceramics

Provides perfect 24-hour care

Features 99% high thermal efficiency

Can be used with a wide range of reptiles

Long-lasting, waterproof and durable

Is made of high-purity ceramics
Cons
Only suitable for a ceramic E27 socket

Should be installed from 10 to 40 cm far from your reptile
It is a must to carefully take care of your little animals because they are fragile and have no competence to protect themselves from temperature fluctuation.
Therefore, creating an environment where your pet can stay warm comfortably is essential.
The ideal temperature level for each reptile is different.
For instance, a hedgehog needs to stay at 80°F.
In case you want to regulate the perfect temperature inside the tank, it is a need to purchase a lighting temp controller.
And then there are no worries about what kind of reptiles you are raising anymore!
Do you just start raising a reptile son and want to purchase a full set of a basking lamp?
With this product, you will not need to buy a lamp-holder!
The more your tank looks like the natural pet habitat, the more content and comfortable your pet will be.
Among many essential elements for reptile life, UVB light is highly necessary.
Thanks to it, your pet can take in and absorb calcium to grow up healthy and stay free from metabolic diseases.
The package is easy and quick to assemble. It has a 360° rotatable clip bulb.
It also includes a light holder, which is well-matched with various types of E27 lamps, from ceramic heaters to halogen ones.   
1.5 m of cable allows you to flexibly locate the lamp anywhere suitably.
Remember to keep a distance from the light to your cute pet because too much heat can threaten its well-being.
This 25W bulb is economical thanks to its low energy consumption.
Last but not least, each package comes with two bulbs, so it will save you a big deal of money.
Pros
Energy-saving

A lamp holder included

2 bulbs for substitutes

Provide a perfect amount of UVB radiation

Easy to install

The clamp helps to position the lamp sturdy
Cons
The price is rather high, compared to other products in the checklist.

As it is located outside the tank, more space will be taken up
With the features mentioned earlier, it is easy to answer why this product ranks as the best reptile basking lamp.
Not only is it great for lizards, but also it is recommended for amphibians, mammals, fish, etc.  
Like the ZACRO's product above, this BETAZOOER's equipment is comprised of a complete solid ceramic element, which is safe for your kept animals.
This bulb causes no harm since it features wonderful heat radiation and produces no light during usage.
Besides, the ceramic element is highly pure, waterproof, crack-resistant, and helps avoid an explosion.
But remember to locate it high above not to let your pet touch it directly and get burnt.
Secondly, this product has the input voltage of AC 90-120V, a full size of 2.95 inches in diameter x 3.94 inches in height.
As a result, it does not take up so much space inside your pet's tank.
Thirdly, the 100W black model operates 24 hours a day, without any interruptions.
Besides, the light can last from 9,000 hours to 15,000 hours, and even longer than that. With a very affordable price, these features are considerable.
To install this tool, simply screw it into a standard porcelain E27 screw socket.
Do not worry about what specific type of lamps it shall be used with! Regular, straight, or clamp type lamps are all good.
Every package includes two packs of 100W bulbs so that you can lengthen the period of using this product before getting a replacement.
Such a good deal!
Pros
Easy to install, compatible with diverse lamp holders

Is made of high-purity ceramics

Has a long lifespan

Favorable price

Can be used for various type of animals and plants

Nice without emitting light

No batteries required
Cons
Should be installed 12 inches above the pet to avoid getting injured

A little heavy
If you ask: "Can you use a chicken heat lamp for reptiles?"
With this purchase, we would like to say: "Yes!" Because not only is it suitable for a reptile, but it also can be used for poultry, amphibian, rabbit, cat, dogs, germinating plants, and so on. Sounds exciting!
Because this lamp can stimulate your adorable little pet's blood circulation, it can help with welling-being maintenance and healing.
Coming up next is excellent equipment from the renowned brand of REPTI ZOO. Are you ready? Let's scroll down and have a closer look at this versatile choice!
First of all, you will be into the product thanks to its ability to mimic your little creature's natural environment.
With full-spectrum light provided, this heat source can simulate the warmth from sun rays.
As a consequence, it helps with your pet's digestives system, as well as retains the animal activities at optimal scales.
Secondly, it is a self-ballasted lighting bulb.
In case you may not know, a ballast's function is to regulate and keep the current flow from the energy source to the lighting device under control.
With a self-ballasted lamp, you can administrate the electricity flow without using a ballast.
So, you should not be worried if there is any chance the current flow goes too high and causes damages to the lamp itself and the pet.
Thirdly, the equipment provides both sufficient UVA and UVB volume, which stimulates and encourages your pet's digestion, vitamin D3 synthesis while decreasing the risk of metabolic bone diseases.
Pros
Suitable with various kinds of reptiles and amphibians

Has full-spectrum light

It is self-ballasted

Easy to install

No external ballast needed

Provides the perfectly adequate amount of visible light, UVA, UVB, and warmness

No extra costs for battery
Cons
Keeping your pets healthy and content is far more difficult without state-of-the-art equipment.
And, in case you are longing for a product, which especially concentrates on your pet's health status and happy living time, this vapor reptile bulb shall be great for you!
To install this all-in-one equipment, you should use a good quality ceramic socket with a standard US size.
Besides, a big and deep dome is needed for proper use.
Does your reptile love sunbath?
If the answer is yes, consider this product.
It is recommended for geckos, snakes, bearded dragons, pythons, frogs, and many many more.
If you are looking for one of the most state-of-the-art lights with high quality and multi-functions, this product from brand REPTI ZOO, once again, will not dissatisfy you.
Let's discover this modern dual heating lamp!
You can be free of worries during its usage.
You will not scare that your beloved will get burned or overheated.
The reason is that this purchase features a temperature warning label.
In case the lamp temperature goes beyond the required level, it will turn red to alarm the reptile breeders.
Especially, on the top of the fixture, there are several tiny ventilating holes, which ensure proper heat and perfect heat dissipation.
Now, maybe you wonder what does this fixture looks like. Alright, let's continue reading.
The lamp fixture has a size of 11.2 x 5.7x 7.5 inches. Together with it comes a 74-inch cable.
Both the ceramic heat emitter and the heating bulb has their own lines, and you can easily press the button to switch back and forth between them.
Last but not least, when shopping for the package, you will receive a heat lamp fixture for reptiles and sort out the string.
Simply bundle the cables so that your space can be well organized.
Pros
Recommended for many kinds of amphibians and reptiles

Can use with two different bulbs, each side handles up to 150W

Long life span with high-quality ceramics lamp socket

Easy to control with 2 separate switches

Sort out string included

Perfect heat dissipation

Has ventilating holes
Cons
It is not cheap

The lamp fixture does not come with light bulbs
The package does not include bulbs, which can challenge many starters.
On the other hand, there are many choices for you, considering your financial conditions and several factors.
Each side of the fixture can handle up to 150W.
It is very convenient!
Do not worry if you have no idea what to think of. It is important for you to check out these issues: What genre does your pet belong to?
Is it a baby or an adult one? What is the tank size? What is the distance between the lamp and the basking spot?
Answer these questions to figure out what type of bulbs you should use for the tank.
Criteria For Best Heat Lamp For Reptiles
The quickest and easiest way to pick up a high-quality heating lamp is to choose highly recommended products.
As we mentioned earlier, brand ZACRO, DADYPET, BETAZOOER, or REPTI ZOO… For a while, they have become internationally well-known for high-quality products and excellent services.
The temperature range for pets generally, it is useful to choose a rather expensive heater, because it comes with more functions and safety than the normal ones.
Besides, for each heating lamp, you are going to shop for, it is a must check out the temperature range that the light offers.  
Reptile Species
Heat Lamp Rating
(watt heat lamp)
Anole
50
Bearded Dragon
100-150
Chines Water Dragon
75-100
Collared Lizard
75-100
Curly Tailed Lizard
75-100
Frilled Dragon
75-100
Longtail Lizard
50
Mali Uromastyx
100-150
Skink
75-100
The temperature range for pets
Commonly Asked Questions About The Best Heat Lamp For Reptiles
1. What Bulbs Should I Use With My Dual Heat Lamp For Reptiles?
In case it does not have bulbs from the beginning, there are 2 bulbs options for you to choose from.
Based on your pet's need and your tank condition, you can pick the one that fits your terrarium size, your pet's age and genre, and how far it is from the lamp to the basking spot.
When buying bulbs for your dual-lamp, always consider the maximum wattage that each fixture side can handle.
2. How To Get A Homemade Heat Lamp?
Making a homemade heating lamp on your own requires considerable effort.
First of all, you need to get a generic clip-on reading lamp that features a 50-60W bulb and then replace it with a 50-60W infrared bulb.
You can purchase the new bulb online or in any store.
Finally, use a clip to position the DIY lamp on the top of the terrarium and adjust the light direction.
Cre: springer
3. What Is The Best Reptile Basking Bulb?
You can consider these above criteria then choose the suitable one for you and your bearded dragon.
For specific guides, we would like to recommend the best five products stated earlier.
There is further information on each model in the review.
So that you can make the best out of your choice with our descriptions.
4. Do All Kept Reptiles Need A Heating Lamp?
Once your little pet has left its natural habitat; the living environment becomes more harsh without a heat source.
You may know that reptiles cannot regulate the body temperature themselves.
A heating lamp positioned at one end of the tank
And therefore, a temperature gradient is a must for them.
By that, we mean the lamp installed at one end of the tank can save the day and help your little pet become healthy and content.  
Conclusion
A lot of struggles appear before you can come up with the best option for your kids. What are they looking for all the time? A heating source, right!
After reading these reviews and buying guides, and many more details, we hope now you are at ease to face problems that appeared when you raise a pet.
If you want to have one of the most state-of-the-art heating lamps, check out the REPTI ZOO DUAL REPTILE LIGHT.
In case this is not affordable for you, why don't you check out our best budget buy, the BETAZOOER INFRARED HEAT BULB.
We hope you enjoy the reading and can finally make a perfect choice on the best heat lamp for reptiles. Thank you for reading and see you next time!
Further Reading: 
Tags: zoo med, reptile terrariums, incandescent bulb