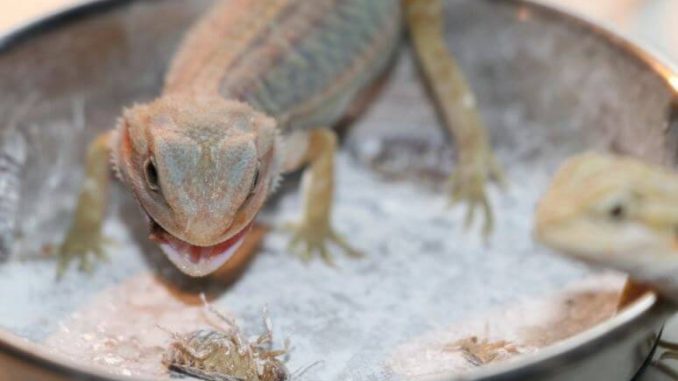 Calcium is an indispensable demand for beardie's health. The best calcium powder for bearded dragons in additional diets would help secure your pet's health day by day.
At first, you might wonder why they need C supplements.
It is an essential mineral supporting the ability of growth and bone maintenance over time.
As we know that it will be collected from the diet, wild beardie will access a variety of insects with full nutrients and vitamins.
However, we could not feed them wild insects. Thus, this powder needs to be added to their diet.
The Top-Rated Calcium Powder for Bearded Dragons (Recommendations)
#1. FLUKER'S REPTA – BEST REVIEW
#2. ZOO MED REPTI – RUNNER UP
#3. REP-CAL SRP00200 CALCIUM ULTRAFINE POWDER – BEST PHOSPHORUS FREE
#4. ZILLA REPTILE SUPPLIES – BEST LIQUID FORM
#5. REP-CAL PHOSPHORUS AND VITAMIN D3 FREE – BEST FOR VITAMIN D FREE
#6. MINER-ALL CALCIUM/MINERAL SUPPLEMENT
#7. ZOO MED REPTILE WITHOUT VITAMIN D3
---
Related:
How to Provide Calcium for a Bearded dragon?
Trying to provide enough C for beardie is what pet owners do; I will let you know some ways to complete that task. Check it out here:
Diet
What Foods Have Calcium For Bearded Dragons?
There are some choices of foods rich in C such as green leaves, romaine lettuce, collard, turnip, chicory, cilantro, or escarole.
It is better to mix these foods instead of just one.
Blackberries or figs are also tasty and have plenty of sources. It would be a perfect occasional snack for a beardie.
Choosing the insects feeding a C-rich diet is also one excellent option.
Light
Light also provides the necessary amount for pets.
They can use the UVB rays from the sun to fulfill their demand in the wild.
It is from supplementation that will be not enough for them; thus, the best UVB light would be better.
Don't forget to read instructions carefully before setting up the lighting system to maximize the chance of absorption of UVB for C synthesis while keeping them safe.
This type is one of the most effective solutions for increasing the amount quickly for a beardie.
The powder will be straightforward and easy to use; just put it in their foods.
However, it would be best if you considered how much would be enough for your pet.
Guide for Feeding Calcium for Bearded Dragons
1. How to feed
Dusting is how we call the action of mixing the powder with foods.
Firstly, you can sprinkle the powder in the insects or mix them well by placing them into the bag and shaking well to get the food coated with powder evenly.
And, don't put too much.
Especially, your pet might refuse the food. So, you give a little on their foot.
The gut Loading method requires the living insects; they will be fed with nutritious food within 24 hours before feeding to your pet.
2. Amount of Calcium
To know precisely how much will be the right amount for your pet, you can ask your vet, who can evaluate all the factors to make the perfect recommendation.
You also can follow the recommendation by manufacturers.
Some factors are influencing the amount of C needed:

Type of  powder you are using

Gut loading ability

Your pet's age and physical health

UVA lighting and heat
The table below presents the ratio of Calcium to phosphorus for a beardie.
| | | | |
| --- | --- | --- | --- |
| NUTRIENTS | GROWING BEARDED DRAGONS | ADULT BEARDED DRAGONS | GRAVID BEARDED DRAGONS |
| Calcium | 1-1.5% (% of dry matter) |   |   |
| Phosphorus | 0.5-0.9% |   |   |
| Calcium:Phosphorus | 2 : 1 | 1.5 : 1 | Up to 10 : 1 |
3. The frequency of giving Calcium for bearded dragons:
It will depend on how much UV light exposure; the bearded dragon is given time outdoors with direct sunlight will have lower demand for supplements than the indoor condition.
They do not require C supplements every day. For the different stage of life, the requirement will be changed as the table below:
| | |
| --- | --- |
| STAGE OF LIFE | FREQUENCY |
| Hatchlings | Daily |
| Juvenile | 3-4 times a week |
| Adult | At least once per week |
| Reproductively active females | 3-4 times a week |
| Adult receiving sunlight | Once every 2 weeks |
Best Calcium Powder for Bearded Dragons Shortlist (Updated List)
*Ratings are from Amazon at the time of publication and can change
The Best Calcium for Bearded Dragons
At the top of the best calcium powder for bearded dragons review, Fluker'S Repta is one of the most effective calcium for bearded dragon providing the required amount of C for healthy bones.
This powder is ideal for indoor reptiles and amphibians, such as the beardie, lizard, turtle, frog, and snake supporting healthy and strong bones.
With C carbonate, it makes sure your pets can have healthy bones and live much longer.
And, you can use it easily. Besides, it can be used to prevent metabolic bone issues.
With the affordable price, it is efficient and high quality.
Vitamin D3 allows pets to absorb C well. It is suggested to grind it up more for safety.
This powder also lets your pet digest more efficiently and decreases GI issues risks that lumpy powders might cause.
Pros
Being the great supplement

Improve a healthy life for the beardie

Support healthy and strong bones

Low price but good quality

Come with vitamin D3
Cons
No shaker top, it is easy to be messy
Zoo Med Repti is one of the top-rated supplements for beardie, coming in a wide range of sizes and containing vitamin D3.
It is a phosphorus-free and highly bioavailable source.
It is also impurity-free, Zoo Med is safe for animals.
This calcium with d3 for bearded dragon is excellent for putting inside the dish in the tank for free feeding.
Apart from bearded dragons, this powder is also suggested for the nocturnal reptile who does not bask under UFB, such as geckos or tortoises.
 The danger of metabolic bone disease in beardies is perilous.
With this powder, the proper UVB, your pet will be safe, healthy, and strong.
Besides, Zoo Med can support well for hatching also.
Dusting at least once a day for a beardie would be supporting a lot.
Pros
Various size options

Good smell encourages beardies to eat well.

Phosphorus free at the affordable price

Come with two options with and without Vitamin D3.

Reduce wattage thanks to ultra-fine feature with the small clumping

Impurity free
Cons
It is not easy to open the pack
The Rep-Cal brand seems to be an excellent choice for providing C for our pets.
This best calcium powder for bearded dragons is suggested to be mixed well with vegetables, pastes, and vegetables.
With this powder, you don't need to buy other supplements.
And, it comes with Vitamin D3 and phosphorus-free.
Especially, Rep-Cal is formulated from 100 % natural oyster shell phosphorus-free powder with vitamin D3 to support the process of absorption.
Besides, it is made with free sugars, additives, artificial coloring, or other nasty ingredients.
You can mix it with fruits, vegetables with ½ tablespoon powder, and ½ tablespoon herptile.
Then shake it well slowly till they are converted.
Finally, this ultra-fine powder is enough for supply and does not require any other supplements.
Pros
Excellent source of C for reptiles & amphibians

Best calcium d3 for bearded dragons

High quality for long-lasting

It is convenient to use

Work great on veggies, fruits, or other canned foods.

Blend properly into the food

Lightweight powder
Cons
No sprinkle cap for avoiding pouring out too much powder
Zilla Reptile supplies are the best source of C for reptiles to prevent metabolic bone disease. In addition, it is easy to use the spray type of bottle.
And, you can spray directly from the bottle of calcium spray for bearded dragons to the food 15 minutes in advance.
Sometimes, you can drop a few directly into a pet's mouth to quickly and effectively treat typical deficiency.
In specific, Zilla Reptile is a rich source of C and the source of vitamin A precursor, vitamin B1, B2, B3, B6, C, D3, folic, and niacin acid.
Being perfect for coating insects not gut loaded, Zilla powder can be used for babies who need it every day.
Above all, most beardies will love this food due to its slight smell and visible color.
Pros
Best liquid calcium for bearded dragons

Convenient to use with a spray bottle

Vitamin D3 included ensuring optimum calcium absorption.

Fast absorption

Can spray directly into pet's mouth

Prevent metabolic bone disease
Cons
Spray nozzle bottles seem not to be high quality and reliable construction.
Rep-Cal, the best calcium powder for bearded dragons, has a similar fine-milled quality as other vitamin D3 powder above.
Rep-Cal makes sure it coats feeders evenly and properly for allowing your pet to consume Calcium as much as possible.
Besides, it includes no added sugars, artificial, or starches.
As we all know, the most effective way to make sure the right amount of C to phosphorus ratio is using the phosphorus-free supplement is Rep-cal.
However, it would be best if you bought this powder only when your pet does not need Vitamin D3 and Uvb light for absorbing minerals, or they have enough UVB light or the cholecalciferol supplement.
Pros
Stay the proper C

Contain no phosphorus

Stick well to the worms and crickets

Provide with pure C
Cons
Does not contain other vitamins and minerals
Miner-All comes from a famous brand which is a recommended product for beardies as it can help to maintain good health for pets all the time.
Firstly, for indoor pets such as reptiles, amphibians, etc, it is the ideal choice.
Secondly, With the high-quality powder, it can be used to dust on the veggies, insects, and fruits.
Especially, it is free of phosphorus with a nice smell that all reptiles would enjoy.
Besides, its price is affordable for all users.
Moreover, it comes with vitamin D3 for enhancing calcium metabolization.
All great features make it one of the best supplements for a beardie.
Pros
High-quality Calcium

Easy to use for dusting insects

No need for different vitamins or supplements.

Come with a safe Vitamin D level.

Good smell for comfortable eating

Stay long under room temperature

Stick well on the foods
Cons
When shaking, it tends to leave residues on the open
Zoo Med includes pure  C carbonate, so it becomes the favorite among those who love supplements without additives or less pure supply.
Moreover, it is also perfect for a beardie that does not need cholecalciferol or UVB to assimilate this vital mineral.
Mostly, this highly bioavailable source of C carbonate powder is free from harmful impurities.
Without vitamin D3, it is used for pets who can meet vitamin D3 naturally.
Besides, it is also an ultra-fine supplement with phosphorus-free for both reptiles and amphibians.
And, it comes with a unique shape per gram for increasing the bioavailability.
This powder is perfect for beardies, as the bearded dragon can only digest certain forms of D3 from foods, and there is the risk of overdosing D3.
Finally, this powder is the best, which contains the optimal ratio required for desert-based bearded dragons.
Pros
The large surface area for a gram makes it efficient, high bioavailability, and easy to use

Made from oyster shell

Does not include any harmful contaminants

Phosphorus free
Cons
What to Consider in the Best Calcium Powder for Bearded Dragons
1. Phosphorus free
Beardie's diet contains much phosphorus; the C to phosphorus ratio depends on the age of beardie as in the above table. Thus, they are tending to get sufficient amounts of phosphorus.
2. Vitamin D
Vitamin and Calcium are essential minerals for pets.
In specific, Vitamin D should be present with the correct amount for allowing the metabolization of C in a pet's body.
To choose the powder with or without this will up to their pet's age, health, diet, and condition of your pet can get enough UVB from the sun.
3. Free harmful impurity
Impurities are toxic for pets, thus, looking for the product with free impurities such as lead, metal toxic, etc.
4. Calcium smell
The food with a nice smell wipe makes food more pleasant and attractive for beardies. In specific, it will encourage pets to eat more. Simultaneously, the smelly food will increase the risks of your pet turning away from foods.
Commonly Asked Question About Best Calcium Powder for Bearded Dragons
1. What Will Happen if My Beardie Cannot Have Enough Calcium?
 There will be a long list of health issues if the reptile could not have the right amount of Calcium.
Firstly, some of the usual problems will be presented in their movement, energy, and behavior.
Secondly, you will see them twitch or act skittish.
Thirdly, the bone and the structural problem can occur as well.
Their bones can become brittle, and your pet will be prone to fracture from the light impact to handling.
2. What Happens If My Pet Has Too Much Calcium?
Firstly, absorbing too much can lead to some general weakness, constipation, or sedentary behavior.
Besides, lack of mobility because of muscles and soft tissues can also occur.
3. Should I provide my bearded dragon calcium with D3?
These are the essential vitamins and minerals we need to provide your beardie.
In other words, both are needed because the reptile can not metabolize the C without D3
Read more:
4. How to Train My Beardie to Eat Calcium Powder?
Start feeding with insects, greens, and salads when they are small; begin with the small amount of powder; you should take time to train your pet to eat and like powder at an early age. And, they will love insects more than others; thus, dusted insects will be what they prefer.
You can use the shaker method to mix it gently with insects.
For the juveniles, everyday feet would be suggested, once a day for babies and 3-5 times for adults per week.
Besides, feeding by hand will be successful if your pet is used to handling.
Using the tweezers, whether your feet are from the enclosure, you should train them to eat inside the bowl; when they eat food, they can get Calcium's dose.
After that, observing them when they are eating to see how they behave.
5. How Long Can My Pet Stay Without Calcium?
Usually, the bearded dragon can go without C within two weeks maximum.
Over that time, they can be exposed to some metabolic bone issues and other problems.
Conclusion
Understand well why the beardie needs Calcium and some great options available, and you can make the correct decision on the best calcium powder for bearded dragons. Finally, the FLUKER'S REPTA comes highly suggested for beardies requiring high quality and rich calcium. Besides, ZOO MED REPTI is being the second-best choice at a better price. Hopefully, you will find what you need and more!
Further Reading: 
Tags: calcium supplement, calcium carbonate, calcium deficiency