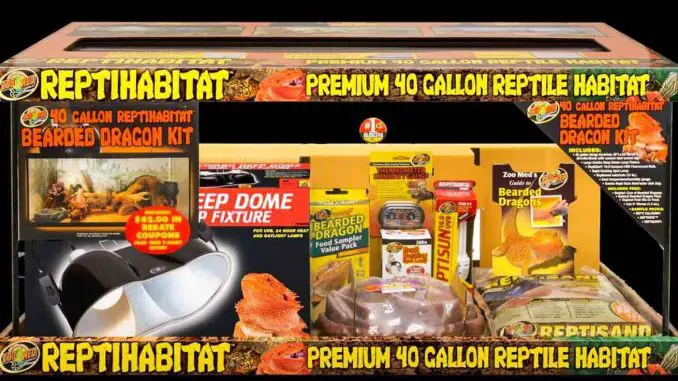 If you are a beardie beginner or don't have a lot of time to research for your pets, ending up with the best bearded dragon starter kit will ease your decision to set up a pet's vivarium. 
There are many things to consider from lighting, decorations, to the enclosure.
That is why the starter kit for a bearded dragon plays an important role.
Just spend an acceptable amount of money, and you will have every basic thing without worrying about choosing the wrong heater or lights. 
Besides, a wide range of brands is available on the market, and you need more focus and not easy to make a purchase.
Don't worry! I will give you some solutions by narrowing down your choices with my experience. 
The Top-Rated Bearded Dragon Starter Kit (Recommendations)
#1. EXO TERRA GLASS NATURAL TERRARIUM KIT NANO TALL – BEST REVIEWS
#2. ZILLA REPTILE STARTER KIT 10 – RUNNER UP
#3. ZOO MED DAY/NIGHT DESERT LIGHTING KIT – BEST LIGHTING KIT
#4. ZOO MED LAMP COMBO PACK – BEST COMBO
#5. REPTI ZOO FULL GLASS 20 GALLON REPTILE TANK – BEST TERRARIUM
#6. ZILLA VERTICAL TROPICAL KIT
#7. ZOO MED REPTIBREEZE OPEN AIR SCREEN CAGE
---
Related:
Best Bearded Dragon Starter Kit Setup
How is The Beardie Natural Habitat?
Wide beardie comes from the hot and dry areas with hardened soil, rock, or sand.
Besides, there are many types of small trees and bushes in the desert for them to climb or hide in the desert. In addition, humidity will be very low. 
Terrarium size
10-50 gallons juvenile bearded dragon starter kit
50 gallons is for young adults
75-120 gallons is for adults and bigger beardie type
Humidity
60% maximum
From 30-40% is the perfect temp
Temperature
Max: 43 degrees C
Min: 20 degrees C
Lighting
UVA/UVB
Basking light
Substrate
Newspaper
Tile
Paper tower
Supplies and decor
Wood/rock
Cave
Branch
Hammock
For more information to set up the best enclosure for your pet, you should check out here: 
Now, don't let you wait for longer; we drive into the list of best products recommended.
Best Bearded Dragon Starter Kit Shortlist (Updated List)
*Ratings are from Amazon at the time of publication and can change
The Best Starter Kit for Bearded Dragon
Exo Terra will satisfy all your needs for reptile living standards.
Firstly, the patented window, it offers the most effective ventilation for your pets.
Besides, its waterproof bottom combined with the raised bottom frame allows you to use the substrate heater easily.
Moreover, the escape-proof dual door included avoids your pet's escape from the tank.
And, it features a natural background, which mimics well the real environment for reptiles and amphibians.
Its full-screen top will let the UVB and infrared penetration be removable for easier access while cleaning or decorating.
Especially, the top comes with a closable inlet for both sides to run the wires and tubing inside to keep small pets or feeder insects.
They are providing more space for dessert or ground-dwelling animals to thrive with the extended surface. With its small capacity, it becomes one of the best sellers for baby bearded dragon starter kits.
Pros
Come in watertight design

Designed for feeding ports

Sturdy and hefty glass

With two entrances for easy feeding

Stainless steel mesh at the top for ventilation

Good locking system

Easy to use and setup
Cons
Not recommended for giant reptiles

The quality of the lamp is not very good
Zilla starter kit is an excellent choice for a desert-dwelling pet, especially beardie.
A kit will include an incandescent light, bulb, two light fixtures, the screen cover, humidity/temperature gauges, and carpet substrate.
Now, let's find it out in detail! Firstly, the white light bulb is for the daytime.
The black light is for nighttime, which provides heat for the pet but still keeps the sleep.
The odor-fighting carpet substrate is easy to clean and no abrasive, which is suggested to match bowls or décor.
Moreover, the humid and temp gauges will support maintaining the right environment to keep your beardie healthy.
And, odor liner is low maintenance, also suitable for different types of décor.
Its screen cover is safer to ensure all inside the pet habitat well. Zilla includes all you need to start as the best bearded dragon starter kit.
Pros
Good quality materials

Perfect choice for desert dwelling pets

Come with two dome fixtures.

A fast and easy read on the parameter for the right level
Cons
Does not come with a UVB light bulb

Need to buy the dishes, hammock, and more robust light bulb if you are using for babies.
Zoo Med is a famous brand for reptile's items.
This starter lighting kit is one of the perfect products from Zoo Med.
This product include an aluminum dome, a ceramic socket, a spot basking lamp with 75 wattages, a night infrared lamp with 75 wattages. 
Zoo Med is helpful for you to get started with your beardie.
The mini combo dome lamp fixture increases the UV and light output reaching up to 30%.
The ceramic sockets help the lamps up to 100 wattages each but still provide the visible light for leaving your pet's sleep going on. 
Besides, its double reflector focuses up to 35% heat and UVA than the other sport lamps, and it lasts for a long time up to 2.000 hours.
Above all, the nocturnal infrared is the most incredible options for desert dwelling and basking our pets. 
Pros
Best for a starter with your pets

2 in 1fixtures for more convenience

Offering the dual on or off switch 

Socket rates up 100 watts for one person

Convenient for new or existing the tropical tanks

Sturdy light bulbs
Cons
It is a little hot for small gecko

The night light does last for a very long time

Without tank
This bearded dragon starter kit cheap lamp pack is the perfect choice for a naturalistic terrarium.
It is easy to install for beginners. A combo pack features a reptile basking spot lamp at 75 wattages, a reptile UVB fluorescent.
Besides, Zoo Med is always the strongest brand of lighting bulbs for animals.
Especially, 75-watt basking spot lamp comes with a patented double reflector focusing 35% more light and heat into the beam.
It is perfect for reptiles such as beardie and other deserts and tropical animals.
Moreover, the spot lamp can last for up to 2.000 hours.
UVB light bulb is great for small terrariums with 30% UVA, 10% UVB, and full spectrum.
Thus, This UVB is for preventing metabolic bone issues and promote beardie behaviors.
Finally, this best price is reasonable for most beardie lovers.
Pros
Good quality for money

Durable UVB light bulb

Promoting breading, feeding, physical and mental health for a beardie

Unique double reflector

Easy to install and change the bulb

Used for both beardies and turtles
Cons
Need to buy the fixture separately

The bulb is fragile
Repti zoo full glass 20 gallon reptile tank is listed on my top of a significant part for the best beardie's kit.
This tank is designed for reptiles and amphibians with the opening doors separately for easy access.
Similarly, the nice lock is for avoiding escaping, and the doors can open separately.
Especially, it should be in the list of 20 gallons terrarium, features the full-screen top ventilation, allowing the infrared penetration and UVB removable for easy access when decoration or cleaning.
And, the tank bottom is raised to mount the substrate for heating the ground surface.
Moreover, it has the added fixed front window for a thick layer of the substrate.
They also design for a variety of reptiles, not only beardie but also geckos, turtles, lizards, and frogs.
Pros
The durable stainless steel screen cover

Waterproof substrate base

Unique ventilation system

Easy twist lock for a screen cover

Safe front doors with easy accessing

Provide a lot of space
Cons
Higher price compared to other counterparts.
Zilla Vertical is specially manufactured for the arboreal pets living in trees. However, it also can be used well for small beardie as the capacity is short.
It includes a Halogen dome, light bulb, substrates, feeding dish, décor, and textured. 
Besides, this starter kit with a tank can hold the water at the bottom up to 5 inches.
And, there is a locking latch, and the hinged screen top comes with an opening door for more security.
In addition, thanks to the vertical terrarium style, it provides the pinpointed light and heat efficiently than the standard incandescent bulb. 
Above all, it is equipped with the humidity or temp gauge, which allows for an easy read on the parameters. And, it is also easy to assemble. 
Pros
Easy to use and install

Best for reptiles 

The wide glass door opening for easy and convenient cleaning

The added secured screen top avoiding escape 

Perfect for a small beardie

Metal screening provides safety for fixtures
Cons
It is not recommended for large or long beardie or animals

Small water dish 
If you are looking for an open-air screen tank, you could not ignore Zoo Med Reptibreeze, which is great for small pets such as baby beardies, iguanas, or lizards.
Firstly, Zoo Med provides your pet with a large space, adequate ventilation, which allows the natural UVB. 
Secondly, the open-air screen cage, starter kit amazon, is made of lightweight aluminum, which is easy to move and place.
Thirdly, thanks to the big front door, it is easy to access the cage, and the bottom door supports substrate removal.
Thus, you can easy to maintain and handle it. You can use the screwdriver to assemble the reptibreeze with ease. 
Pros 
Being a lightweight kit for easy moving 

Come with excellent corrosion resistant black AL screen cage.

Perfect for small pets or travel

Easy to clean 
Cons
Light fixtures, substrate, and décor were excluded. 
What To Consider for Buying The Best Bearded Dragon Starter Kit?
As I explained above, a kit will have enough items to support you in setting up the natural habitat for your beardie and help them stay healthy all the time. 
The tank/vivarium must-have items for setting up the beardie's enclosure.
The best vivarium starter kit for bearded dragon should be at least 55 – 75 gallons for adults and 10-50 gallons for babies.
Significantly, the dragons of 20 inches should be in a tank from 75 to 120 gallons. 
2. Heat light
It is essential for pets if the heating mat or other tools could not heat it.
And, heat lights play an essential role in regulating air and providing warmth for the tank; it is necessary for cold-blooded reptiles as the beardie. 
UVB lights are an indispensable part of any reptile enclosure; beardie will not be in expectation.
Furthermore, UVB light is needed for their bones to develop strength and avoid the risk of metabolic bone.
4. Temperature & humidity gauges
As you know, temperature significantly determines your pet's health and well-being.
In specific, a thermometer would be the best solution to measure the temperature inside of the enclosure.
In addition. the thermometers are mostly used together with the hygrometers to measure the humidity or the thermostat for controlling the heat sources as heat lamps or rocks. 
5. Basking bulb and lamp fixture 
The basking spotlight is an incandescent bulb that creates heat and light for your animals.
Moreover, a color light would be much more relaxed, which emits color such as red or blue. 
6. Decor
There are many types of decor available on the market from the rock, grape wood branch, or cork bark.
Moreover, it will help to mimic the natural life and provide the area for them to hide. 
7. Substrates
The substrate is the flooring in the tank, such as carpet, tile, or sand.
The starter kit will provide the loose particle substrate.
However, it would help if you were careful to choose babies because it might have some dangerous kinds.
8. Instruction
You need a kit; instruction is essential for you. With it, you can easily use, assemble, and clean the system quickly and correctly. 
Commonly Asked Question About Starter Kit
Cre: pethelpful
1. What is The Tank Size of The Beardie?
From 10-50 gallons is the best for babies, 50 gallons is for youth adults, and adults 75-120 gallons or more significant. 
2. What Type of Light Bulb for Bearded Dragon Starter Kit?
Beardie needs to have the heat light and UVB light, which is the most critical part of every cold-blooded animal. Besides, the night light is also needed. 
3. How Can I Provide Diet and Water for My Pet?
Some beardie need dried insect and hydrated vegetables with warm water.
When providing water, you should have a humidity gauge and mister or the water spray bottle.
They need humidity to absorb through the skin. 
Related: 
4. What are The Necessary Supplies for My Animals?
You need to provide three critical supplies, including the giant glass terrarium with the good lid, the substrate, and décor, logs for climbing.
5. What Can I Set Up At The Bottom of The Beardie's Cage?
You can place the substrate on the bottom; I will suggest some for you below:
– Ceramic tiles: It is the new trend for the substrate. The tile is easy to clean but still giving an appealing set for the tank. 
– Newspaper: one of the best saver substrates, which is easy to maintain, its look is not very attractive, though.
If your pet love to dig without worry about impaction, you should choose this type.
However, the newspaper will retain humidity. 
– Carpet: The synthetic carpet will be the best choice for simulating grass or deserts. 
– Sand: Sand is the most natural material. Using the clean and free foreign debris sand for your pet, don't use sand for babies or juvenile beardie. 
Read more:
Conclusion
EXO TERRA GLASS NATURAL TERRARIUM KIT NANO TALL will be our prior suggestion for those who are looking for the best starter kit.
The second option should be ZILLA REPTILE 10 for the full item of the kit.
Looking for a bearded dragon starter kit for sale will be an interesting task ever to save your money. Hopefully, you know where you can get the right kit!
Further Reading: