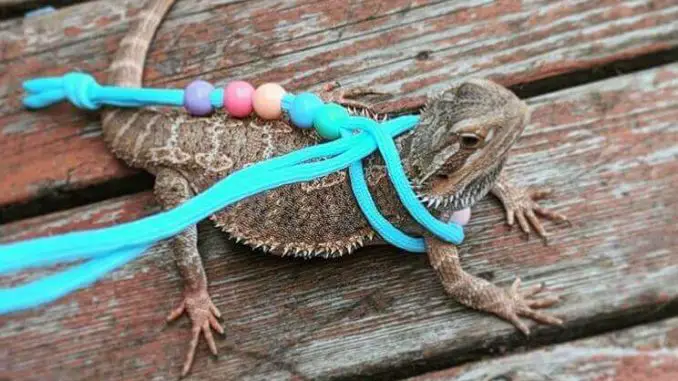 The best bearded dragon leash and harness are treasures for your pet, designed for setting them free from the cage, walking, and enjoying the nature while still being under an owner's control.
Not only keep pets in control but also prevent your beardie from getting lost or even traveling as prey.
As we all know that it is possible to lock beardies in their enclosure their entire life, while they still are healthy, with enough sources of UV light, heat, and space.
However, if you expect a real healthy beardie, happy pet, the natural fresh air, sunlight, and the time you spend with them must have factors. 
Besides, taking out your pet from the enclosure is one of the fastest and easiest ways to let them do some exercises and become active. 
Now, it's time to check out the best leash and harness for bearded dragon!
The Top-Rated Bearded Dragon Leash & Harness (Recommendations)
 #1. KHLZ US ADJUSTABLE LIZARD LEASH HARNESS – TOP REVIEWS
#2. WATFOON ADJUSTABLE LIZARD LEASH HARNESS – RUNNER UP
#3. BEARDIE LEASH AND HARNESS – BEST FOR SMALL PETS
#4. T-REX INC. REPTILE LEATHER HARNESS WITH LEAD – BEST WITH LEAD
#5. KUDES ADJUSTABLE BEARDIE LEATHER HARNESS LEASH – BEST WITH WINGS
#6. POLKASTORE BEARDED DRAGON HARNESS AND LEASH
#7.  ADOGGYGO BEARDED DRAGON LIZARD LEASH HARNESS 
---
Related:
How to Use Bearded Dragon Leash?
Choosing the best product is essential, but how to use it is much more crucial to benefit it properly.
There is no regular way to use it for every product because you would see the user-friendly instruction attached when you buy it.
However, there are some rules for guiding you to use it easier and better.
Let check it out now:
Must clean it well after use and before maintain
Well, control the hardness on the beardie's chest size.
Prevent putting it on the pet while they are in the enclosure for more secure
Try to find your pet's favorite color to make your pet more attracted to the leash when putting on.
It can be used to train pet walking.
For avoiding escaping, ensure to use it while the basks in the outdoors.
Try to use it in what way creates comfort for beardies.
1. The Way To Put On Leash On Beardie
To put it on beardie, you need some advice below:
Place the best harness for bearded dragon gently on your pet.
(When put on it, you should handle the beardie from below, not above)
Stay focused when you are out with beardies.
The random thing from the ground could be poisonous, so don't let them eat freely.
Never put on too tight; it makes the pet get uncomfortable.
2. How to Walk Your Pet?
I give you some tips to remember when walking with your beardie:
Before taking them outside, it is needed to make sure you are close to them, and they will trust you.
For the first time, going outside would be nervous for your pet; they need to know it is not dangerous.
Due to the harness putting on, it might be a little heavier and harder to get a max comfort.
How can we understand your pet's language?
Beardie could not make a sound like dogs, pets, or birds.
How can they communicate? by using their body language.
Thus, the owners need to understand them so that we can ensure the pet's safety and happiness.
Primarily, you should consider carefully if your beardie shows aggressive behaviors such as the arched back, hissing, whipping tail, flattened body, and opened mouth.
Don't forget washing hands before picking up a beardie to keep them safe from other harmful things.
Never touch your beardie from head since they would think some predator is trying to swallow them.
Gentle scooping up by the belly is an excellent way to handle a beardie.
Just ensure to support their whole body from heads to toes for more security and comfort.
Walking a beardie is the way to get used to them and make them get closer to owners.
Best Bearded Dragon Leash And Harness Shortlist (Updated List)
*Ratings are from Amazon at the time of publication and can change
The Best Bearded Dragon Leash And Harness
KHLZ is one of the most famous and greatest gifts for beardie's lovers.
It is made from the soft leather used in the KHLZ us Harness to protect your pet's skin and look.
You will enjoy the bright and unique design of most lizards.
The strap's metal ring is hidden in the wings and will not teach the pet, causing discomfort.
The durable and lightweight nylon rope with the stain-resistant steel swivel link is all nontoxic and friendly to animals.
KHLZ comes with a single line adjustment style, which lets it be suitable for small animals, adult bearded dragons.
The lead can match some small animals such as ferrets and hamsters too.
Pros
Easy to put it on and remove

Great for pet travel

Adjustable design

The invisible chest strap, dragon, will never get uncomfortable.

Good overall quality and design

Affordable price

Easy to control the pet's movements
Cons
Not a perfect option for large beardies
If you are looking for a leash and harness made with premium leather, WATFOON is precisely what you should go for.
Its style with a pair of wings makes it look perfect.
It is also easy to use and can be adjustable with a length of 5ft and three sizes from small, medium to big size for choosing to fit a beardie's size.
Besides, you can see the vest on the harness, which is comfortable for different animals' sizes.
The soft rope allows you to walk your pet by bearded dragon leash with wings conveniently.
You can choose your favorite colors from the wide range of color choices available.
The handmade soft leather and nylon are comfortable and durable.
When using, you should not over tighten your pet's vest and come up with sudden movements during walking because it will hurt your small pets.
Pros
Made by non-toxic materials

Fixed 360 degrees smooth stainless steel swivel link

Easily adjustable for using

Offering many different colors and sizes

Durable, lightweight nylon rope
Cons
Some discomfort can be caused because of the front legs holes
It is not easy to find the best product made of breathable and skin-friendly nylon & cotton cloth like this one. It is soft and comfortable for small pets such as ferrets or baby beardies.
Besides, it can be used for both summer and ear round thanks to the breathable features.
It comes with the adjustable H shape nylon straps fit to cover the back and the breast properly.
This one also provides a long distance of 48 inches and 2.3 inches in width, which is ideal for using everyday activities such as walking or partying.
Moreover, it can make sure your pet is safe because it has a locking clip to ensure your animals are secured in the harness.
If you are interested in a stylish leash and harness, this will be the perfect choice for you.
The harness comes with wings like angels and a great color. You can not refuse.
Pros
The adjustable harness with stylish wings

Perfect for outdoor activity with your beardie

Long leash for more support and comfortable

Small harness with full protection for neck and stomach

Come with a bell attached to prevent missing.
Cons
Not suggested for big or long beardies
With T-Rex Inc. Reptile Leather Harness with lead, you can control your pet freely and comfortably while you can go out and have fun.
t is designed long enough for the comfort of you and your pet. Besides, it is made of soft and comfy nylon materials for safety and good feeling.
You will never need to be afraid because of losing a pet thanks to the safety clasp attached in the buttonholes for securing your pet to the harness.
More massive beards can use this T-Rex. This one and harness also have controllable cinch fixtures for comfort and suit the bigger pets.
You are thinking about the flexibility and space when walking, and you should take a serious look at this T-Rex with lead. I would say that this style is generic.
However, it quickly gets the stain and does not easily wipe off.
Pros
Designed for large size beardies

Comfortable and durable leash with comfortable leather harness

Come with the safety clasp to secure your pet.

Different color options available

Excellent features at an affordable price for most users
Cons
This other best bearded dragon leash and harness with wings would be the best choice for those who love soft leather any nylon rope to reduce the risk of getting hurt.
Besides, when you use it for going outdoors, it can make your pet comfortable.
Because it is made from leather, it is supposed to be durable and lasts for a long.
It comes with an adjustable clip that allows you to choose a suitable length.
The wing attached will provide a tremendous and professional appearance.
It is suggested for small animals such as gecko and iguanas, but I have been using it for even my largest adult beardie. It was perfect.
With its excellent design, you will enjoy your time with your pet outside.
Pros
Comfortable and lightweight handmade leather

Come with a nontoxic nylon leash.

Great look with the wing style

Long leash for different height of users

Perfect for small animals such as geckos, iguanas, and small beardies

Protect the pet's skin and appearance

Removable wings
Cons
It needs some more adjustments.

The holes should be cut wider for some beardies to be comfortable
RYPET 3 packs are easy to use and suitable for your beardies and all types of reptiles.
It can be used for 3 sizes from the small, medium, and large leather harnesses; it is suggested for small pets during their growing period.
Remember to check the size chart before ending up with some choices.
Made of soft handmade leather, nontoxic, and nylon rope, it can not hurt your pet's skin.
You can put the legs of your pet into the holes for preventing escape.
There is an adjustable clip designed on the rope; thus, you can quickly tighten the harness enough for being snug as the shape of your pet.
Pros
Comfortable and durable materials

Size options available for choosing depending on the pet's size

Adjustable rope for easy using

Simple to clean and maintain the leash and harness.

Will not hurt your pet while walking.

It is hand-washable
Cons
It is hard to change the harness sizes
Looking for the combo is not easy at all; ADOGGYGO – an excellent kit from famous manufacturers will ease your consideration.
In general, this kit is attractive with the adjustable cam lock to ensure an excellent secure fit.
This combo supports the highest level of comfort for your pet. When you take a walk in part or bask in the sun with your pet, this combo exactly satisfies your purposes in one second.
It is adjustable, so it is ideal for baby beardies. Mainly, you can adjust the leash to match your height level.
Pros
Easy to use and clean

Come in a variety of color options.

Comfortable and secure

An excellent choice for outdoor activities and walking in the park

Versatile using for different types of desert dwellers.

Enough essential features at an affordable price
Cons
The harness around the body could annoy some beardies.
How to Choose The Best Bearded Dragon Leash & Harness?
 After seeing all seven products in detail, if you still hesitate, the information below is the right thing to give you an answer.
There are factors such as materials, style, features, age, safety, and specifications affecting users' quality and suitability.
1. Materials
Materials are always the essential factors in choosing any product because it determines how durable it is and the quality and comfort of products.
The soft materials would be much more comfortable for pets; it does not mean that the soft materials are not durable.
The leather for harnesses and nylon for leash would be one of the good examples of perfect materials.
2. Durability
If you buy something, you must expect that it would be born last.
The low durable material would cause losing your pet while moving outside.
3. Size
Different types of beardie would fit for different sizes.
Thus, make sure that you already consider the size properly.
Ill-fitting pieces might hurt your pet and injure their skin in case of hard moving.
4. Features
When buying, you should focus on their functions.
If you want to find a leash for outdoor activities such as walking, you should find the one with enough length for allowing the space to keep your pet moving freely.
A leash for training should be adequate in performing purpose.
5. Safety
What is safety here? The leash you purchased should be of enough quality to ensure that your beardie could not escape outside when you are walking in the crowd.
Besides, it also keeps the security of the beardie from danger.
6. Age
Different ages of beardies would cause different chest sizes; the leash will depend on beardie age.
Before choosing the right one, you should make sure about your beardie's chest size.
7. User height
Because you are the person who walks your pets; thus, your height is critical to consider when buying.
For your comfort, you are recommended to buy a leash with enough length.
The tall owners should take the harnesses with the long leashes.
8. Price
It is easy to find the right quality products with less expense.
Thus, don't stop reading other's experience to find the best one for you.
Commonly Asked Question About Best Bearded Dragon Leash & Harness
1. How To Make Bearded Dragon Harness and Leash?
 Although the leash DIY  might not come out perfectly, the construction is just simple to make.
Here are some steps for making the home-made leash for your lovely pet:
Regular, straw, scissors, thin and robust plastic, thin rope, hot glue.
Cre: thebeardeddragon
Firstly, you should cut the straw into two pieces.
Then, you can set up a solid base by connecting two tubes side (using the hot glue)
Use the hot glue for attaching the rope in the tube middle.
In the tube, pass through the rope by the hole.
To make two loops, the rope has to be fed into the opening tube.
The front legs of the beardie will pass through in the loop.
Cut the card; after fine-tuning edges, make three holes in the middle.
Then crat the motion of losing and tightening the beardie's arm by weaving.
Finally, allow your beardie to wear.
2.  Can I Put a Leash On a Bearded Dragon?
Cre: animalplanet
 Of course, yes, you can put the leash on your beardie.
However, it should be to keep your beardie safe when you are out.
Don't push the leash on the small babies less than 10 inches long.
3. Do Beardies Like Leashes?
No animals like something restraining their freedom.
However, they will get used to using leashes after training.
Some beardies are excited when seeing the leash, just because they know that outdoor is waiting for them.
Read more:
4. Should I Teach My Bearded Dragon to Wear the Leash?
Yes, you are their owners; you should teach them yourself. It is not only training but also the time for both of you to understand each other. Thus, don't miss that time or turn over to the trainers.
Conclusion
There is no better way for a walking bearded dragon without a leash and harness.
Thus, I give you my best bearded dragon leashes and harnesses, which will be much support to get your pet free in your hands. If you still are confused among 7, 2 options include KHLZ US ADJUSTABLE LIZARD LEASH HARNESS and WATFOON ADJUSTABLE LIZARD LEASH HARNESS would be the last narrow for your choices. I love two of these products because of its high quality and durability with enough features for my requirements. Hopefully, it will perfect your experience as I was!
Further Reading:
Tags: leather material, comfort leash